Last week we had a lovely situation where we went to run an errand and came home around twilight to find our Buff Orpington hen, Bessie, stumbling around looking for a place to hide/roost for the evening. If you didn't know, chickens can't see at night so at dusk, they will always make their way back to the coop to turn in safely for the evening.
We built an extension to our run where they can kind of free range during the day instead of being "cooped up" (har har). We found a segment that they must have squeezed through before dusk and then they couldn't find how to get back in. With the approaching darkness our two Black Star hens went to find a place to roost, leaving Bessie behind.
We searched for 2 hours, in the dark, with flashlights trying to find our birds. Never did it dawn on us that they would be REALLY high in a tree on the other side of our privacy fence. I was a wreck. I knew a hawk couldn't have got them because 2 birds were missing with no evidence of foul play (or fowl play <knee slap>). We deduced that we'd already searched as best we could and that all we could do is be up first thing in the morning and hope we could find them safe. Of course, I was miserable with this plan but we really didn't have much of a choice.
The next morning, we discovered them high up in the tree above their coop. I'd never seen them fly other than on to a knee high fence we have around our garden so it was pretty fascinating to see what they managed. They were perfectly safe and we haven't had any trouble since, though we did find them perched on the new run fence this morning and we hope they don't make a habit out of that. The whole point of the extended run is so they can still go out but that we can prevent them from destroying all the fall crops we are getting ready to plant.
If you look in the picture below in approximately the middle, you will see a copper head with black body poking out of the tree. That's Foxcroft! Just a bit below her is a black hole/shadow looking thing but that is Blackie perching. I got a pic of one flying back into the yard but it came out blurry. I had to make this pic pretty large so you could see the birds.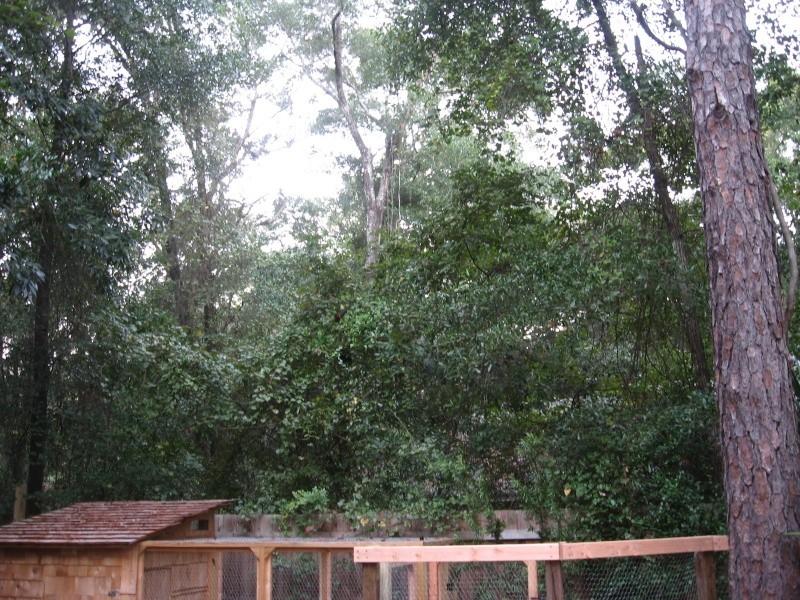 In case you're having trouble seeing her, this blurry pic is uploaded since a lot more of her copper head and neck are showing. Look in approx the middle of the pic:
That was some excitement I could do without but now that it's over, it was pretty hilarious to see them so high in the tree and we trudged our entire yard for 2 hours thinking they'd be somewhere slightly less....high.