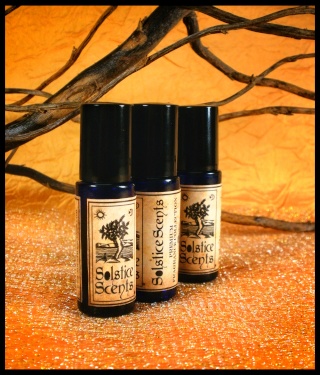 Please read directions below carefully if you'd like to participate. This contest is regarding the current Spring Collection.
TO ENTER THE CONTEST:
1. Join the Solstice Scents Forum**
2. Post a Thread in the SS Spring Contest forum. To post a thread, click the NEW TOPIC button located toward the top left. For your entry to be counted, please follow the directions below exactly:
This contest is specifically regarding reviewing your order from the 2012 Spring Collection. There is no minimum as to how large your post needs to be. You may review all of your order or just your top favorite fragrance(s) or product(s) of the release, wherever the spirit moves you. The point of the contest is to generate discussion about the collection. Anything in the section of the website called under the Spring Collection category is eligible for review (including the 3 new premium perfumes and the 2 new home fragrance oils), but the review you provide must be about something in this area, not other products on the site. You may also wish to discuss the packaging, freebies, scents themselves, products, home fragrance oils - anything you want. This is totally free form aside from the requirement that your post must involve something from the Spring goodies. Feel free to take a photo of your order if you wish to add one to your post.
**If you prefer to post your entry to your blog INSTEAD of joining the Solstice Scents forum or in lieu of posting to the forum, you are welcome to enter in this manner as well. If you do, you must email me or PM me your entry so I know you've entered though! If you'd like to enter on the forum and also post your review to your blog, that would be awesome but you will not receive an extra entry credit. You may also post a thread and instead of posting the review in the body of your thread, just post a link to your blog and mention that your review is there.
THE DETAILS:
Entries will be counted in the order in which they are received. This forum will have all threads sorted by the very first entry to the very last entry so we can keep track. If there are 20 entries, we will input 1-20 at random.org and whichever number comes up will indicate the winner. The winner will be announced in a thread the day after the contest ends in this forum. This way there is a totally even playing field and you are not being judged on WHAT you actually write, rather the fact that you're participating. If entries come in via blog instead of on the forum, they will be counted in order as well, not tacked on at the end of all the forum threads.
CONTEST ENDS ON MAY 16TH (to make sure that orders to our International friends arrive for those who live overseas and wish to enter) AT 11:59 P.M. EST
THE PRIZE:
The winner will receive a $20 GIFT CERTIFICATE good toward any products in our shop! Gift Certificate code will be emailed to you. To use the code, you will add your selected items to cart. Then you will go to your cart. There is a box directly underneath your products that says APPLY COUPON. Enter your coupon code and click Go! The discount will automatically be credited towards your purchase.
Please post any questions you have regarding this contest in this thread. Thank you for entering and good luck!! PLEASE DO NOT POST A THREAD in this forum until you actually receive your order! No placeholders allowed.