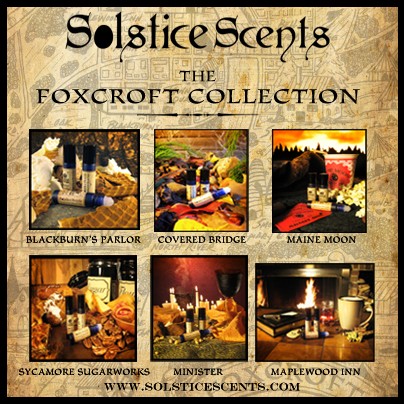 Solstice Scents is pleased to announce the 2nd part of our fall offerings is currently available at www.solsticescents.com.  We have been planning this collection for a year and we're thrilled to finally reveal The Foxcroft Collection.  Six immersive scents have been carefully crafted to evoke the atmosphere of various destinations within the quaint and beautiful town. Foxcroft has been one of our best Autumn season sellers for the past few years and we wanted to bring the town to you, much as we did for the Manor Collection, which was based off of the popular Manor fragrance. The Foxcroft Collection offerings are explained in detail below the map of Foxcroft.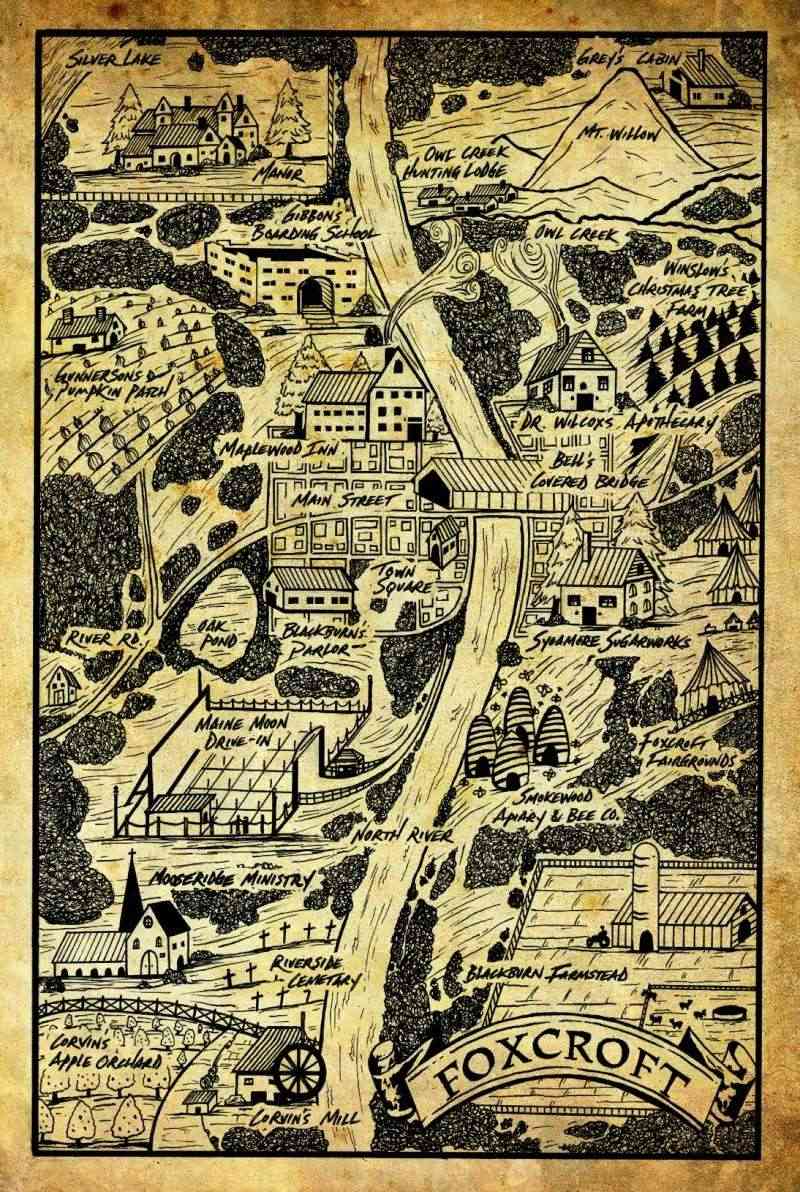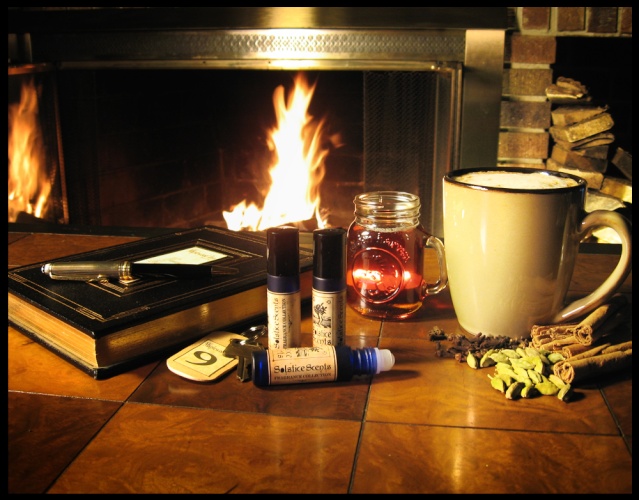 MAPLEWOOD INN


Maple, Woods, Amber, Benzoin, A Roaring Fire & A Hot Cup of Frothy Vanilla Chai

NOT TO BE USED BY WOMEN WHO ARE PREGNANT OR NURSING.
Maplewood Inn is a quaint historic bed and breakfast with views of the North River in Foxcroft.  The Inn has 15 tastefully appointed rooms, a sunny dining room overlooking a private courtyard and a small but charming gift shop featuring special maple items such as locally tapped Grade A maple syrup and maple melt candies from Sycamore Sugarworks.  As you enter the reception area, you smell the rich cedar construct mingling with sweet maple.  This aroma is punctuated by wood smoke from the roaring brick fireplace which dominates the East wall in the cozy lounge.  Relax by the fire in one of the overstuffed chairs and sip on a freshly brewed cup of frothy vanilla chai.
Notes of sweet maple syrup, cedar, Alaskan cypress wood, wood smoke and benzoin coupled with a subtle waft of vanilla chai and bridged together with a warm glowing amber.  The chai accord is a special composition of ten fine fragrance and essential oils.  It contains a blend of teas, frothed vanilla milk, fresh ginger EO, cardamom EO, clove EO and cinnamon.  The dominant notes in Maplewood Inn are the maple, woods and sweet wood smoke.  It is a sweeter blend but the wood notes and wood smoke temper the maple.  The chai is very subtle yet its presence adds a comforting depth and subtle exotic spice that washes over the more prominent notes.
Fans of Smoky Mountain Mallow may enjoy Maplewood Inn. If you felt SMM was too smoky for your tastes, Maplewood Inn might be just the right thing. It is sweet and woodsy with the wood smoke very evident but not as heavy as in SMM. The subtle vanilla chai lifts the blend as well. I think it is on the brink of being unisex, especially at the beginning when the wood notes are most apparent, but it does get sweeter the longer it is on the skin as the maple and sweet wood smoke come to the forefront.  Smells awesome in cool weather!
Perfume, Ganache, Whipped Soap, Burnishing Glace




BLACKBURN'S PARLOR


Vanilla Waffle Bowl, Vanilla & Chocolate Ice Creams, Sliced Bananas Smothered In Caramel Sauce & Topped With Whipped Cream
As you enter Blackburn's Parlor, you're overcome by the scent of fresh made vanilla waffle bowls and cones.  Gleaming black and white checkered flooring leads you to the ice cream case, which is brimming with full tubs of rich, smooth homemade dairy delights.  All of the ice cream in Blackburn's Parlor is made with the fresh organic milk from pastured grass-fed dairy cows from Blackburn's Farmstead.
While Blackburn's Parlor features an array of a dozen creamy flavors and every topping of your heart's desire, you're here for the Blackburn's Signature Sundae.  A golden brown vanilla waffle bowl, just cool enough to cradle your sundae, is filled with two scoops of smooth vanilla ice cream, one scoop of chocolate, a few pieces of thinly sliced banana and a generous dose of caramel sauce, all topped with a pile of fresh whipped cream.  
The banana is a top note and will fade.  The dry down features the vanilla waffle cone and caramel as the most dominant notes.   Wearing Blackburn's Parlor while enjoying a Signature Sundae is recommended!
Perfume, Ganache, Whipped Soap, Burnishing Glace and BATH SALTS (You guys have asked for foody salts many times!  These salts are in our "new" formula, which is pretty much the exact same as what you're accustomed to except that they are now Vegan and contain no oatmeal so should be safe for our gluten intolerant customers!)

MINISTER


Sandalwood, Amber, Cassia, Elemi, Sweet Smoke & Somalian Frankincense
NOT TO BE USED BY WOMEN WHO ARE PREGNANT OR NURSING OR BY THOSE WITH VERY SENSITIVE SKIN (DUE TO LIGHT USE OF SPICE OILS). SPICE OILS MAY CAUSE SENSITIVITY IN SOME INDIVIDUALS.  TEST A SMALL AREA OF YOUR SKIN BEFORE APPLYING ALL OVER IF YOU ARE VERY SENSITIVE TO SPICE OILS.  THE SPICES USED IN THIS BLEND ARE VERY HEAVILY DILUTED.
Mooseridge Ministry is located in a quiet area near Maine Moon Drive-In and overlooks the North River.   Minister is a reverent fragrant blend of precious essential oils, fragrance oils and absolutes.  A light sweet incensey base of sandalwood blends with amber, resinous Somalian Frankincense EO, Elemi EO and a tendril of smoke.  Minister is enhanced by just a few drops of cassia and cinnamon fragrance, which adds a mysterious and exotic spice note.   The resinous frankincense and elemi are more apparent on cold sniff and initial application.  These oils quickly give way to the lighter blend of sandalwood fragrance and essential oil, amber and a little smoke.  The spice is very gently nuanced through the composition.  It is not a dominant spice blend but rather a sweet, resinous, slightly smoky blend.   Minister also contains benzoin, labdanum, copaiba and more.  Unisex and very wearable.   Fans of Conjure may enjoy Minister as well.

Perfume, Ganache, Whipped Soap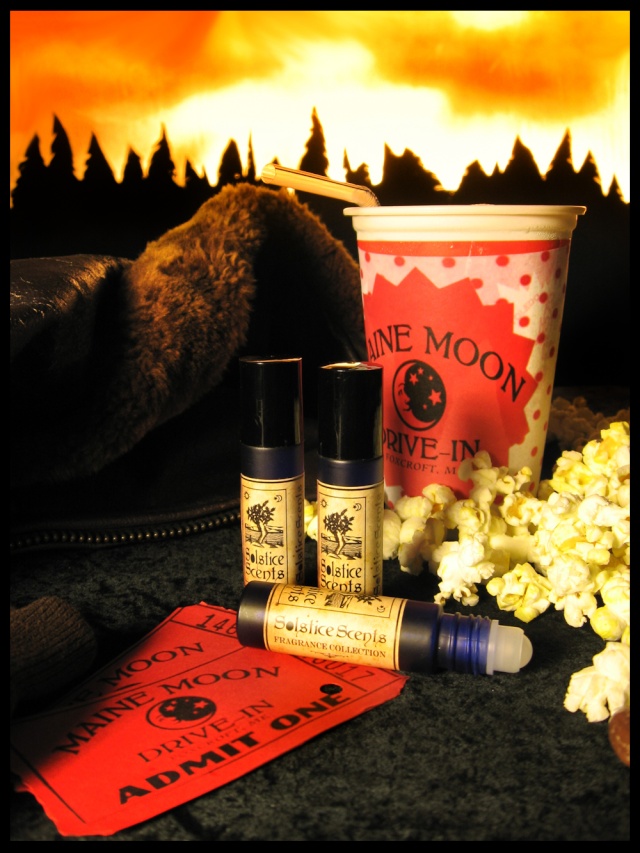 MAINE MOON


Crisp Fall Air, Wood Smoke, Leather Seats & Concessions of Root Beer, Popcorn & Chocolate Covered Caramels
NOT TO BE USED BY WOMEN WHO ARE PREGNANT OR NURSING.
It's a crisp fall evening, the convertible top is down and you are parked at an ideal vantage point for tonight's movie marathon.  The scent of leaves, moss, dirt and wood smoke permeates the air.  The leather seats are slightly cool against your skin.  You have all the requisite supplies for getting down to some serious movie watching business: a large ice-cold root beer, a tub of warm buttery salted popcorn and a box of Milk Duds.  The temperature of the evening is dropping rapidly and you decide to put the convertible top back up, effectively shutting out the scent of the night air.  Fragrant sweet smoke becomes more prevalent as neighboring households opt to combat the chill by starting their hearth fires.  The scent of root beer, chocolate covered caramels, wood smoke and popcorn swirls around you as suspend your belief for a few hours, completely transfixed by the large theater screen.
Suspend your belief with this unique and immersive scent.  It's like nothing you have ever smelled before.  Maine Moon begins with a burst of crisp air, leaves, dirt and moss mixed with a heavy blast of root beer.  The chocolate appears directly behind the root beer, followed by the scent of popcorn that wafts in and out for several minutes.  This fragrance morphs quickly.  Within a few minutes the initial blast of outdoor air and the birch-like scent of root beer mellow.  The popcorn and caramel wait in the wings to make their debut, flitting in and out of range for the first ten minutes. The outdoors notes recede and make way for a brief appearance of a subtle worn leather note that is short lived but also ebbs and flows for a few minutes.  The caramel, sweet wood smoke and popcorn become the dominant notes shortly thereafter and continuing on into the dry down.  The root beer is tempered to a very subdued note that weaves in and out for about half an hour.  The longer Maine Moon is on the skin, the warmer it becomes as the wood smoke, caramel and popcorn dominate. This fragrance hovers closer to the skin in the dry down but is tenacious.  Maine Moon is best experienced outside when the weather is cool.  The cool air really brings the notes out and highlights the sweet smoke note during the dry down.   To really bring Maine Moon to life, try wearing it on an evening when you can open the window to allow the cool air in, settle down on the couch with the aforementioned concessions, queue up a new or favorite movie, apply Maine Moon and press play!
Transport yourself with this fun novelty fragrance journey.
Perfume, Whipped Soap.  The Whipped Soap illustrates the top notes in Maine Moon and smells like the cold sniff and initial application of the perfume.  The root beer, outdoor accord and wafts of popcorn are dominant in this format.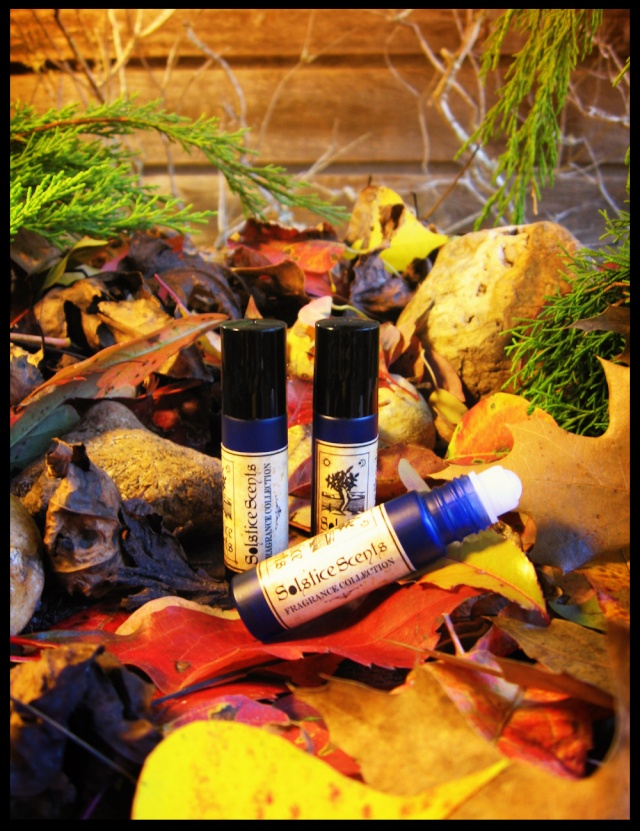 COVERED BRIDGE


Woods, Moss, Leaves, Wood Smoke, Dirt, Ozone, Fir Absolute
NOT TO BE USED BY WOMEN WHO ARE PREGNANT OR NURSING.
Bell's covered bridge is the main conduit for crossing the North River in Foxcroft.  The view of town, the rushing river water and the towering peak of Mt. Willow are inspiring sights from either side of the bridge.   This fragrance celebrates the dry wood notes which represent the bridge itself, fresh Northern air and mossy green notes and is a must for lovers of woodsy outdoors blends.  Sixteen premium fragrance and essential oils bring the Bell's covered bridge to life.  Wood notes comprised of Virginia Cedarwood EO, Alaskan Cypress Wood EO, Blue Cypress EO and sandalwood meet earthy notes of patchouli, vetiver and musk.  A cool blend of oakmoss, dirt, fir absolute and fern envelopes the dry wood notes and pairs well with a blend of sweet fall air, hay and wood smoke elements.   Covered Bridge is a very smooth and evocative woodsy blend.   Fans of Crumbling Crypt and Wail of the Banshee may also enjoy Covered Bridge as it shares a few similar notes.
Perfume, Burnishing Glace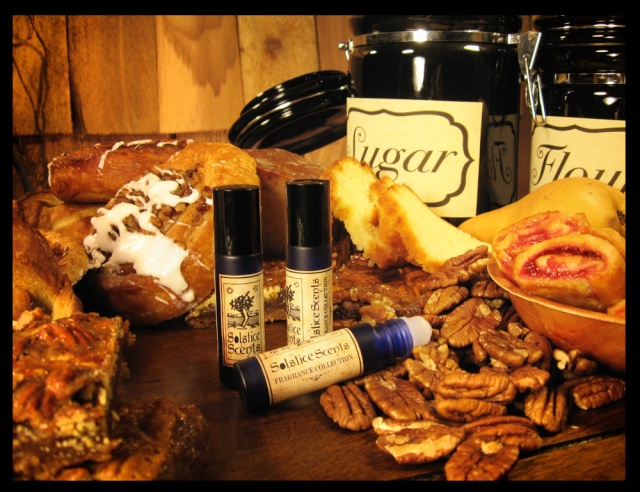 SYCAMORE SUGARWORKS


Caramelized Pear Tarts, Banana Apple Muffins, Spice Cakes With Rum Glaze, Cream Puffs & Maple Walnut Pastries
Sycamore Sugarworks is the local bakery in the town of Foxcroft.  It features an array of sweet treats, coffee, chai and friendly small town chatter.  A tinkling bell on the door signals your ingress.  The bakery is warm as goodies are still making their way out of the oven.  Shrugging off your coat, you are immediately aware of the myriad of sugary scents swirling around you: fruit danish, butter cream icing, fresh maple candies, spice breads, biscotti and many more goodies are offered on trays and stands of varying size.
Sycamore Sugarworks fragrance contains a melange of varying desserts and their components.  Notes of white sugar, pear, maple, brown sugar, caramel, banana, vanilla, pecan, clove, rum, apple and pastry collide to create an incredibly sweet decadent dessert fragrance.  On cold sniff, pear, caramel, banana and a touch of rum glazed spice cakes are in the foreground hovering above a base of the pure sugar, maple, caramel, brown sugar, pastry and vanilla cream puffs.  After a few minutes on the skin, the fruits soften as they are smothered in the warm brown notes of caramel and maple.  Sycamore Sugarworks does morph, however, its profile is consistently sweet throughout, especially after the pear and banana top notes disappear.  This blend has only a minimal amount of spice that is primarily detected in the first few minutes of wear.  The dry down is warm, sugary, slightly buttery with a hint of vanilla cream puffs and a faint trace of spice.  

Foxcroft Collection sample packs will be available.

A gorgeous Foxcroft Collection Gift Set (photo coming soon) will also be offered if you would like the complete set of oils.

And last, but certainly not least we have something that you guys have been asking for for years:  Seance Perfume.  Seance was one of the first bar soap scents that we sold in our Etsy shop when we started selling online in 2009.  It has always been a best selling bar soap and I've had numerous requests for it to be offered in perfume format over the years.  I am pleased to finally be able to present it to you.  This blend does not contain the dalmation sage EO (it is not a good idea to use that oil in perfumes) but I believe it smells exactly like the soap, especially shortly after initial application (versus just cold sniff).



SEANCE PERFUME


Sage, Clove, Frankincense, Patchouli, Ylang Ylang & Sandalwood
NOT TO BE USED BY WOMEN WHO ARE PREGNANT OR NURSING OR BY THOSE WITH VERY SENSITIVE SKIN DUE TO USE OF SPICE OILS. SPICE OILS MAY CAUSE SENSITIVITY IN SOME INDIVIDUALS.  TEST A SMALL AREA OF YOUR SKIN BEFORE APPLYING ALL OVER IF YOU ARE VERY SENSITIVE TO SPICE OILS.
The fragrance of our popular bar soap, now available as a perfume!  Seance is a haunting blend of sage, clove, frankincense, ylang ylang, patchouli essential oils and a dash of sandalwood to awaken the spirit. It smells primarily of spicy clove and sage followed by a bit exotic and astringent frankincense oil. It has a deep, herbaceous, woody, spicy, earthy and musky fragrance.  The ylang ylang contributes a very subtle sweet/light floral note and the patchouli is grounding, contributing to the overall fullness of the Seance fragrance rather than standing apart as a dominant note like the sage, clove and frankincense do.  Contains both fragrance and essential oils.  Unisex.

THE FOXCROFT COLLECTION BOX SET
contains all six Foxcroft Collection perfumes:  Blackburn's Parlor, Covered Bridge, Maine Moon, Maplewood Inn, Minister and Sycamore Sugarworks.  It is packaged with rustic primitive touches including raffia, putka pods, moss and silk maple leaves.  The box set will contain the Foxcroft Collection card which lists the notes in each blend on one side and has a map on the other side.  It also includes a larger map and the front page of the "Foxcroft Bulletin" which talks about some of the happenings in the town.  The latter two items will be included in all orders in lieu of business cards and bookmarks.  A special Foxcroft image is affixed to the top of the box.  The set is tied with raffia and leaf ribbon and is ready for gift giving or for your personal collection.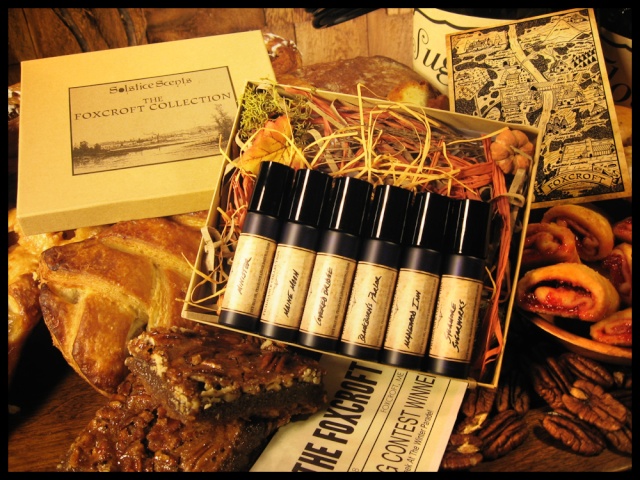 A Foxcroft Collection sampler pack will also be available for purchase.