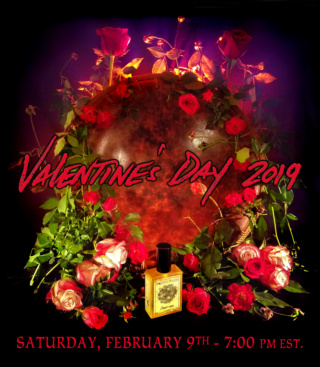 The V-day release will be live tonight at 7 p.m. EST at www.solsticescents.com.
BLACK FOREST - Agarwood, Nagarmotha, Tobacco, Chocolate, Red and Black Cherries, Hay, Sandalwood, Whipped Cream & Pink Pepper (The perfume oil and EDP are General Catalog, but for V-day we are offering the Burnishing Glace and Whipped Soap as well)
BLACK LEATHER, RED LACE - Amber, Vanilla, Black Leather (Perfume oil, Burnishing Glace)
BLUEBERRY VIOLET TRUFFLE - Cocoa absolute, Blueberry, Violet, Tonka, Vanilla in organic cane sugar alcohol (Perfume only)
CHERRY CORDIAL - Maraschino Cherry, Black Cherry, Dark Chocolate, Cocoa (Whipped Soap only)
CHERRY VANILLA AMBEROSIA - Amber, Cherry, Vanilla, Whipped Cream, Orange (Perfume oil, Burnishing Glace, Whipped Soap)
CHOCOLATE STRAWBERRY CREAM *NEW* - Chocolate Mousse, Strawberry, Sweet Cream, Vanilla Bean (Whipped Soap only)
COCOA MALLOW - Chocolate and Marshmallow (Whipped Soap only)
EDGE OF THE NIGHT - Black Vanilla, Soft Spices, Red Musk, Chypre Base (Technically General Catalog but the perfume oil is returning after a long time of being out of stock. Eau de Parfum and Burnishing Glace also available).
HEART OF THE NIGHT - Moroccan & Bulgarian Rose, Chocolate, Vanilla, Edge of the Night base (Perfume Oil, Eau de Parfum)
LAVENDER RASPBERRY TRUFFLE - White Chocolate, French Lavender, Bulgarian Lavender, Tonka, Cocoa Absolute, Raspberry in Organic Cane Sugar Alcohol (Perfume only)
NIGHTGOWN - Vanilla, White Chocolate, Tuberose & Tiare Flowers (The perfume oil is General Catalog. The Eau de Parfum is only offered with the V-Day release. Whipped Soap and Burnishing Glace will also be available)
ORIENT ROSE *NEW* - Sensual and voluptuous rose musk blend. Loaded with top and heart notes of rose absolute from Morocco and Bulgaria, rose otto from Turkey and Bulgaria, Rose de Mai, Rose Attar, tea rose accord paired with vanilla musk, white musk, a touch of amber and ambergris (vegan accord), traces of Indian vetiver and delicate spicy Oriental accents. This perfume opens with lush and multi-dimensional rose petals aroma and dries down to a soft musky scent with light traces of rose. Exquisite, fresh, dewy, musky and elegant. A must for rose lovers. (Perfume oil $22, Eau de Parfum $90 due to large quatities of precious ingredients)
PINYON TRUFFLE - Chocolate, Pinyon Pine, Pinyon Resin, Swiss Stone Pine, Tonka, Vanilla in Organic Cane Sugar Alcohol (Perfume only)
VIOLET MALLOW - Marshmallow Cream, Violet Flowers, Vanilla Bean, White Musk (Perfume oil offered year round. Eau de Parfum only made with the V-day release. Burnishing Glace will also be available)
VIOLET TRUFFLE - Dark Chocolate, Violet, Violet Leaf & Vanilla
VIOLET WHITE LEATHER -  Violet, Vanilla, White Leather, Coumarin, White Musk (Perfume only)
OTHER GLACES THAT WILL BE AVAILABLE IN ADDITION TO THOSE NOTED ABOVE:
Dark Ginger Spicecake
Ghost (Unscented)
Lavender Vanilla
Manor
Riverside Sleighride
Snowmint Mallow
Snowshoe Pass
For your convenience, the Glaces indicated above have been listed in the Valentine's Collection page for ease of ordering/adding to cart
All of the Valentine's Collection perfumes are available in the sampler packs and as the free sample at checkout.
ALSO RESTOCKED:
Vanilla Pipe Tobacco 5 ml
Estate Vetiver 2.5 ml EDP sample and 60 ml bottles
If you're on Instagram, look for the Nightgown EDP photo on our feed @solsticescents to read how to enter to win a $60 gift certificate to our site.