(Sneak Peak originally posted for forum members on Saturday)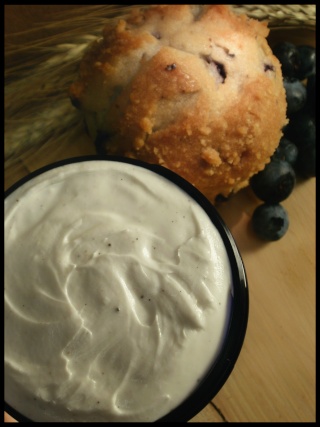 NEW SCENTS:BLUEBERRY MUFFIN BATTER
-
Plump blueberries, sweet brown sugar crumb topping, a touch of powdered vanilla beans, liquid cane sugar and batter.
Blueberry Muffin Batter smells very sweet, with a clear brown sugar note and blueberry scent; it's a very warm fragrance. It starts off pretty strong with a sweet blueberry note combined with liquid cane sugar and a little brown sugar crumb on cold sniff and initial application. Give it a few minutes and the blueberry smooths out and the brown sugar begins to rise. The longer it is on the skin, the more delectable it becomes. The dry down is primarily a warm, sweet brown sugared batter with a touch of plump berries hovering in the background. It loves to be warmed up by your body heat. Yum! Contains vanilla absolute.
Offered in Perfume $13.00, Burnishing Glace $14.00 and Whipped Soap $9.00.
The Whipped Soap contains organic vanilla bean flecks and a few blackberry seeds as that is how it was originally offered so we wanted to continue the tradition. This one really blooms into a mouth watering experience in the shower! The brown sugar in this is fabulous. New customers: please remember that our whipped soap contains a preservative derived from iodine. Please avoid this product if you have an iodine allergy.
This is a returning scent from long ago that was previously called Blueberry Brown Sugar Muffin Batter. This is the first time that it has been available in leave on applications!
BLACKBURN FARMSTEAD
- Fall is the season for canning and preparing food stores and the home and its inhabitants for the winter. The kitchen is abuzz with the creation of homemade delights but the most prized at the Blackburn Farmstead is the blackberry and boysenberry preserves made from berries grown right on the farm. In the autumn, the family gathers around the hearth to enjoy fresh made butter and jam on hot from the oven buttermilk biscuits. The jam is also a euphoric experience on the homemade fresh-churned vanilla ice cream!
Blackberry Jam, Boysenberry Preserves, Vanilla Bean Accord, Creamy Vanilla and a touch of Vanilla Musk.
This scent is not quite as "literal" of a foodie scent as the Blueberry Muffin Batter. It is a blend heavy on rich vanilla (new to the shop, blended with a touch of the vanilla bean accord featured in some of our other offerings this season). The berries are primarily detected on cold sniff for the perfume and whipped soap and initial application for the perfume and glace. The ganache is a bit creamier and the vanilla is more in the foreground, though the berries are detectable. With the ganache, the dry down has the berries floating at the very bottom of an ethereal, very feminine vanilla blend. The perfume and glace start out with the delicious combination of berries laying on top of the gorgeous vanillas. The dry down mirrors the ganache - sweet and creamy vanillas in the foreground with a cool-toned blend of berries in the background, rounding out the vanilla. We definitely recommend layering the ganache and either perfume or glace to get the full effect of this fragrance.
This is more of a "grown up" gourmand scent. Much in the way that Aquolina Pink Sugar is very sweet and clearly has many sugary and foodie notes but also has a hint of musk, Blackburn Farmstead follows in this tradition in that it is very sweet, the vanilla and berries are true but the touch of vanilla musk adds an edge that keeps it from being straight up foodie and turns it from simply comforting to subtly sexy.
Available in Perfume $13.00, Ganache $9.00, Burnishing Glace $13.00 and Whipped Soap $9.00.
The Whipped Soap contains organic vanilla bean flecks and a few blackberry seeds.
BLACK MALLOW
-
Our beloved marshmallow infused with star anise essence and vanilla.
Black licorice has a very distinct, dark, slightly spicy and very unique taste. The aroma of anise essential oil mirrors the taste experience of sinking your teeth into black licorice candies! For fan's of our Warlock soap, this is not to be missed! On cold sniff, the anise is most detectable. On initial application, the anise is the strongest note but the mallow and vanilla adds a creamy sweetness that keeps the anise from being too sharp. As the perfume evolves on the skin, the anise melts further and further into the vanilla mallow so there is a true infusion of all components. Eventually the anise will wear almost completely away but its presence doesn't entirely recede. It lends itself for the life of the blend to morph the vanilla and mallow so that they aren't flat but rather a whole new and uniquely wonderful fragrance. It wears closer to the skin which means your nose will be glued to your wrist because it is so delicious. Black Mallow does contain volatile anise essential oil which does not have the staying power of some of our synthetic components, however, this scent is so enjoyable that we don't think you'll mind touching up to refresh! (It lasts a few hours on me, especially when I rub some on the tops of my arms instead of just my wrists). This scent is ultimately very smooth, creamy, rich and wicked all in one stroke.
Perfume only $13.00
BY POPULAR DEMAND
(you can view the scent descriptions for these scents by
clicking here
:
WITCH'S COTTAGE BURNISHING GLACE
$15.00
PUMPKIN SPICE LATTE BURNISHING GLACE
$15.00
RETURNING FROM LAST YEAR
(limited run):
BARTLETT PEAR & BROWN SUGAR BAR SOAP:
This fragrant soap features a strong burst of fresh pear tempered by a very subtle background of brown sugar and just a few drops of Cardamom Essential Oil. Finished with a slight dust of Clove Powder across the top. The scent is primarily that of Pear, however; the other notes assist in smoothing and rounding out the soap.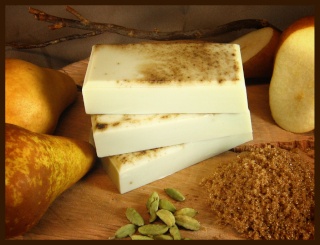 BANANA NUT BREAD:
A mouthwatering mid-Winter scent created for those who are still seeing snow as opposed to shoots. Warm, comforting banana nut bread loaded with chopped Southern pecans and a subtle spice. This scent smells absolutely delicious and will have you salivating!
Whipped Soap $9.00
Just a few things for our foodies.
We will be offering perfume sample packs with the 3 new scents for $7.50 as well. Everything here is kind of a limited run. By that, I mean that we will be shipping out any orders received from this sale and will then be launching into heavy winter collection production so I won't be focusing on doing much restock for this or the current fall offerings (aside from perfume restocks already mentioned previously and I will try to keep those in stock for a while at the very least).
There are going to be many returning holiday blends as well as several new and wonderful blends. We made a good deal of the whipped soaps and perfumes for this mini fall release because the scents are very "easy going" and may be perfect neutral scents to give as holiday gifts. I do have a decent amount of the perfumes in all 3 made so if we sell out, I will have a restock for those. However, it is unlikely that I will make any more of the whipped soaps or ganache and I will not restock the Bartlett Pear bar soap once it sells out.
In other news, our perfume bottles finally arrived so there will be a pretty substantial perfume restock in the next few days as well. We are waiting on our perfume labels, which we have actually coming from a printer. We're hoping that they're going to be awesome and we can look to getting our whipped soaps and ganaches (and maybe glace) printed. It will speed up our operation significantly since we print and hand cut everything here and when stocking hundreds of products at a time, it can take quite sometime to do all of that.