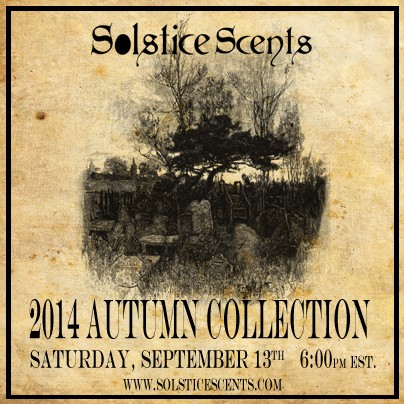 The Autumn Collection will be issued in two parts again this year.  The first release will take place this Saturday at 6 pm EST. It will feature tons of returning favorites from previous fall collections as well as additional products from the Manor and Foxcroft Collections. Both of those collections were originally "part 2" fall releases and have since become permanent. Perfumes are stocked year-round for both lines and other products in those collections are occasionally offered (on a limited basis) but this fall we have made more products in these lines than we usually do. For instance, there will be restocks of products in Blackburn's Parlor, Sycamore Sugarworks, Kitchen, Maine Moon Whipped Soap and Cellar Glace. Jack & The Devil (year round as a perfume) will be available in glace and ganache. Manor ganache will be restocked.  These products will be listed on the Recently Added page and in their respective categories, NOT on the Autumn Collection page.
The list of the additional aforementioned products that will be available is toward the bottom of this thread, just above the "Sample Listings Have Changed" section.
We will have an Autumn Collection perfume sample pack for sale but we definitely encourage you to explore the Manor Collection and Foxcroft Collection as well, if you're new to us or have not yet tried anything from those collections.  There are some very "fall" smelling scents in those lines, considering they were originally the new scents for the 2nd half of the fall release.  Kitchen (Manor Collection) and Blackburn's Parlor (Foxcroft Collection) are very popular "foodie" scents.  If you are new to our site and wish to purchase perfume samples, please make sure to read the information at the very bottom of this thread under the "Sample Listings Have Changed" section.  This will ensure a smooth and satisfactory experience on our site.  

You can view the Manor Collection here: http://www.solsticescents.com/MANOR-COLLECTION_c_71.html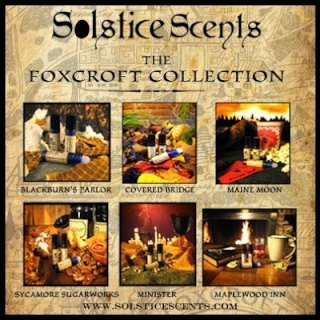 The Foxcroft Collection is here: http://www.solsticescents.com/FOXCROFT-COLLECTION_c_67.html
The town of Foxcroft map (to locate the scents you'll be smelling from this line) as well as Foxcroft Bulletin back issues from previous releases can be viewed here: http://www.solsticescents.com/THE-TOWN-OF-FOXCROFT_c_72.html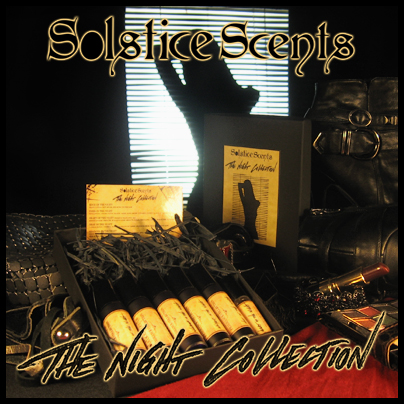 The Night Collection boxed set
will be available for purchase tomorrow. It contains all six of the Night series packaged in a matte black box with "The Night Collection" graphic on the lid. The fragrances are nestled in black raffia and a reference card for names and notes is included in the box, just above the perfumes. The box will be tied with a black raffia ribbon in the same fashion as the Foxcroft Collection box set.  A Night Collection sampler pack will also be added to the site.
WITCH'S COTTAGE
Warm Baked Goods, Dried Herbs, Sweet Annie, Soft Woods, Fragrant Hearth Smoke
NOT FOR WOMEN WHO ARE PREGNANT OR NURSING OR FOR THOSE PRONE TO HAYFEVER (Contains chamomile EO).
Upon entering the Witch's Cottage you are greeted with fresh and dried herbs, chamomile flowers, rosemary sprigs, Sweet Annie, Davana and a hint of crisp apples. A warm undercurrent of luscious baked goods, sweet buns and candied pralines emerges and is followed by mild fragrant woods and sweet hearth smoke. Witch's Cottage fragrance is a true journey with loads of atmosphere.
On initial application the herbs emerge with the sweet baked goods hovering just below. The apple and herbal top notes (namely the chamomile and Sweet Annie) retreat within a few minutes to make way for brown sugar and caramel heavy baked goods. The sweet note is a collection of a variety of different sugary treats but the overall scent is not cloying - rather a vague, well blended impression of baked goods that adds a rich warmth to the blend.
Further journeying into the cottage will take you to the warmest, most fragrant and exotic soft woods touched by a wisp of divine incense and sweet hearth smoke. The long term dry down is that of the woods and sweet smoke and is a very warm, comforting and alluring fragrance. A definite morpher that is also very interesting, unique and complex scent. It wears close to the skin and encourages snuggling into the couch in front of a blazing fire with a great book and a mug of hot cider!
The Whipped Soap is wonderful as well but the warm drydown described above is not as detectable. The cold sniff impression is more prominent here: warm, sweet, a touch of herbs, apple, chamomile and a hint of sweet woods.
Available in 10 mL Perfume ($15.00), Burnishing Glace ($15.00) and Whipped Soap ($10.00).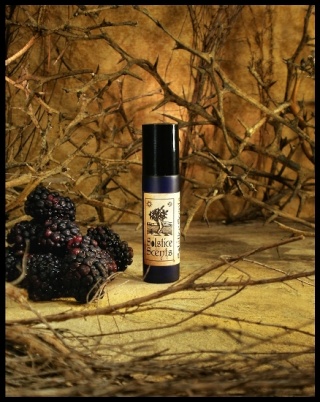 THORNWOOD THICKET
Sugared Blackberries, Black Agarwood, Aloeswood, sweet and smoky Guaiacwood, Amber.
An impenetrable entanglement of thick brambles and dangerously sharp thorny branches housing large sweet blackberries that are practically to the bursting point of ripeness. The scent is that of a sweet blackberry paired with exotic incensey woods. The dry down smells like a wonderful dark berry incense!
Thornwood Thicket starts out more powerfully blackberry with a touch of a grape note, but it doesn't take long for that to tone down and the woods to softly come out. The wood components do get stronger over time, especially after it has been on the skin for a while. The blackberry has tremendous staying power, though it does take a back seat to the woods. There is no fake berry smell here on the dry down but rather a dark, rich berry note. This is a very nice morpher and one that begs for a skin test (do not judge it on cold sniff as the true blackberry note is not as apparent this way!).
Available in Perfume ($15.00) and Burnishing Glace ($18.00)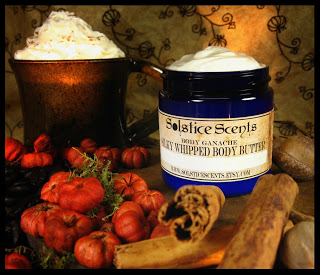 PUMPKIN SPICE LATTE
Sweet Pumpkin, Gingerbread Whipped Cream, Cinnamon and Nutmeg Essential Oil
A best seller! The fragrance is a blend of coffee essential and fragrance oils, sweet pumpkin, gingerbread whipped cream, cinnamon and a drop of nutmeg essential oil. Upon application, coffee is the first note to emerge, immediately followed by a spicy cinnamon. After just a few minutes a sweet syrupy scent emerges. The true dry down scent rises after about 15 - 20 minutes on the skin at which point the spice mellows and the coffee, pumpkin and cream all perfectly swim together in a pleasingly balanced brew.
Available in Perfume ($13.00), Ganache ($9.00) and Burnishing Glace ($15.00)
BLACKBURN FARMSTEAD
Blackberry Jam, Boysenberry Preserves, Vanilla Bean Accord, Creamy Vanilla and a Touch of Vanilla MuskNote:
One of the oils in this blend is no longer available to us.  Therefore, this scent will be slightly reformulated upon return next year.  
Fall is the season for canning and preparing food stores and the home and its inhabitants for the winter.  The kitchen is abuzz with the creation of homemade delights but the most prized at the Blackburn Farmstead is the blackberry and boysenberry preserves made from berries grown right on the farm.  In the autumn, the family gathers around the hearth to enjoy fresh made butter and jam on hot from the oven buttermilk biscuits.  The jam is also a euphoric experience on the homemade fresh-churned vanilla ice cream!
Blackberry Jam, Boysenberry Preserves, Vanilla Bean Accord, Creamy Vanilla and a touch of Vanilla Musk.  This scent is not quite as "literal" of a foodie scent as the Blueberry Muffin Batter.  It is a blend heavy on rich vanilla. The berries are primarily detected on cold sniff for the perfume and whipped soap and initial application for the perfume and glace.  The ganache is a bit creamier and the vanilla is more in the foreground, though the berries are detectable.  With the ganache, the dry down has the berries floating at the very bottom of an ethereal, very feminine vanilla blend.  The perfume and glace start out with the delicious combination of berries laying on top of the gorgeous vanillas.  The dry down mirrors the ganache - sweet and creamy vanillas in the foreground with a cool-toned blend of berries in the background, rounding out the vanilla.   We definitely recommend layering the ganache and either perfume or glace to get the full effect of this fragrance.
This is more of a "grown up" gourmand scent.  Much in the way that Aquolina Pink Sugar is very sweet and clearly has many sugary and foodie notes but also has a hint of musk, Blackburn Farmstead follows in this tradition in that it is very sweet, the vanilla and berries are true but the touch of vanilla musk adds an edge that keeps it from being straight up foodie and turns it from simply comforting to subtly sexy.
Available in Perfume ($13.00), Ganache ($9.00), Whipped Soap ($9.00) and Burnishing Glace ($14.00)
HALLOWEEN NIGHT
Sweet Candy Corn, Chocolate Candy Wrappers, Melty Gooey Marshmallows, Sticky Caramels and Black Jelly Beans
It's back! (Originally known as Fright Night). Halloween Night is a cavity-inducing blend of sugared Halloween sweets, smelling similar to a Halloween candy pail. Sweet candy corn, chocolate candy wrappers, melty gooey marshmallows, sticky caramels, black jelly beans and more. This scent starts off with a little burst of black licorice that mellows quickly. Dry down is a soft blend of various candies, worn close to the skin but sweet and long lasting.
Available in Perfume ($13.00), Ganache ($9.00) and Burnishing Glace ($14.00)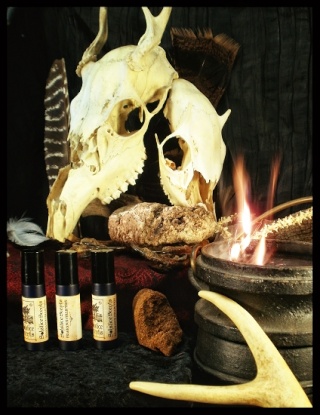 GEHENNA  
Red Musk, Dragon's Blood Resin, Burning Wood, Somalian Myrrh, Egyptian Musk.
Gehenna is a very dark fragrance with red musk as the dominant note, followed by rich Dragon's Blood. Smoke from eternal fires billows in the background followed by a subtle addition of resinous myrrh. Egyptian Musk rounds out the sharper notes of the blend and contributes to a lighter, less ominous dry down.
On cold sniff and initial application, Gehenna is strong, powerful, rich and musky. The smoke is more detectable at this stage. The scent evolves to showcase the red musk and dragon's blood in the foreground. After journeying into Gehenna for an hour or so, a halo of Egyptian musk emerges from the darkness - tempting the senses with its white light and calm resonance.  This scent leans masculine.
Available in Perfume ($12.00), Body Ganache ($9.00) and Burnishing Glace ($14.00)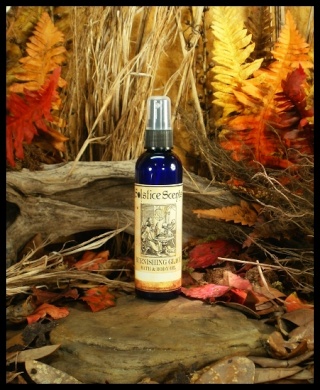 FOXCROFT
Ozone, Rustling Leaves, Rich Black Soil, Chimney Smoke & Woods
If you've ever wished to literally bathe in the essence of a late-afternoon Autumn day, Foxcroft is for you. An incredible blend of ozone, rich black soil, rustling leaves and chimney smoke, Foxcroft is at once cool air coupled with firey red, orange and golden leaves, a sweet sharp green note, fertile wet dirt and a touch of woods laced with the intoxicating smoke from fireplaces burning throughout the countryside.  
Foxcroft is very potent upon cold sniff and initial application!  At the beggining, it smells of very wet decaying leaves but on the skin it will evolve into a softer and more wearable scent with the soft smoke notes coming out.  Please make sure to skin test this one for the full true experience!
Foxcroft was inspired by a beautiful quaint small town in Maine.
The wonderful smoke note in Foxcroft is primarily detectable in the perfume format, once some of the top notes have burned off and the powerful blast of Autumn air has subsided. The Whipped Soap and Dead Sea Salt Oatmeal Milk Bath are both more heavily scented with the other earthy notes with the smoke note mingling within as part of the profile.
Available in Perfume ($13.00), Whipped Soap ($9.00), Dead Sea Salt Milk Bath ($10.00), Burnishing Glace ($14.00) and Ganache ($9.00)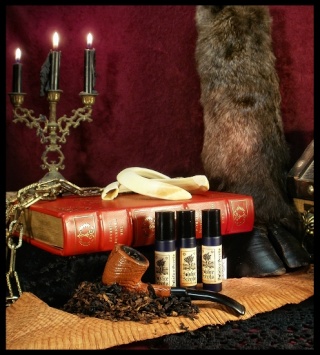 DEVIL'S TONGUE
Chypre, Brown Leather, Warm Tobacco, Woods and More
NOT FOR WOMEN WHO ARE PREGNANT OR NURSING.
Our handcrafted chypre base of oakmoss absolute, labdanum absolute and bergamot essential oil supports loads of warm, earthy patchouli, brown leather, fine tobacco, a touch of agarwood and sandalwood, frankincense and vanilla accord. It is a masculine and complex scent that is very brown leather and tobacco heavy.
Upon initial application, bergamot top notes tickle your nose as the oakmoss, earthy patchouli and sweet balsamic amber lurks just beneath. After just a few seconds Devil's Tongue gives way to rich brown leather followed immediately by rich cured tobacco. This is a strong, powerful, rich scent that is unabashed and unafraid. Supporting notes of sandalwood, vanilla, agar and more contribute additional depth. The leather and tobacco eventually subside and meld with the chypre and the patchouli begins to peak out. Great staying power, very strong.
This scent contains several essential oils and absolutes. The bergamot used is Bergeptene-free. This scent leans masculine though many ladies who like darker, edgier scents enjoy it as well.
Perfume only ($15.00)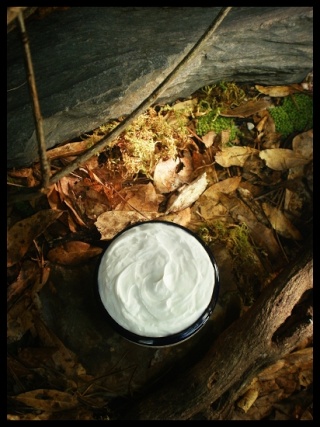 WAIL OF THE BANSHEE
Earthy-Aquatic Fragrance Featuring Patchouli, Smoky Vetiver, Fresh Rain, Peat Bogs, Irish Moss, Woods and a Fresh Crash of Salty Waves
Wail of the Banshee is a very earthy fragrance combined with aquatic notes. It is heavy on the patchouli, woods and dank bog notes followed instantly by fresh rain and salty waves, smokey vetiver and finished with a hint of moss in the background. Dark and atmospheric.
The Dead Sea Salt Oatmeal Milk Bath is topped with dried Irish Moss.
Available in Whipped Soap ($10.00) and Dead Sea Salt Milk Bath ($10.00) only.
This fragrance did not translate well into the leave on products or they would be offered too.
CRUMBLING CRYPT
All Natural Dark and Earthy Blend of Cedar, Cypress, Spruce, Patchouli, Amyris, Violet Leaf Absolute, Oakmoss and More.
NOT FOR WOMEN WHO ARE PREGNANT OR NURSING.
An unkempt solitary stone crypt sits shaded in a dense forest of ancient cedar trees. Crumbling stone covered in rich moss lays on wet, dank soil that is cold to the touch. A memorial long forgotten, the only frequent visitors are the shadows of the sheltering trees.
Crumbling Crypt is an all natural blend of essential oils and absolutes including Virginia Cedarwood, Patchouli, Oakmoss Absolute, Spruce, Cypress, Amyris, Rosewood, Patchouli, Violet Leaf Absolute, Rosemary, Lavender, Vetiver, Marjoram and Himalayan Cedar. It smells very woodsy, earthy, dank, green and herbal.
Available in Dead Sea Salt Milk Bath only ($10.00)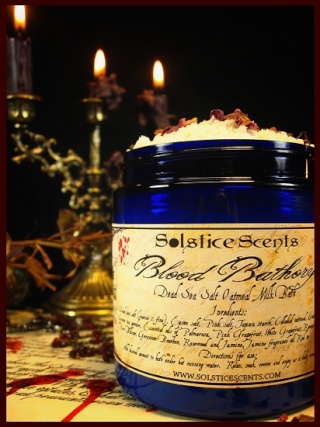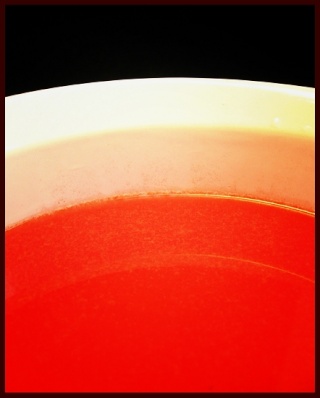 BLOOD BATHORY (This *MAY* be available tomorrow. If not, this week for sure).
Pink Grapefruit, White Grapefruit, Palmarosa, Geranium, Chamomile, Rosewood, Jasmine
Blood Bathory is not just a macabre novelty that turns your bath water the color of watered down blood, it also contains a powerhouse of antioxidant essential oils, green tea powder and a silky blend of oatmeal and coconut milk powder. It is a combination of essential oils of pink grapefruit, white grapefruit, palmarosa, geranium bourbon, peru balsam, roman chamomile, rosewood and jasmine with a just a few drops of jasmine fragrance oil. The fragrance is a light tart citrus coupled with a tea-like mild floral.  A relaxing bath best used before bed or to ease nervous tension due to the sedative properties in the chamomile essential oil.   Sweet grapefruit is the dominant note in the bath.  For best results, add when tub is almost completely full of water.
Topped with dried rose petals.  Blood Bathory turns bath water red.  Read full listing for more details.
Available in Dead Sea Salt Milk Bath only ($10.00)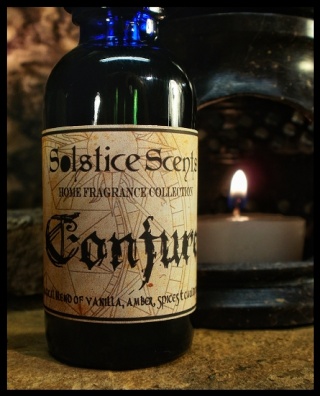 IMPORTANT NOTE ON HOME FRAGRANCE OILS:

Home Fragrance Oils have been formulated for use with a tea light soapstone burner (as pictured). They may get too hot in glass, ceramic or electric warmers. It is possible they would perform well in higher temp warmers with the addition of unscented paraffin or soy wax, to mock a tart (wax melt) experience.CONJURE - ORIGINAL FORMULA - Home Fragrance Oil
A Magical Blend of Vanilla, Amber, Cedar, Spices & Cauldron Smoke
Conjure is a very soft and magical blend consisting of mild non-foody slightly incensey vanilla, golden amber and fresh cut cedar with a faint wisp of cauldron smoke, allspice EO, Sandalwood EO, Rose EO, Rosewood EO and clove EO and a pinch of champa flowers. The main notes are the vanilla, amber, woods and faint all spice. It is very sexy, mysterious and intriguing.
Home Fragrance oil ($8.50)  (This scent is a part of our General Catalog as a perfume and rotating in other products as well).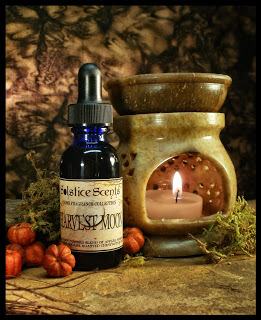 HARVEST MOON HOME FRAGRANCE OIL
Apples, Pumpkin, Butternut Squash, Roasted Chestnuts and Spices
Harvest Moon is a fragrance for those who wish that fall could last year-round. It is a true harvest-smelling autumn inspired blend of crisp fresh apple slices, pumpkin, butternut squash, cinnamon, clove, maple and roasted chestnuts. Apply this fragrance, close your eyes and imagine the vibrant reds, oranges and yellows of the fall leaves, the smell of smoke from a fireplace, the taste of mulled cider and feel the thrilling chill in the air tickle the nape of your neck. You will see in your minds-eye the colorful seasonal gourds and ornamental maize in the yards of your neighbors and hear the wind chimes in the fall breeze as the fallen leaves dance and rustle around your feet.
Home Fragrance oil ($8.50). Harvest Moon was sadly discontinued from being offered in bath and body products as one of the oils is no longer IFRA compatible.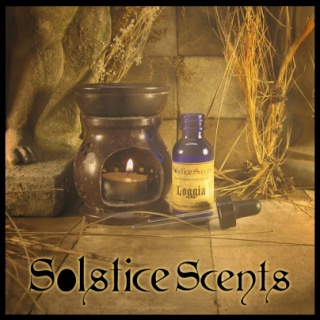 LOGGIA HOME FRAGRANCE OIL
A Blend of Mahogany, Amber, Musk, Vanilla Bean, Allspice, Cardamom, Black Pepper and Sandalwood
(Formerly known as Monster Mash).  High above the village, a castle sits shrouded in a heavy gray mist.  Muted moonlight illuminates its upper terraces. Thick with incense smoke, the loggia swells with invited guests, each heavily cloaked and masked. Laughter, violas and a harpsichord fill the night. Wine flows from never-ending mahogany vats. Exotic spices drape the air in fragrant bouquets. A bell rings from the archway, and all in attendance fall silent as the master of the night creatures crosses the paving stones...
Loggia is a blend of rich mahogany wood, sweet amber, musk, dark incense, deep vanilla bean and spices.  Fragrance oils combine with essential oils of sandalwood, cardamom, black pepper and allspice.  All of these notes meld together to create a dark, rich polished wood with a cool creamy sweetness and pleasing spice medley.  Loggia is a rich unisex scent that leans masculine but is also popular with ladies who enjoy darker scents.
Home Fragrance Oil ($8.50).  (This scent is a part of our General Catalog as a perfume and rotating in other products as well).
ADDITIONAL PRODUCTS THAT WILL BE STOCKED:BLACKBURN'S PARLOR:
Whipped Soap, Ganache, Glace, Bath Salts
KITCHEN:
Whipped Soap, Ganache (Glace and Perfume are currently in stock)
MAINE MOON:
Whipped Soap (Perfume will be restocked today)
MANOR
: Ganache (Perfume and Glace currently in stock)
SYCAMORE SUGARWORKS:
Whipped Soap, Glace (Perfume currently in stock)
MAPLEWOOD INN:
Glace has been restocked (Perfume currently in stock)
JACK & THE DEVIL:
Ganache, Glace (Perfume currently in stock)
CELLAR:
 Glace (Perfume currently in stock)
GIFT SETS:
We may list a few Foxcroft and/or Manor boxed collection sets if time permits
OTHER RESTOCKED PRODUCTS (these will be added throughout the day): PERFUMES
in Heart of the Night Premium, Blueberry Muffin Batter, Old Cedar Magus, Nag Champa, Conjure, Spellbound Woods, Patchouli Sweet Wood, Violet Truffle, Shadows in the Night
GLACES
in Black Leather/Red Lace, Edge of the Night, Spellbound Woods
FYI: SAMPLE LISTINGS HAVE CHANGED:
The standard sample 1, 3, 5 and 10 pack listings have been updated with a current list of General Catalog fragrances that are eligible for purchase.  The drop down menu that used to be present on these listings has been removed.  You can always purchase any sample from a permanent or currently available seasonal collection in the 1,3, 5 and 10 packs. You don't have to buy the whole Manor Collection sampler pack just to try Cellar, nor do you have to buy the whole Autumn Collection sampler to try Witch's Cottage and Devil's Tongue.  
To purchase samples, add your sample pack to cart and leave your selections in the comments box on our site at checkout.
*Please don't forget to leave your sample choices there as forgetting will create a delay in your order shipping out.*
Always check to make sure your comment is still there and your shipping option that you selected (first class or priority) is still there and correct before finalizing your order. Chrysalis and Chantilly Cream from the Spring Collection are sold out in samples and not available for purchase.