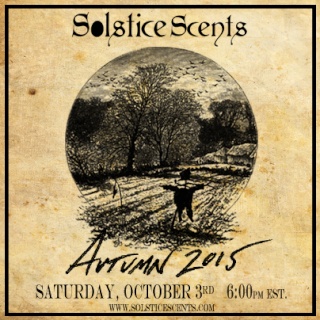 The Autumn Collection will be issued in two parts again this year.  The first release will take place this Saturday at 6 pm EST. It will feature returning favorites from previous fall collections as well as bath and body products from the Manor, Foxcroft and Foxcroft's Autumn Festival Collections. All of these collections were originally "part 2" fall releases and have since become permanent. Perfumes are stocked year-round for these lines and other products in those collections are occasionally offered (on a limited basis) but this fall we have made more products in these lines than we usually do.  Several autumnal General Catalog scents will also be available in bath and body products (see list below).
All products will be listed on the
Recently Added page
for ease of ordering.  Products that are not exclusively Autumn Collection (such as the Manor Collection, Foxcroft Collection, etc) will not be found on the Autumn Collection page, so be sure to look at either the Recently Added page or, if you're looking specifically for Whipped Soap, you can look at that page.  Usually, bath and body products are located on the "Other Products" page, which contains subcategories for other products.  For ease of ordering, I have re-enabled the categories of Bath Soaks, Whipped Soaps, etc. on the main menu.
We will not have an Autumn Collection perfume sample pack for sale but you may select any autumn perfumes you'd like to try in our choose your own 5 or 10 sampler pack found on the Perfume Samples page.  Leave your choices in the comments box on our site at checkout.
Fall part 2: We will have brand new fall scents in perfume only format (some specifically in EDP format) available late in the month near Halloween.  We do not anticipate restocking any of the bath and body products from fall part 1 but we will continue to stock the fall part 1 perfumes for several months.  If we restock any items (bath and body and/or Glace), this won't occur until the second part of the fall release and will be limited to a few select high-demand products, not the full spread of what will be available tomorrow night. We did endeavor to make a lot of stock so that things don't sell out within the first few minutes of the release.  We anticipate some inventory to be left on Sunday and possibly beyond but some popular items will likely sell out.  We can never tell exactly which products will be the most popular so for the best selection and availability, try to place your order as near to 6 pm EST as possible.  For faster checkout, you may wish to go ahead and create an account with us (if you don't have one already) so your billing and shipping info will be auto-populated and you can proceed faster to payment.
NEW CUSTOMERS: If you are brand new and placing your first order, remember to select your free sample (available with every order) at checkout from the drop down menu.  Leave a note in the comments at checkout that you are a new customer and also type in your choice of an additional free perfume sample.  EDP samples are not eligible for free samples.  Please select form our perfume oils (anything on the Choose Your Own 5 or 10 pack is eligible).  
IF YOU HAVEN'T ORDERED FOR SEVERAL YEARS: If you haven't tried our perfumes in a few years, we encourage you to try a sample pack!  A lot has changed since our online debut in 2009.  You may enjoy our 3.3 ml EDP samples as well.  There are many unisex and masculine selections as well as the EDP exclusives of Estate Vanilla (our new house vanilla) and White Feather.
FULL LIST OF PRODUCTS AVAILABLE BY CATEGORY (descriptions for Autumn Collection scents further down the page.  Thornwood Thicket and Gehenna have been completely reformulated and are available in 10 ml perfume oil only.  See their descriptions for additional details):
AUTUMN COLLECTION PERFUME:
Foxcroft
Gehenna (reformulated!)
Pumpkin Spice Latte
Thornwood Thicket (reformulated!)
Witch's Cottage
WHIPPED SOAP:
Blackburn's Parlor
Cellar
Corvin's Apple Fest
Foxcroft
Foxcroft Fairgrounds
Kitchen
Maine Moon
Owl Creek Aleworks
Riverside Hayride
Sycamore Chai
Wail of the Banshee
Witch's Cottage


BODY GANACHE (lotion):
Blackburn's Parlor
Conjure
Foxcroft
Ghost (unscented with additional argan and rice bran oils)
Jack & the Devil
Kitchen
Manor
Owl Creek Aleworks
Pumpkin Spice Latte
Riverside Hayride
Smoky Mountain Mallow

BATH SOAKS (Salts):
Crumbling Crypt
Foxcroft
Wail of the Banshee


BURNISHING GLACE (Sprayable lightly moisturizing body mist):
Do not apply immediately after shaving
Blackburn's Parlor
Cellar
Conjure
Corvin's Apple Fest
Edge of the Night
Foxcroft
Ghost (completely unscented)
Jack & the Devil
Kitchen
Manor
Owl Creek Aleworks
Pumpkin Spice Latte
Riverside Hayride
Smoky Mountain Mallow
Sycamore Chai
Sycamore Sugarworks
Witch's Cottage

DESCRIPTIONS FOR AUTUMN COLLECTION SCENTS:
WITCH'S COTTAGE
Warm Baked Goods, Dried Herbs, Sweet Annie, Soft Woods, Fragrant Hearth Smoke
NOT FOR WOMEN WHO ARE PREGNANT OR NURSING OR FOR THOSE PRONE TO HAYFEVER (Contains chamomile EO).
Upon entering the Witch's Cottage you are greeted with fresh and dried herbs, chamomile flowers, rosemary sprigs, Sweet Annie, Davana and a hint of crisp apples. A warm undercurrent of luscious baked goods, sweet buns and candied pralines emerges and is followed by mild fragrant woods and sweet hearth smoke. Witch's Cottage fragrance is a true journey with loads of atmosphere.
On initial application the herbs emerge with the sweet baked goods hovering just below. The apple and herbal top notes (namely the chamomile and Sweet Annie) retreat within a few minutes to make way for brown sugar and caramel heavy baked goods. The sweet note is a collection of a variety of different sugary treats but the overall scent is not cloying - rather a vague, well blended impression of baked goods that adds a rich warmth to the blend.
Further journeying into the cottage will take you to the warmest, most fragrant and exotic soft woods touched by a wisp of divine incense and sweet hearth smoke. The long term dry down is that of the woods and sweet smoke and is a very warm, comforting and alluring fragrance. A definite morpher that is also very interesting, unique and complex scent. It wears close to the skin and encourages snuggling into the couch in front of a blazing fire with a great book and a mug of hot cider!
The Whipped Soap is wonderful as well but the warm drydown described above is not as detectable. The cold sniff impression is more prominent here: warm, sweet, a touch of herbs, apple, chamomile and a hint of sweet woods.
Available in 10 mL Perfume ($15.00), Burnishing Glace ($16.00) and Whipped Soap ($10.00).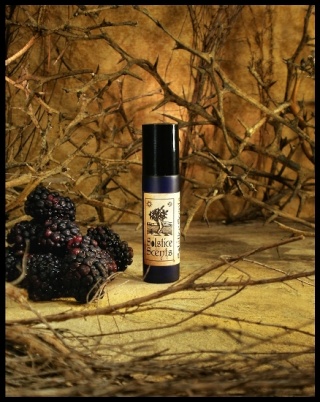 THORNWOOD THICKET - Completely reformulated!  Please read description.
Amber, Agarwood (Oud), Sugared Blackberries, Guaiacwood.
An impenetrable entanglement of thick brambles and dangerously sharp thorny branches housing large sweet blackberries that are practically to the bursting point of ripeness. The scent is that of a sweet blackberry paired with exotic incensey woods. The dry down smells like a wonderful incense infused with dark berries.
Thornwood Thicket opens with a blend of amber, oud and juicy blackberries. Amber and oud are the dominant notes in this blend, though blackberry is definitely detectable on the initial application and dry down.  In previous years, the blackberry was the note in the foreground so Thornwood Thicket smelled like a blackberry oud perfume.  For 2015, amber and oud are in the foreground with blackberry carefully balanced and detectable but not overpowering.  Guiaicwood provides a light smoky element and we have added a subtle addition of oakmoss and liatrix to give a faint touch of deep green moss to the blend.
Available in 10 ml Perfume oil ($16.00).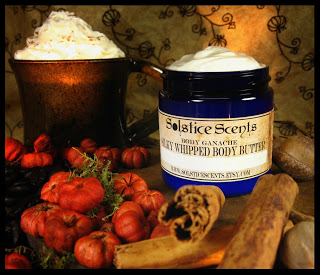 PUMPKIN SPICE LATTE
Sweet Pumpkin, Gingerbread Whipped Cream, Cinnamon and Nutmeg Essential Oil
A best seller! The fragrance is a blend of coffee essential and fragrance oils, sweet pumpkin, gingerbread whipped cream, cinnamon and a drop of nutmeg essential oil. Upon application, coffee is the first note to emerge, immediately followed by a spicy cinnamon. After just a few minutes a sweet syrupy scent emerges. The true dry down scent rises after about 15 - 20 minutes on the skin at which point the spice mellows and the coffee, pumpkin and cream all perfectly swim together in a pleasingly balanced brew.
Available in Perfume ($15.00), Ganache ($9.00) and Burnishing Glace ($16.00)
GEHENNA  Completely reformulated!  Please read description. 
Red Musk, Dragon's Blood Resin, Amber, Burning Wood, Somalian Myrrh, Egyptian Musk, Oud.
Gehenna is a very dark fragrance with red musk as the dominant note, followed by rich prominent Dragon's Blood. Smoke from eternal fires billows in the background followed by a subtle addition of resinous myrrh. Egyptian Musk rounds out the sharper notes of the blend and contributes to a lighter, less ominous dry down.
On cold sniff and initial application, Gehenna is strong, powerful, rich and musky. The scent showcases the red musk and dragon's blood in the foreground with a smoke blend following just behind. The myrrh is subtle but blends with the amber and oud to give body to the blend and temper the smoke notes.  After journeying into Gehenna for an hour or so, a halo of Egyptian musk emerges from the darkness - tempting the senses with its white light and calm resonance.  This scent leans masculine but is a great choice for women who enjoy dragon's blood and incense-based fragrances.
The 2015 version contains additional notes of amber and supporting smoke notes with a touch of patchouli.  The red musk accord is different this year from the previous year's offerings.  The perfume is similar to past incarnations but it is richer, deeper and more well-rounded.  Gehenna is very much a head shop/new age shop fragrance with the prominent notes of red musk and dragon's blood.  
Available in 10 ml Perfume oil ($15.00).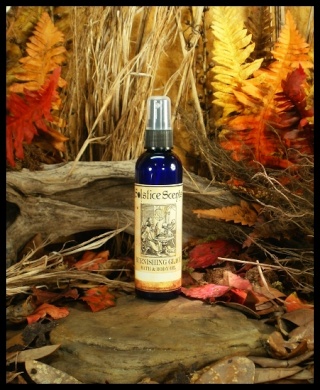 FOXCROFT
Ozone, Rustling Leaves, Rich Black Soil, Chimney Smoke & Woods
If you've ever wished to literally bathe in the essence of a late-afternoon Autumn day, Foxcroft is for you. An incredible blend of ozone, rich black soil, rustling leaves and chimney smoke, Foxcroft is at once cool air coupled with firey red, orange and golden leaves, a sweet sharp green note, fertile wet dirt and a touch of woods laced with the intoxicating smoke from fireplaces burning throughout the countryside.  
Foxcroft is very potent upon cold sniff and initial application!  At the beggining, it smells of very wet decaying leaves but on the skin it will evolve into a softer and more wearable scent with the soft smoke notes coming out.  Please make sure to skin test this one for the full true experience!
Foxcroft was inspired by a beautiful quaint small town in Maine.
The wonderful smoke note in Foxcroft is primarily detectable in the perfume format, once some of the top notes have burned off and the powerful blast of Autumn air has subsided. The Whipped Soap and Dead Sea Salt Milk Bath are both more heavily scented with the other earthy notes with the smoke note mingling within as part of the profile.
Available in Perfume ($15.00), Whipped Soap ($9.00), Dead Sea Salt Milk Bath ($10.00), Burnishing Glace ($16.00) and Ganache ($9.00)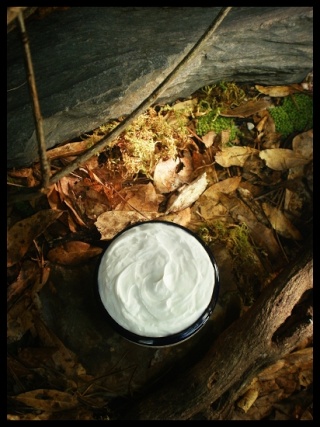 WAIL OF THE BANSHEE
Earthy-Aquatic Fragrance Featuring Patchouli, Smoky Vetiver, Fresh Rain, Peat Bogs, Irish Moss, Woods and a Fresh Crash of Salty Waves
Wail of the Banshee is a very earthy fragrance combined with aquatic notes. It is heavy on the patchouli, woods and dank bog notes followed instantly by fresh rain and salty waves, smokey vetiver and finished with a hint of moss in the background. Dark and atmospheric with a clean aquatic edge.
The Dead Sea Salt Milk Bath is topped with dried Irish Moss.
Available in Whipped Soap ($10.00) and Dead Sea Salt Milk Bath ($10.00) only.
This fragrance does not translate well into the leave on products or they would be offered too.
CRUMBLING CRYPT
All Natural Dark and Earthy Blend of Cedar, Cypress, Spruce, Patchouli, Amyris, Violet Leaf Absolute, Oakmoss and More.
NOT FOR WOMEN WHO ARE PREGNANT OR NURSING.
An unkempt solitary stone crypt sits shaded in a dense forest of ancient cedar trees. Crumbling stone covered in rich moss lays on wet, dank soil that is cold to the touch. A memorial long forgotten, the only frequent visitors are the shadows of the sheltering trees.
Crumbling Crypt is an all natural blend of essential oils and absolutes including Virginia Cedarwood, Patchouli, Oakmoss Absolute, Spruce, Cypress, Amyris, Rosewood, Patchouli, Violet Leaf Absolute, Rosemary, Lavender, Vetiver, Marjoram and Himalayan Cedar. It smells very woodsy, earthy, dank, green and herbal.
Available in Dead Sea Salt Milk Bath only, topped with moss ($10.00)
IMPORTANT NOTE ON HOME FRAGRANCE OILS:

Home Fragrance Oils have been formulated for use with a tea light soapstone burner. They may get too hot in glass, ceramic or electric warmers. It is possible they would perform well in higher temp warmers with the addition of unscented paraffin or soy wax, to mock a tart (wax melt) experience.HARVEST MOON HOME FRAGRANCE OIL
Apples, Pumpkin, Butternut Squash, Roasted Chestnuts and Spices
Harvest Moon is a fragrance for those who wish that fall could last year-round. It is a true harvest-smelling autumn inspired blend of crisp fresh apple slices, pumpkin, butternut squash, cinnamon, clove, maple and roasted chestnuts. Apply this fragrance, close your eyes and imagine the vibrant reds, oranges and yellows of the fall leaves, the smell of smoke from a fireplace, the taste of mulled cider and feel the thrilling chill in the air tickle the nape of your neck. You will see in your minds-eye the colorful seasonal gourds and ornamental maize in the yards of your neighbors and hear the wind chimes in the fall breeze as the fallen leaves dance and rustle around your feet.
Home Fragrance oil ($8.50).