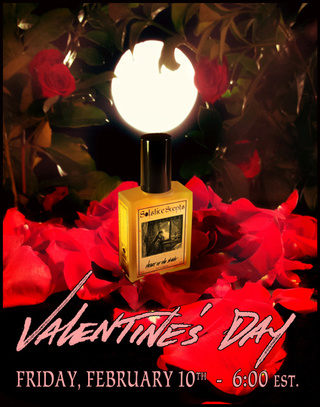 The Solstice Scents Valentine's release will be available Friday, February 10th at 6 p.m. EST.  Returning perfumes in Cherry Cordial and Violet White Leather will be offered as well as the new 5 ml perfume: Blueberry Violet Truffle.  **NEW**The following General Catalog perfumes will debut in EDP format for the Valentine's release: Heart of the Night, Nightgown and Violet Mallow. 2.5 ml sample sprays and 60 ml full size will be available.
The Valentine's Day perfume oil and Glace in the Cherry Cordial fragrance will not be offered again after this year. Please note that the following General Catalog perfumes will be moving to the Valentine's release and will come down in a few months when we stop selling the Valentine's perfumes: Black Leather, Red Lace perfume oil, Cherry Vanilla Amberosia perfume oil and Violet Truffle perfume oil.
The following Fall Collection perfumes will only be available for the next few weeks, unless they sell out before then.
Please grab them if you want them: Foxcroft perfume oil and EDP, Gehenna perfume oil and 2.5 ml EDP sample sprays (60 ml EDPs are sold out for the season), Halloween Night perfume oil (this will never be offered again. Last Chance!), Pumpkin Spice Latte Perfume oil, Witch's Cottage Perfume oil and EDP and Riverside Hayride EDP (the oil is General Catalog). Jack & the Devil EDP and Owl Creek Aleworks EDP were intended to be Fall Collection offerings only, but will be available for a little while longer.
BURNISHING GLACES (limited quantities) WILL BE OFFERED IN THE FOLLOWING FRAGRANCES:
Black Leather, Red Lace
Cherry Vanilla Amberosia
Cherry Cordial (last year this scent will be offered)
Nightgown
Violet Mallow
60 ML PERFUMES Available for the first time (2.5 ml EDP samples available):
Heart of the Night
Nightgown
Violet Mallow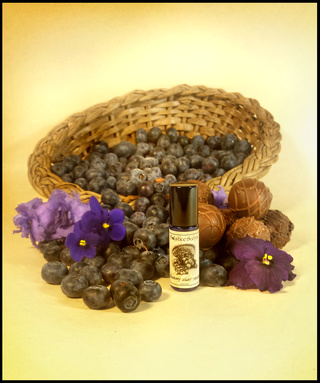 *NEW* BLUEBERRY VIOLET TRUFFLE
Cocoa absolute, blueberry, violet, tonka, vanilla
Blueberry Violet Truffle is a fruity-floral gourmand perfume featuring notes of cocao, deep fresh blueberry, soft and slightly powdery wild purple violets, tonka bean and vanilla. The perfume opens with violet and chocolate but is quickly followed by the blueberry accord. This accord contains a blend of natural and synthetic components, including natural isolates and a fantastic davana essential oil full of fruity blueberry-like nuances tinged with a hint of sun-dried herbs. Blueberry Violet Truffles smells cool-toned, purple and very sweet. The tonka and vanilla come out in the heart and drydown, which features a violet pastille or hard candy note. A very fine coumarin-rich French lavender absolute is used judiciously to enhance the blueberry accord and tie it seamlessly to the violet. The chocolate is well-blended and does not overshadow the other notes.
This perfume shares no resemblance to our Violet Truffle fragrance, which is darker, more earthy and damp violets with a strong primarily synthetic chocolate blend. Blueberry Violet Truffle follows in the tradition of the Lavender Raspberry Truffle and Pinyon Truffle perfumes, which are also on a base of cocao absolute, vanilla and tonka. The violet note is closer to the violet in Violet Mallow, though not as strong. It is light, airy, fresh, slightly powdery and a little green.
This perfume is organic cane sugar alcohol based.
Available in 5 ml perfume roll on and in the 5 or 10 sampler packs as a 1 ml sample.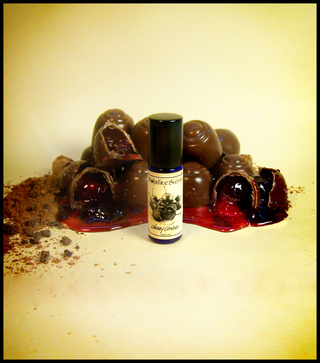 CHERRY CORDIAL *Last year this will be offered*
Milk Chocolate, Dark Chocolate, Maraschino Cherries & Black Cherry. Contains Cocoa Absolute.
A medley of black cherries and maraschino cherries enrobed in milk and dark chocolate. Cocoa absolute has been added to this blend to enhance the rich chocolate note. The blend starts out with a heavier cherry note but quickly settles down into a very nice gourmand blend of both chocolate and cherry. Juicy, sweet and edible smelling!
Available in 5 ml perfume roll on and in the 5 or 10 sampler packs as a 1 ml sample and in Burnishing Glace.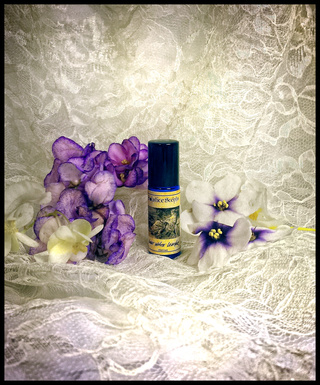 VIOLET WHITE LEATHER
Violet, Vanilla, White Leather, Coumarin
Soft powdery violets resting on a vanilla cloud float atop ripples of supple white leather. An ethereal violet blend featuring a creamy character similar to Violet Mallow and a wispy, white, airy presence in the vein of White Fox, Violet White Leather pairs a cool-toned sweetened violet with an exquisite supple white leather. Violet clouds drift peacefully above the leather note. Upon initial application, a sweet blast of coumarin and vanilla accompanies the white leather. The leather is most detectable at this point. Delicate powdery violets emerge and quickly tame the leather note, resulting in a very smooth and sophisticated pairing. The creamy violet blend is most prominent on the dry down, though the white leather remains faintly at the base of the scent lending a sensual mood to the composition.
Available in 5 ml perfume roll on and in the 5 or 10 sampler packs as a 1 ml sample.

You may also be interested in trying the following General Catalog perfumes along with the Valentine's offerings:COCOA ABSOLUTE 5 ml Perfume
Pure Chocolate
Mouthwatering natural cocoa absolute in Organic Cane Sugar alcohol. This single note chocolate fragrance smells like a divine blast of sugared cocoa powder and sweet hot chocolate. It does contain traces of food grade additives so this perfume cannot technically be considered 100% natural. On initial application, you will experience a blast of cocoa. This soon settles down to a soft chocolate scent which hovers closer to the skin but has great staying power. Cocoa Absolute perfume is wonderful on its own but it is really special when layered with some of our other fragrances to bring additional dimension or a new twist. It layers especially well with Vanilla Pipe Tobacco, Heart of the Night, Black Forest and Blackburn's Parlor. Cocoa absolute may stain lighter colored clothing and skin. When applying the perfume, rub it in quickly as it is easier to work into skin with less chance of staining. Apply once to wrists and add another layer when dry to build the concentration of the cocoa absolute. This fragrance is surprisingly wonderful to wear to bed.
The cocoa absolute used in this perfume contains trace amounts of food grade additives and therefore cannot be considered all natural. This blend contains no synthetic fragrance oils though.Please shake gently before each use as the cocoa absolute will settle to the bottom. A few shakes will quickly and easily disperse the scent evenly.
(Debuted Valentine's 2016)LAVENDER RASPBERRY TRUFFLE 5 ml Perfume
White Chocolate, French Lavender, Bulgarian Lavender, Tonka, Cocoa Absolute, Raspberry

Not to be used by women who are pregnant or nursing.
Lavender Raspberry Truffle opens with a blend of five lavender essential oils, including organic and wild lavenders from Bulgaria and France. The lavender is very strong and fragrant on initial application. It is accompanied by sweet white chocolate and a hint of jammy raspberry. The opening of this perfume is similar to our Lavender Vanilla fragrance. The lavender settles after 5 to 10 minutes, allowing the white chocolate to peak through alongside the raspberry. The dry down of this perfume is a blend of white chocolate and raspberry and the lavender all but disappears after its initial soothing burst in the opening. The raspberry is not tart and bitter, rather it is very sweet and incredibly jammy or like a homemade raspberry coulis with a dollop of fresh whipped cream. The tonka and organic vanilla tincture enhances the fresh jam suggestion of the raspberry note. This blend is especially lovely applied before bed.
Shake gently before use. Botanical blend in organic cane sugar alcohol.
(Debuted Valentine's 2016) PINYON TRUFFLE 5 ml Perfume
Chocolate, Pinyon Pine, Pinyon Resin, Swiss Stone Pine, Tonka, Vanilla
Not to be used by women who are pregnant or nursing
Pinyon pine has a somewhat fruity taste and scent that makes it uniquely suited to pair with gourmand notes of rich cocoa absolute and sweet vanilla and tonka. Pinyon Truffle opens with a bloom of pinyon and swiss stone pine notes with the chocolate just behind. The tonka and vanilla serve to soften the edges of the pine note. After the initial application where the pine is most apparent, the blend quickly settles into an earthy gourmand. The concept was to present a perfume that featured cocoa in a gourmand capacity to showcase the pinyon note as edible, but to also portray cocoa in an earthy non-gourmand effect. This duality serves to create a mouthwatering yet grounding earthy scent that is unique and unusual. The dry down is not a typical pine scent. When combined with the sweeter elements and the fudgy chocolate, the pine shifts into a slightly spicy cardamom-like note with a touch of the fruity pinyon needles and just a trace of the recognizable pine fragrance.
Website: www.solsticescents.com
Instagram and Twitter: @solsticescents
Facebook: www.solsticescents.net