TONIGHT at 7 p.m. EST we will be listing the 2 brand new scents that were unable to be released with the Late Summer Collection last Friday night. We will also be listing a ton of restocks from that release as well as many General Catalog restocks. A full list may be viewed just below the new scent descriptions. Desert Thunderstorm EDP, Rose Custard Kulfi perfume, Watermelon Cucumber Mint Whipped Soap, Strawberry Patch Whipped Soap, Crimson Sap & Sassafras Glace and the last two Sinopia Whipped Soaps (I held these back to prevent our website from overselling them in the frenzy of last week's release. Should the site oversell these 2, which can happen with heavy website activity, the first 2 people in line will be honored) are among the few things that will be offered as part of this restock.
After all of these orders have shipped and the shipping overcharge refunds have been processed (I still have everyone to get to from this last release and I've not forgotten you. You will, as always, receive an overcharge refund where applicable), we are immediately going into full fall production. Our returning catalog is pretty large, not to mention all of the new scents that will be offered. As such, our focus will be primarily on the fall collection which means that many of the General Catalog scents may go out of stock during this time. If there is a General Catalog perfume that you've been wanting, I would recommend picking it up over the next few weeks as it may not be available for a while or it may sell out the night of the fall release. Best sellers such as Manor, Nightgown, Rose Mallow Cream, Blackburn's Parlor, Estate Vanilla EDP etc will be our top focus to keep stocked but others may be pushed to the back burner.
NEW LATE SUMMER OFFERINGS:
DURING THE RAIN - Storm accord
During the Rain is intended to be a singular atmospheric experience or a layering note. This is an isolated accord meant to capture the experience of an impending storm, followed by a thunderbolt signaling the imminent deluge of rain to come. It encompasses petrichor, soaked Earth, limestone, loam, clay and wet concrete. This accord is comprised primarily of natural materials. It is meant to be an evocative experience, a bottled storm that you can revel in or layer with other perfumes in your collection to add a rain-soaked-Earth element or to boost the rain note in perfumes that already contain a petrichor note. This accord is very similar to the rain accord used in scents such as Desert Thunderstorm, Sea of Gray, After the Rain and Cliffside Bonfire.
During the Rain will take you on a journey starting with a barometric pressure drop and darkened sky upon initial application. The insects sound their symphonic alarm as the rumble of thunder grows louder and closer. A flash of lightning strikes ahead of an explosion of cold raindrops. The rain steadily lightens to a drizzle and remains into the dry down in a humid haze. Rather than a full developed perfume, During the Rain accord focuses on providing one experience of petrichor and Earth. It is a heart note that wears with moderate strength in the first half hour before receding to a more intimate throw for the next few hours. Just like a sudden summer storm, it comes on quick and heavy before tapering off to a gentle drizzle with the lingering scent of soft rain and Earth over the next few hours.
Available in 5 ml perfume oil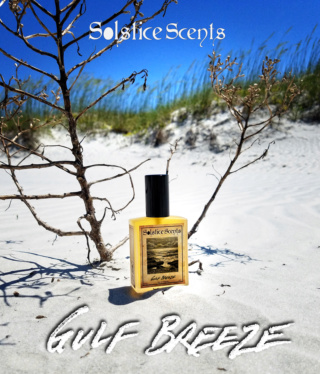 GULF BREEZE
Saltwater, sand, seashells, sea oats, rain, ambergris (vegan accord)

Gulf Breeze was offered years ago. This fragrance has been re-imagined and reformulated, though smells similar to the original version. The beachy aquatic scent of sand, saltwater, wind, seashells, wind blown sea oats, soft ambergris and a distant storm fast approaching. It is a crisp, clean, fresh, salty and refreshing aquatic fragrance. Imagine standing on a dock as a storm is about to roll in, the air is thick with energy and as the sky turns gray, you are splashed with salty spray from the gulf. It opens with a briny saltwater and touch of roasted sea shells, similar to Sea of Gray but not quite as heavy on the seaweed. The atmosphere begins with a sunny day at the beach, though a solid slate-gray sky is not far off. The soft scent of misty rain develops shortly after application, though the saltwater remains in the forefront of this fragrance and is a dominant player into the dry down. Try layering During the Rain underneath and on top of Gulf Breeze to add a bit more stormy atmosphere.
Allergen information: this perfume contains seaweed absolute. Avoid if you have an iodine allergy.
Offered in perfume oil, Eau de Parfum, Burnishing Glace, Bath Salt Soaks and Whipped Soap.
FULL RESTOCK LIST (including Desert Thunderstorm and the Whipped Soaps mentioned above):
5ml Perfumes
Basilica
Black Forest
Blackburn's Parlor
Casting Shadows
Chantilly Cream (Last Restock of 2018)
Chiffon (Last Restock of 2018)
Cliffside Bonfire
Cocoa Absolute
Durring the Rain
Foxcroft Fairgrounds
Full Dark
Gulf Breeze
Hidden Lodge
High Desert
Incensum
Inquisitor
Jack & the Devil
Kitchen
Library
Nightgown
Old Havana
Pharaoh
Riverside Hayride
Rose Custard Kulfi
Rose Mallow Cream
Russian Caravan
Sacred Vow
Scrying Smoke
Sea of Gray
Sycamore Chai
Vanilla Pipe Tobacco
Violet Mallow
White Fox
60 ml Perfumes
Black Forest
Chiffon (Last Restock of 2018)
Desert Thunderstorm
Estate Carnation
Estate Vetiver
Gulf Breeze
Library
Rose Mallow Cream
Scrying Smoke
Sirocco
2.5 ml EDP samples
After the Rain
Black Forest
Casting Shadows
Chiffon (Last Restock of 2018)
Cliffside Bonfire
Conjure
Desert Thunderstorm
Edge of the Night
Estate Amber
Estate Rosewood
Gulf Breeze
Headmaster
Manor
Sea of Gray
Scrying Smoke
Sirocco
Travelers
Vanilla Pipe Tobacco
Glaces
Chiffon (Last Restock of 2018)
Conjure
Crimson Sap & Sassafras
Gulf Breeze
Manor
Victorian Tea Room
Whipped Soap
Gulf Breeze
Sinopia (only 2!)
Strawberry Patch
Watermelon Cucumber Mint
Bath Soaks
Gulf Breeze