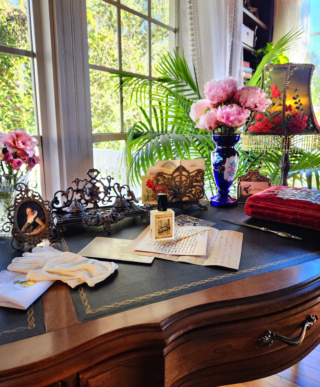 Our February 2023 Collection and restock will occur at www.solsticescents.com tonight, February 8th, at 7 pm EST. The restock consists of many General Catalog, fall and winter collection perfumes and accompanies the full February Collection (formerly called Valentine's Collection), which includes our new Morning Room perfume. The full list of everything that will be offered is provided below, along with a description for Morning Room. The current formula of Crimson Sap & Sassafras is unfortunately discontinued. It may be reformulated in the future but the very last of the oil extrait will be listed tonight. Due to consist high order volume, we have focused our efforts on replenishing the perfume inventory on the site and unfortunately will not be offering Whipped Soaps and Burnishing Glaces with this release. We do not have an ETA on when additional out of stock perfumes will be available again. Most that are not on the list below will likely return with the spring or summer collections (such as Sea of Gray, Old Havana, Desert Thunderstorm EDP exclusive and so on).
We are asking for up to 14 days turnaround time as we expect a high volume of orders for this release. Please see important additional information for this release and the upcoming shop closure below:
TURNAROUND TIME AND MULTIPLE ORDERS ANNOUNCEMENT: Please allow up to 14 days for your order to ship. We will likely have most orders out much faster than that but we always ask for up to 14 days to be sure we do not exceed turnaround time. If you place more than one order, it is our shop policy to combine orders *when possible* to save you on shipping charges. You will receive ONE free sample for combined orders. If you choose different samples on multiple orders, we will select one of our own discretion. You will receive a combined shipping refund within 2 weeks of your order shipping. We automatically combine orders from release night but cannot guarantee combinations beyond that (example: orders placed release night and the next day) unless you use the CONTACT US page to request a combination. The CONTACT US page is the ONLY way you should reach out to us. Please do not reply to your order invoice or DM us on social media as we may not see your message in time.
INTERNATIONAL CUSTOMERS: We ship only with DHL. Please be aware of your country's importation and possible DHL handling fees (the latter varies by country and value threshold). We declare the full value of your parcel on customs forms. Refunds will not be issued for abandoned parcels where you have not paid your importation fees. While DHL shipping can be more expensive, it is fully trackable and arrives very quickly to most destinations. You are paying a fraction of the actual cost, which we absorb on your behalf. If your shipping quote is unusually high, you may be seeing a rural delivery charge. Some provinces in Canada, some areas of Japan and other countries have this added charge. If you have another address to be able to ship to, try that one at check out to see the difference in shipping cost. For example, most areas of Canada should be in the $20 to $30 range. Anything much higher than that is likely because of a rural delivery fee. Thailand has extremely high importation fees; please be aware of this if you live in Thailand.
PLEASE DO NOT REPLY TO YOUR ORDER INVOICE AND DO NOT DM US ON SOCIAL MEDIA.
The only way to assure communication with us is to use the Contact Us page on the website.
SHOP CLOSURE NOTICE:
Once we ship all of the orders from the upcoming restock/release, we will begin decanting for a small restock. We will do one final restock before our annual shop closure. During the closure, our website will remain open for viewing but the shopping cart check out will be disabled. The shop closure will likely be around 6 to 8 weeks and will begin sometime in March. We will announce both the closure and reopening via our website newsletter and social media accounts.


MORNING ROOM
Peony, Paper, Orris, Rose Otto, Lace, Violet Pastilles
Morning Room is an elegant airy peony and rose otto forward floral perfume, enhanced with the exquisite delicate and gently powdery scent of genuine orris. The perfume opens with a sunlit bouquet of peonies, followed by a delicate watery rose otto and vanillic paper accord. The orris then emerges, softening and weaving around and through the florals in concert with a white lace-edged handkerchief accord. A subtle aroma of violet pastilles sweetens the fragrance and, along with the orris, adds cool-toned shadows between the vibrant morning sunbeams.
Alcohol based perfume. Available in 5 ml, 60 ml, 2.5 ml sample spray and 1 ml samples.

Full list available tonight. Some items are of limited quantity. We are winding down the Fall Collection decanting so many of these items are last of stock until fall 2023.
Brief notes for each perfume may be viewed on our Master Scent Reference. The detailed descriptions for each perfume may be viewed when the listings are live tonight. https://www.solsticescents.com/MASTER-SCENT-REFERENCE_ep_45-1.html
5 ML PERFUMES:
Amber Coeur
Astral Temple
Attic
Blackburn Farmstead
Black Forest
Black Leather, Red Lace
Blackburn's Parlor
Blueberry Violet Truffle
Camp Willow
Cardamom Rose Sugar
Cellar
Cherry Vanilla Amberosia
Crimson Sap & Sassafras - Last of this formula! / No Samples / Limited Quantities
Cocoa Absolute
Conjure
Corvin's Apple Fest
Devil's Tongue
Farmhouse in Fall
Farmhouse in Winter
Flintlock
Flowers Nocturnal
Foxcroft
Foxcroft Fairgrounds
Foxcroft Intense
Gibbon's Boarding School
Gibbon's Mischief Night
Grey's Cabin
Gunnerson's Pumpkin Patch
Headmaster
Heart of the Night
High Desert
Jack & the Devil
Kitchen
Lace Draped Spectre
Lavender Raspberry Truffle
Lavender Vanilla
Library
Loggia
Maine Moon
Manor
Maplewood Inn
Master Bedroom
Minister
Monarch
Monastic
Morning Room
Nightgown
Night Watcher
Orient Rose (very slightly reformulated)
Outpost
Owl Creek Aleworks
Patches
Pharaoh
Pinyon Truffle
Postprandial
Private Eye
Pumpkin Spice Latte
Quite Night
Riverside Hayride
Rose Leather
Rose Mallow Cream
Runestone
Russian Caravan
Sawmill
Seance
Smokewood Apiary
Smoky Mountain Mallow
Spirit Tree
Tenebrous Mist
Travelers
Vanilla Pipe Tobacco - Last of Current Stock / No Samples / Limited Quantities)
Violet Mallow
Violet Truffle
Violet White Leather
Winter Dove
Wolf Spirit

60 ml EAU DE PARFUM:
Black Forest
Black Leather, Red Lace
Blackburn's Parlor
Camp Willow
Cherry Vanilla Amberosia
Estate Cacao
Estate Carnation
Estate Rosewood
Estate Spirits
Estate Vanilla
Foxcroft
Foxcroft Fairgrounds
Foxcroft Intense
Gibbon's Boarding School
Heart of the Night
Jack & the Devil
Kitchen
Lace Draped Spectre
Lavender Vanilla
Loggia
Manor
Maplewood Inn
Monarch
Morning Room
Nightgown
Night Watcher
Orient Rose (very slightly reformulated)
Owl Creek Aleworks
Patches
Riverside Hayride
Rose Mallow Cream
Runestone
Seance
Smokewood Apiary
Smoky Mountain Mallow
Snowmint Mallow
Tenebrous Mist
Travelers
Vanilla Pipe Tobacco
Violet Mallow
White Fox
Witch's Cottage


2.5 ml EAU DE PARFUM SAMPLES:
Amber Coeur
Astral Temple
Attic
Black Forest
Black Leather, Red Lace
Blackburn's Parlor
Camp Willow
Cherry Vanilla Amberosia
Conjure
Corvin's Smoked Apple
Estate Cacao
Estate Carnation
Estate Rosewood
Estate Spirits
Estate Vanilla
Foxcroft
Foxcroft Fairgrounds
Foxcroft Intense
Gibbon's Boarding School
Gin Flower
Gunnerson's Pumpkin Patch
Heart of the Night
Jack & the Devil
Kitchen
Lace Draped Spectre
Lavender Vanilla
Loggia
Manor
Maplewood Inn
Monarch
Monastic
Morning Room
Nightgown
Night Watcher
Orient Rose
Outpost
Owl Creek Aleworks
Patches
Postprandial
Riverside Hayride
Riverside Sleighride
Rose Mallow Cream
Runestone
Russian Caravan
Scrying Smoke
Seance
Smokewood Apiary
Smoky Mountain Mallow
Snowmint Mallow
Snowshoe Pass
Tenebrous Mist
Vanilla Pipe Tobacco
Violet Mallow
Wardrobe
White Fox
Witch's Cottage
1 ml Sample Packs will be enabled on the site as well