I'm posting this here for good measure!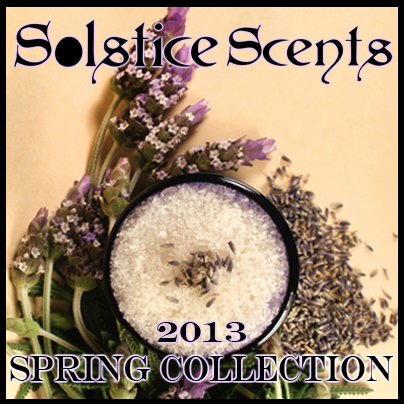 We are focusing primarily on returning fragrances from previous years' collections, including several of the new scents that were offered for 2012 and one new perfume oil called Blossom Jam Tea Cakes.
An expanded Lavender Vanilla line will feature never before offered products in this scent, as well as a restock of ganache. (More details below). Also new for this year is Dellamorte in Burnishing Glace format. The Alpha & Beta Hydroxy Fruit & Cream Masque will be available again! This masque has been offered only one time before and we thought it would be perfect to offer to perk up dull winter skin and put your best face forward for spring (description of this masque at the very bottom of the page).
I'd also like to mention that another small release with a few "darker" scents that don't have a thing to do with spring will come out about 3 weeks after all of the spring goodies have shipped. There is one very very special item we are finishing testing now that I am praying will also be ready for release at that time. But mums the word until I am 100% confident in said item. *whistles*
The release will take place on this Friday, April 5th at 6 p.m. EST.
SPRING COLLECTION 2013
NEW:BLOSSOM JAM TEA CAKES
Southern Tea Cakes, Petit Fours, Floral Infused Jams & Preserves and a Delicate Aroma of Tea

Blossom Jam Tea Cakes features the mouthwatering aromas of Petit Fours filled with floral infused jams and preserves, enrobed in sweet fondant, warm southern tea cakes topped with a delicate lavender buttercream and a subtle waft of hot tea. A rich cakey base supports light floral and fruit notes to create a beautiful atmospheric spring gourmand fragrance.
Notes include: yellow and white cake, honeysuckle absolute, palmarosa EO, peach, strawberry, blood orange EO, lavender absolute, ylang ylang absolute, buttercream, fondant. The floral notes listed may give the impression that this is a heady floral but it's not. Rather, the floral notes were used with restraint and were intended to infuse the delicate fruit notes to create an interpretation of floral jams and preserves thinly spread on fluffy cakes. A very unique fragrance that should please fans of scents like Rose Mallow Cream, Chantilly Cream and the Manor Collection's Kitchen fragrance.
Perfume only due to high cost of natural ingredients used.

RETURNING FRAGRANCES AND PRODUCTS:CHIFFON
Vanilla, White Amber, White Musk & Lemon Myrtle EO
LEMON MYRTLE MAY CAUSE PHOTOSENSITIVITY AND IS NOT RECOMMENDED FOR APPLICATION PRIOR TO EXTENDED SUN EXPOSURE.
DO NOT APPLY IMMEDIATELY AFTER A HOT SHOWER OR NEAR CUTS OR BROKEN SKIN AS LIKE LEMON JUICE, LEMON MYRTLE MAY STING!
Chiffon is a dual concept fragrance that brings together the airy, sweet and refreshingly tart taste of Lemon Chiffon pie and the elegant, wispy and equally airy beauty of chiffon fabric. A very special top-shelf, perfectly sweet and non-cloying vanilla (one of the vanillas in Nightgown) provides a base for a delicate touch of white amber and white musk. Chiffon is completed with the bright and uplifting scent of pure lemon myrtle essential oil. The lemon myrtle is one of the dominant notes on cold sniff and initial application. It will recede within 5 to 10 minutes and allow the other notes to emerge. Unlike most lemon essential oil top notes that disappear fairly quickly, lemon myrtle EO has a strong lemon-like scent but also a very good staying power. Lemon Myrtle is distilled from the leaves of a native Australian Tree. As it fades and takes a back seat to the other notes a wonderful, sweet, ethereal and beautiful long-lasting scent is left behind. The longer Chiffon is on the skin, the sweeter it gets. The vanilla is the longest lasting note of the blend and takes on a glorious whipped cream and an almost marshmallow note the longer it is on the skin. A really lovely and sophisticated scent! Fans of some of our other scents like Nightgown, Snowshoe Pass, Rose Mallow Cream and Manor should really enjoy Chiffon.
While Chiffon is overall a scent that smells light and airy like clouds, it also is pretty strong and seems to grow stronger the longer it is on the skin so apply a modest amount on your first try and let it sit for about 45 minutes to gauge how much you will need for future applications.
Do not apply Chiffon Glace after a hot shower and avoid spraying on or near cuts, rashes, wounds or broken skin as the lemon myrtle will sting. If you have sensitive skin you may wish to use Chiffon Glace as a Body Oil only and avoid using it in the bathtub as a Bath Oil.

Perfume, Burnishing Glace

CHANTILLY CREAM
WHIPPED CREAM, VANILLA, PEACH NECTAR & YELLOW MANDARIN EO
Our Chantilly Cream is white fluffy whipped cream sweetened with vanilla and just a touch of peach nectar. A light addition of lovely yellow mandarin essential oil tempers the juicy peach note. The primary notes in this blend are the whipped cream and a blend of vanillas and they are also the longest lasting. The peach nectar and yellow mandarin are more detectable in the cold sniff of the blend and are very subtle on the skin and add a juicy touch to the more dominant scent of the whipped cream accord. This fragrance is best judged not on cold sniff or immediately after application but after about 5 to 7 minutes of morphing before its true scent is revealed. It will become sweeter the longer it wears and the fruit notes will eventually recede completely.
Chantilly Cream has a profile that is very light, sweet and delicate. It hugs very close to the skin and is intended for a gentle skin sweetening treat when you wish to wear something a little lighter and less heady near those sensitive to fragrance, in the work environment or just because you want to indulge in something a little softer in scent and throw. It is a versatile scent that would pair and layer wonderfully with fragrances in your collection that contain notes of coconut, cake, fruit, vanilla or even select floral scents (white florals such as jasmine, tuberose and lily especially). It layers nicely with Chiffon too!
Perfume, Burnishing Glace

CASCADE OF GOLD PREMIUM FRAGRANCE 5ml
Sandalwood, White Sandalwood, Honeysuckle, Champa & White Lotus - 5ml
NOT TO BE USED BY WOMEN WHO ARE PREGNANT OR NURSING.
NOTE ON THE 5ML PERFUME BOTTLES: This perfume will be offered in the clear 5 ml bottles (like Rose Mallow Cream is in) as we are unable to get the blue ones at this time. The roller ball occasionally needs to be coaxed a little more to encourage the fragrance out. You may do this be removing cap, gently holding your bottle upside down (with bottom pointing toward ceiling and ball toward ground) and giving the bottle a good hard shake or two. Roll the ball across your skin and if perfume is not free-flowing, repeat this process.
(Shake bottle well before each use. One of my top faves.) Cascade of Gold is an utterly amazing, 100% natural and exquisite blend of essential oils, absolutes and Indian attars blended in our rice bran carrier oil. Notes of sandalwood, white sandalwood, honeysuckle, champa and white lotus combine to form a divine and meditative scent that is also very sensual. Cascade of Gold has a base of exotic incensey woods with a very strong amber note that has subtle balsamic undertones. The floral notes are delicately blended so as to add just the right exotic touch to the warm wood and amber notes. It smells like bottled sunset with the last of the days' golden orange rays peeking out mixed with humid deep south air that has been perfumed by a concentration of mid spring blooms. You can almost literally feel a warmth radiating from your skin with this scent on. The champa is the finest quality I've found and it contributes a delicate edge of spice to the blend as well. The florals serenely float at the top of the blend adding a velvety white note for the first 10 minutes. Their voice becomes softer and evolves to a relatively stable blend without morphing that smells warm, sweet, ambery, golden, robust, full bodied, exotic, floral and extremely sexy. Cascade of Gold would make a wonderful blend for yoga, meditation, scrying or just before bed as it has a natural harmony and almost trance inducing properties.
5ml Perfume only.
SAMPLES FOR PREMIUM SCENTS: Due to the high cost of some of the ingredients, our perfume sample vials will remain at $2.50 but will be 1/4 of the way full. This way we will be able to sell them in all of our sample pack listings and won't have to have a separate premium sample only listing at a higher cost.


LAVENDER VANILLA
Lavender Essential Oil, Lavender Absolute & Sweet Creamy Vanilla
This fragrance takes the wonderful calming fragrance of Lavender Essential Oil and a touch of Lavender absolute and pairs it with sweet creamy vanilla and smooth French Vanilla for the Solstice Scents' take on this ever popular combination. A relaxing and smooth blend for those who like their Lavender Essential Oil tempered by a sweet partner. The lavender essential oil starts out powerfully, then descends into the background as the creamy vanilla emerges. After some time on the skin, the vanilla takes center stage as the primary and lasting note, enhanced by a ghostly memory of lavender.
The perfume is a part of the General Catalog but Lavender Vanilla Ganache will be restocked and the following products will be available for the first time ever: Burnishing Glace, Whipped Soap and Salts. Salts topped with dried lavender buds.

SPIRIT TREE
Delicate White Flowers, Soft Vanilla & Sandalwood
Spirit Trees, more commonly known as Bottle Trees, are believed to be able to capture evil spirits and are commonly placed outside of the home in an effort to dissuade the evil spirits from entering the home. They're commonly thought to originate in Africa but similar lore has been found in other countries around the world. Bottle Trees are popular in the south, especially in the low country, where they adorn home gardens as folk art pieces and perhaps serve a greater purpose for the superstitious.
Delicate white flowers, soft vanilla and sandalwood. Fans of Spellbound Woods and gentle florals will enjoy this scent as the smooth and subtle woodsy base is comprised of Spellbound, Sandalwood EO, Sandalwood FO and Amyris EO which marries beautifully to the sweet jasmine blooms and elegant lily of the valley that lay in an intoxicating blanket on top.

Perfume, Ganache, Glace, Whipped Soap

GARDEN GATE
Lilac, Wisteria & Grass Notes
(This is a great scent for Mother's Day gifts!)
Voluptuous Lilac blossoms in the foreground combine with faint traces of cascading wisteria and subtle, fresh, green grass notes. Contains a blend of fragrance oils and African Bluegrass EO to create a sweet, creamy and gorgeous floral. The dry down is an intensely beautiful and very wearable floral that smells true to the light purple flowers that inspired it.

Perfume, Ganache, Glace, Salts & Whipped Soap

BLACK TEA & BERGAMOT
NOT TO BE USED BY WOMEN WHO ARE PREGNANT OR NURSING.
Black tea and bergamot essential oil (Bergeptene Free) are paired to simulate the scent of Earl Grey tea. Bergamot is what gives Earl Grey its distinct flavor and aroma. Fresh, uplifting, unisex scent.
Salts only, topped with black tea
(Too much morphing and too little staying power for leave on scents - sorry!)

WREN
Aromatherapy Bath Soak With Essential Oils of Petitgrain, African Bluegrass, Michelia Alba, Ylang Ylang Extra, Sandalwood & Virginia Cedarwood
NOT TO BE USED BY WOMEN WHO ARE PREGNANT OR NURSING.
The Carolina Wren is the inspiration behind this bright spring scent. A small brown bird with a beautiful white stripe above each eye and light yellow markings on the chest and belly, the Carolina Wren only measures up to 6 inches in adulthood. Wrens are common residents in our home garden and they have the most beautiful song. They are monogamous, inquisitive, playful and frequently nest in garages and hanging plants. The wren is frequently found on our windowsills and can be seen darting around in the jasmine outside of the Solstice Scents workshop. They have no trouble cohabiting near humans and are wonderful companion birds that bring joy to any garden.
Wren is made with essential oils of petitgrain, African bluegrass, michelia alba, ylang ylang extra and a small touch of sandalwood and Virginia cedarwood. 100% pure essential oil blend. The fragrance is primarily tart, citrusy, herbaceous and slightly woodsy petitgrain. It is VERY strong on cold sniff but is much more gentle and nuanced in the tub. Petitgrain oil is extracted from the leaves or branches of the orange tree but smells quite different from orange essential oil. It smells closer to the scent profile of neroli. It has a bright and uplifting aroma and if it were a color, it would be the color of a Wren. Petitgrain is indicated for stress related conditions and insomnia. The other essential oils in the blend are mild and add depth. African bluegrass has an amazing grassy scent, michelia alba is a tangy floral with a green note. Topped with shredded aspen and moss.
Salts only.

DEVIL'S MILLHOPPER
Heather, Oakmoss, Fern & Delicate Wood Notes
NOT TO BE USED BY WOMEN WHO ARE PREGNANT OR NURSING.
Devil's Millhopper is a unique geological formation that is 120 ft. deep and 500 ft. across at the rim. It has over 230 steps descending into its heart. The sinkhole's name comes from its funnel-like shape which resembles a grist mill's hopper in which grain was held. Early settlers found fossilized animal remains and shark's teeth at the bottom and along the craggy walls leading them to believe that this was the place where bodies were fed to the Devil. Devil's Millhopper has a lush primitive environment with fern, moss, lichen, rare plants and a variety of trees. There are several small caves and waterfalls which flow into the basin below. The water then travels to an underground river which leads to the Florida aquifer.
This scent contains notes of heather, oakmoss and an assortment of woods used to interpret the atmosphere of Devil's Millhopper. On cold sniff it smells of fern, new spring leaves, moss and grass with heather and soft woods lurking just below. On initial application, the green top notes quickly subside and the fresh cool-toned floral note of heather and delicate woods emerge. Dry down is soft, fresh and hugs close to the skin. A very unisex scent.
A blend of heather, African bluegrass EO, hinoki wood EO, oakmoss absolute, ho wood EO, sandalwood, rosewood EO, Virginia cedarwood EO & muhuhu EO.
Perfume only.

DELLAMORTE
Oak, White Carnation, Oakmoss, Egyptian Musk & Vanilla
NOT TO BE USED BY WOMEN WHO ARE PREGNANT OR NURSING.
White carnations placed upon winter's tomb, sheltered in an oak hammock in which the first signs of spring's new growth has begun to emerge.
A complex blend of fragrance and essential oils, Dellamorte features dominant notes of oak and white carnation with supporting notes of sandalwood, oakmoss, Egyptian musk, vanilla, hyacinth and a small amount of violet absolute, vetiver and bergamot. On initial application, Dellamorte starts out with a bright burst of fresh green notes, dew kissed carnations, delicate creamy woods and a sweet element from the Egyptian musk and vanilla combination. It stays relatively strong for about 15 minutes then smooths out into a sweet, woodsy and velvety scent with the carnation still present, though more gentle, with a subtle green note and a tiny hint of spice.
Perfume and available for the first time in Burnishing Glace

BANANA NUT BREAD
Mouthwatering, warm, comforting banana nut bread loaded with chopped Southern pecans and a subtle spice. This scent smells absolutely delicious and will have you salivating! Rum like boozy note present in jar. In use, this scent is warmer, sweeter and less boozy.
Whipped Soap, Sugared Amber Whipped Cleansing Scrub and Home Fragrance Oil!

APPLE MALLOW
Crisp green apple combined with sweet gooey marshmallows. Apple Mallow is primarily a fresh apple scent highlighted by a delightful mallow note. The marshmallow note adds a creamy element which helps round out the sharp, tart, green note of the ripe green apple. Very refreshing!
Whipped Soap, Sugared Amber Whipped Cleansing Scrub, Salts & Home Fragrance Oil!
(I'm not satisfied with this scent's performance in leave-on products like perfume and glace. I'm sorry to disappont anyone! It is lovely in wash-off products and Home Fragrance though.
)

ALPHA & BETA HYDROXY FRUIT & CREAM MASQUE
A Blend of Hydroxy-Rich Fruits and Coconut Milk 4 oz.
NOT RECOMMENDED FOR USE PRIOR TO PROLONGED SUN EXPOSURE AS HYDROXYS INCREASE SUN SENSITIVITY. SUNSCREEN IS RECOMMENDED WHEN USING THIS PRODUCT.
The Fruit & Cream Masque is intended to be used as a once a week or bi-weekly skin reviver in conjunction with your other skin care routine items. Hydroxy-rich fruits such as strawberry, moisturizing banana, pomegranate, mango, pumpkin and orange peel are combined with creamy coconut milk. Hydroxys are believed to help loosen dead skin cells, encourage new cell growth, soften skin and improve tone. They may assist in softening scars and the natural salicylic acid in fruits like strawberries may assist those with blemish prone skin. Beta hydroxy is oil soluble which means that it can penetrate into the skin better than the water soluble alpha hydroxy acids. They can be especially helpful for cleansing clogged pores and removing blackheads as well.
This product is not Vegan. It coconut powder contains a milk protein called casein.
4 oz. (by volume) of masque packaged in a sealed phthalate-free recyclable PET plastic jar.
A few opinions can be viewed here (add yours if you already have this masque and would like to!)
https://solsticescents.forumotion.com/t481-alpha-beta-hydroxy-fruit-and-cream-masque