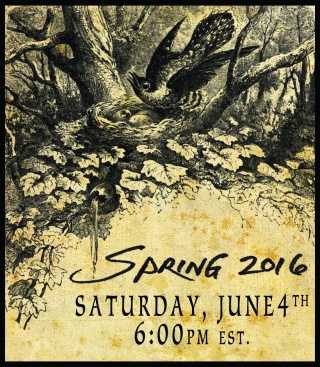 The Spring Collection release will be tomorrow at 6 pm EST at www.solsticescents.com.  
Please read these very important notes before scrolling down to read the full descriptions for each of the offerings:
1.
Cascade of Gold
will not be available in sample size in either the free sample at checkout or for purchase in the sample packs. It will be sold in full size only. We can no longer get an important oil for this blend and several other oils are endangered with a finite supply left in the workshop. If it returns in the future, it will be reformulated.  We do have about 13 sample sizes available when Greg decanted them before I communicated that I won't be able to make another batch. So, if you want it as your free sample at checkout, please select a free sample from the drop down as usual (this will be your back up choice if we cannot oblige you) and leave a comment in the comments box at checkout that you'd prefer your free sample to be Cascade of Gold, if available.
2.
Chrysalis
is in the same boat as Cascade of Gold as far as a limited supply of the perfume in its current formula. However, I was able to make a larger batch and therefore we are able to offer samples at the present time. We might not be able to offer samples for the next few months of carrying the spring line though, as there is a finite supply.  We can no longer source one of the oils so if this returns in the future, it will need to be slightly modified.  
3.
One sample per order, please.
Please try to avoid placing multiple orders, if possible. This helps cut down on our shipping overcharge refunds and keeps our process fast and streamlined. If you do place multiple orders tomorrow night, please only select one free sample from the drop down at checkout. The policy is one free sample with every order and this goes for combined orders. We will begin packaging orders on Sunday. We will only automatically combine orders placed on Saturday night as we print the invoices early Sunday morning.
If you order a 60 ml EDP and wish for your other items to be shipped separately, you must place two separate orders and leave a note in the comments on both orders that you desire for the orders to ship separately.
60 ml EDP shipping is much slower than first class or priority (this does not affect EDP samples).
4.
Full size EDPs: ***Attention International Buyers***:
Until now, we have not been able to ship our full size 60 ml EDPs. In a few months, the Rhinestone Housewife will be carrying select EDPs. She has a thread on her Facebook page asking you all what you want her to stock. Please take a moment to head over and weigh in so she knows what to order to insure you have a chance at your selection (or contact her directly if you do not use Facebook): https://m.facebook.com/story.php?story_fbid=836978006431350&id=243441782451645
5.
Whispers in the Night
has been a part of our General Catalog but will be moving to
spring only
, if you'd like to pick it up. It will be available again in 2017 and will be offered in perfume and Glace tomorrow.
6. ***
DISCONTINUED ATTIC:
*** Attic in its current formula is being discontinued because I can no longer source the osmanthus attar. It might come back in the future as a different but similar interpretation but there is not currently a reformulation in the works. Attic will be stocked in full size only due to an extremely limited supply; no samples will be available. Attic is a part of the Manor Collection and it is a cedar-heavy, dusty, aged vanilla perfume oil.
7.
HIDDEN LODGE EDP:
After a very long hiatus, Hidden Lodge 60 ml EDP and 3.3 ml EDP sample sprays will be available again tomorrow!
8.
NEW CUSTOMERS:
You may select one free sample from the drop down menu at checkout with all orders. If this is your first order, you may leave another selection in the comments at checkout as new customers are entitled to a second free sample. This offer is not retroactive. Please choose one off of the sample pack listing or free drop down menu. EDP samples are not available so Estate Vanilla, Estate Carnation, Desert Thunderstorm and White Feather are not eligible. EDP samples are also not available in the perfume sample packs. Please read the sample packs carefully when choosing your selections.

HERE IS AN AT-A-GLACE LIST OF WHAT WILL BE AVAILABLE TOMORROW. Full descriptions for the Spring Collection will be below this list.PERFUME OILS (Spring and restocks):
Attic (discontinued!)
Basilica
Black Forest
Blossom Jam Tea Cakes
Cameo
Cascade of Gold
Chantilly Cream
Cherry Vanilla Amberosia
Chiffon
Chrysalis
Corvin's Apple Fest
Fires in the Night
Outpost (last restock until next winter)
Owl Creek Aleworks
Sycamore Chai
Tenebrous Mist
Vanilla Pipe Tobacco
Whispers in the Night
Wolf Spirit
BURNISHING GLACE:
Cameo
Chantilly Cream
Chiffon
Conjure
Ghost
Lavender Vanilla
Nightgown
Whispers in the Night
EDP 60 ML:
Conjure
Hidden Lodge
Wolf Spirit
EDP 3.3 ML EDP SAMPLE SPRAY:
Hidden Lodge
Inquisitor

FULL DESCRIPTIONS OF SPRING OFFERINGS: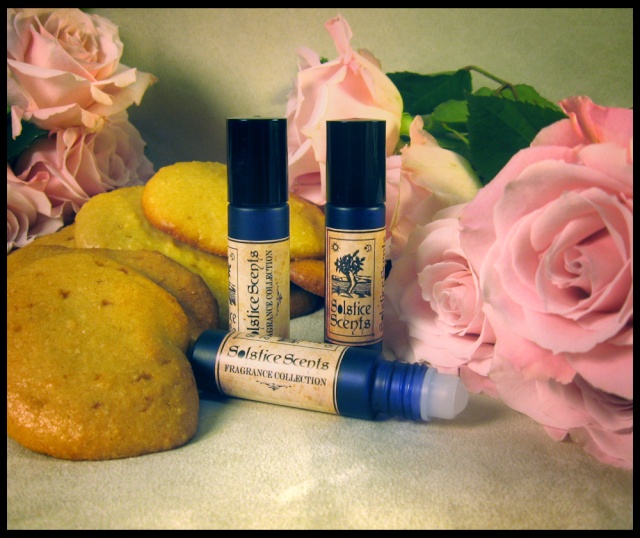 CAMEO


Almond, Rose, Yellow Cake, Tonka Bean, Coconut, Ginger and Bitter Red Orange
Cameo is a delicious gourmand fragrance blended with rose.  Almond, rose, yellow cake, tonka bean absolute, coconut flakes, creamed ginger and a light top note of bitter red orange EO combine to create a sweet feminine floral.  
The almond is dominant on cold sniff and initial application, followed by rose.  As Cameo settles on the skin, the almond smoothes out and the tonka bean comes to the foreground. The coconut flake and yellow cake emerge and meld with the tonka and the light zing of creamed ginger.  The rose and almond become very soft and well blended with the rest of the notes.  The orange is a top note that does not linger in the final composition.
Cameo contains a blend of fragrances, moroccan rose absolute, tonka bean absolute, ginger CO2 and bitter red orange essential oil.  
A recipe for Cameo Cookies (pictured above) can be found on the Foxcroft Bulletin Back Issues section of our website. They are delicious and wheat-free!
Perfume, Burnishing Glace
CHRYSALIS


Orange Blossom, Grass, Bitter Green Orange, Vetiver, Patchouli, Amber, Yellow Mandarin, Rose de Mai Absolute, Sandalwood and Indian Attars
Please read #2 in the important notes at the top of this post regarding important information about this blend
NOT TO BE USED BY WOMEN WHO ARE PREGNANT OR NURSING.
Chrysalis is a fragrance to represent the emergence from a bleak winter into the bright season of spring, teeming with new life, warm sun and clear skies.  The first fragrances that permeate the air in our area of North Florida are sweet blossoms from a variety of citrus trees, primarily the orange tree, fresh cut grass and warm earth.
Chrysalis showcases a blend of fresh cut grass, top notes of bitter green orange, yellow mandarin and orange blossom, earthy base notes of vetiver and aged patchouli, rosy and green rose de mai absolute, amber, soft sandalwood and a blend of exotic Indian attars with green and delicate floral notes.  
Chrysalis is intended to capture the spring air.  It is loaded with essential oils, absolutes and attars and is primarily a natural blend with only a few supporting synthetic fragrances.  It is a warm earthy green floral that is not heady.  After the bright citrus, grass and orange blossom top notes depart, the rich attars and earthy base notes remain in this lovely blend of the bottled spring season.
Perfume oil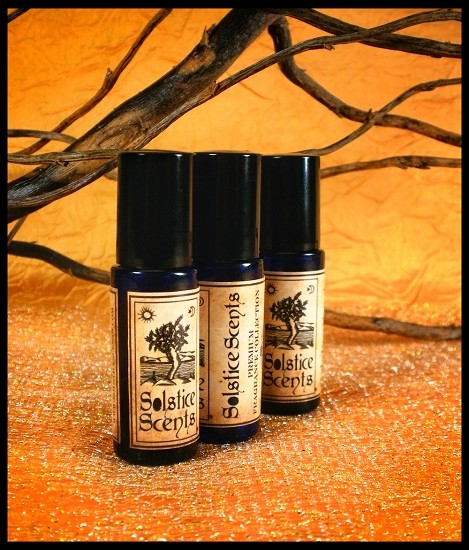 CASCADE OF GOLD PREMIUM FRAGRANCE


Sandalwood, White Sandalwood, Honeysuckle, Champa & White Lotus - 5mlPlease read #1 on the important notes toward the top of this blend regarding how there will be no samples available to purchase of this perfume and last chance for this exact formula
NOT TO BE USED BY WOMEN WHO ARE PREGNANT OR NURSING.
Cascade of Gold is a 100% natural and exquisite blend of essential oils, absolutes and Indian attars blended in our rice bran carrier oil.  Notes of sandalwood, white sandalwood, honeysuckle, champa and white lotus combine to form a divine and meditative scent that is also very sensual.  Cascade of Gold has a base of exotic incensey woods with a very strong amber note that has subtle balsamic undertones.  The floral notes are delicately blended so as to add just the right exotic touch to the warm wood and amber notes.  It smells like bottled sunset with the last of the days' golden orange rays peeking out mixed with humid deep south air that has been perfumed by a concentration of mid spring blooms.  You can almost literally feel a warmth radiating from your skin with this scent on.  The champa is the finest quality I've found and it contributes a delicate edge of spice to the blend as well.  The florals serenely float at the top of the blend adding a velvety white note for the first 10 minutes.  Their voice becomes softer and evolves to a relatively stable blend without morphing that smells warm, sweet, ambery, golden, robust, full bodied, exotic, floral and extremely sexy.  Cascade of Gold would make a wonderful blend for yoga, meditation, scrying or just before bed as it has a natural harmony and almost trance inducing properties.
Application tip:  If your roller ball runs dry during application, remove black cap, hold your bottle vertically with roller ball pointing to the ground and forcefully shake/thrust the bottle down one time to replenish the oil in the well. Now it is ready to reapply to your skin.
Perfume oil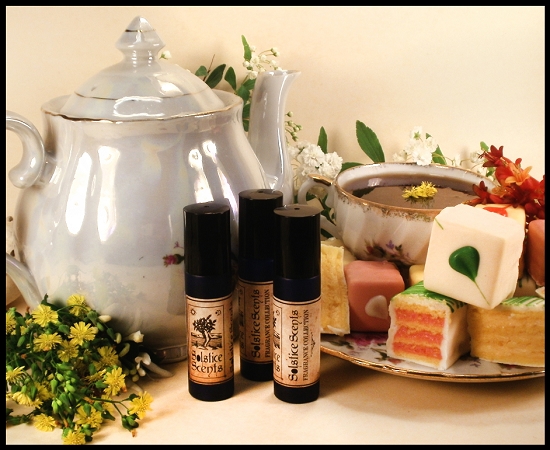 BLOSSOM JAM TEA CAKES

Southern Tea Cakes, Petit Fours, Floral Infused Jams & Preserves and a Delicate Aroma of Tea
Blossom Jam Tea Cakes features the mouthwatering aromas of Petit Fours filled with floral infused jams and preserves, enrobed in sweet fondant, warm southern tea cakes topped with a delicate lavender buttercream and a subtle waft of hot tea. A rich cakey base supports light floral and fruit notes to create a beautiful atmospheric spring gourmand-floral fragrance.
Notes include: yellow and white cake, honeysuckle absolute, palmarosa EO, peach, strawberry, blood orange EO, lavender absolute, ylang ylang absolute, buttercream, fondant. The floral notes listed may give the impression that this is a heady floral but it's not. Rather, the floral notes were used with restraint and were intended to infuse the delicate fruit notes to create an interpretation of floral jams and preserves thinly spread on fluffy cakes. A very unique fragrance.

Perfume only

CHIFFON

Vanilla, White Amber, White Musk & Lemon Myrtle EO
DO NOT APPLY IMMEDIATELY AFTER A HOT SHOWER OR NEAR CUTS OR BROKEN SKIN AS LIKE LEMON JUICE, LEMON MYRTLE MAY STING!
Chiffon is a dual concept fragrance that brings together the airy, sweet and refreshingly tart taste of Lemon Chiffon pie and the elegant, wispy and equally airy beauty of chiffon fabric.  A very special top-shelf, perfectly sweet and non-cloying vanilla provides a base for a delicate touch of white amber and white musk.  Chiffon is completed with the bright and uplifting scent of pure lemon myrtle essential oil.  The lemon myrtle is one of the dominant notes on cold sniff and initial application.  It will recede within 5 to 10 minutes and allow the other notes to emerge.  Unlike most lemon essential oil top notes that disappear fairly quickly, lemon myrtle EO has a strong lemon-like scent but also a very good staying power.  Lemon Myrtle is distilled from the leaves of a native Australian Tree.  As it fades and takes a back seat to the other notes a wonderful, sweet, ethereal and beautiful long-lasting scent is left behind.   The longer Chiffon is on the skin, the sweeter it gets.  The vanilla is the longest lasting note of the blend and takes on a glorious whipped cream and an almost marshmallow note the longer it is on the skin.  A really lovely and sophisticated scent!  
While Chiffon is overall a scent that smells light and airy like clouds, it also is pretty strong and seems to grow stronger the longer it is on the skin so apply a modest amount on your first try and let it sit for about 45 minutes to gauge how much you will need for future applications.
Perfume, Burnishing Glace
CHANTILLY CREAM

Whipped Cream, Peach Nectar, Vanilla & Yellow Mandarin EO
Our Chantilly Cream is white fluffy whipped cream sweetened with vanilla and just a touch of peach nectar.    A light addition of lovely yellow mandarin essential oil tempers the juicy peach note.  The primary notes in this blend are the whipped cream and a blend of vanillas and they are also the longest lasting.  The peach nectar and yellow mandarin are more detectable in the cold sniff of the blend and are very subtle on the skin and add a juicy touch to the more dominant scent of the whipped cream accord.   This fragrance is best judged not on cold sniff or immediately after application but after about 5 to 7 minutes of morphing before its true scent is revealed.  It will become sweeter the longer it wears and the fruit notes will eventually recede completely.
Chantilly Cream has a profile that is very light, sweet and delicate.  It hugs very close to the skin and is intended for a gentle skin sweetening treat when you wish to wear something a little lighter and less heady near those sensitive to fragrance, in the work environment or just because you want to indulge in something a little softer in scent and throw.  It is a versatile scent that would pair and layer wonderfully with fragrances in your collection that contain notes of coconut, cake, fruit, vanilla or even select floral scents (white florals such as jasmine, tuberose and lily especially).  It layers nicely with Chiffon too!  

Perfume, Burnishing Glace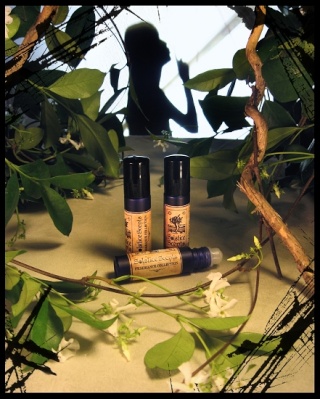 WHISPERS IN THE NIGHT


Jasmine, Tuberose, Vanilla Orchid, Coconut, White Amber, Sandalwood, Amber & Ylang Ylang on a base of Edge of the Night
The night breeze laced with the essence of jasmine, tuberose and ylang ylang, caressed by whispers of vanilla orchid, white amber, coconut and sandalwood blended with a light base of Edge of the Night and amber.  The result is a very creamy, velvety white floral with a subtle sensual depth provided by the amber and Edge of the Night.  The white amber adds a fresh clean note, the vanilla orchid and coconut sweeten and the sandalwood rounds out the edges.
On cold sniff and initial application, the white florals bloom and are the star notes.  They are propelled by the creamy undercurrent of vanilla orchid, coconut and sandalwood.  The floral notes calm down quickly as the white amber comes forward to add a clean touch.  The dry down is a very soft and subtle sweet white floral with clean white amber and a sensual base of golden amber and Edge of the Night that keeps it from being too heady.
The springtime in north Florida opens with the notes of orange blossom and fresh cut grass showcased in Chrysalis.  As soon as the orange blossoms die off, the confederate jasmine erupts, perfuming the air with the sweetest and most delicate intoxicating floral notes.  Whispers in the Night is inspired by this stage of the spring, when the jasmine has exploded in our yard and its scent can be detected no matter where we stand.
Whispers in the Night is the fifth offering in 'The Night' line.  When crafting Edge of the Night, it was clear that it was a fragrance that could stand on its own but also one that would make an incredible darkly sensual foundation for other oils.  Used lightly as a base for Whispers in the Night, the end result is a sophisticated white floral fragrance which contains a total of 26 fragrance and essential oils.  Though you can detect Edge of the Night carefully woven into the Whispers in the Night blend, primarily after it has been on the skin for a while, Whispers in the Night is its own unique, creamy, sweet white floral fragrance with a sensual musky base and clean white amber finish.  The Edge of the Night fragrance worn alone manifests a deeper, musky, powdery dry down with a green lift and is mildly spicy as compared to Whispers.  After several hours of wear, the two fragrances share a similar character though Whispers in the Night maintains a much lighter and sweeter character due to the gourmand and floral notes used.
The notes in the Edge of the Night base for this fragrance include: amber, oakmoss, aged patchouli, bergamot, black vanilla, red musk, buddha wood, organic clove EO, star anise EO, cinnamon and a nominal amount of lavender absolute and agarwood.
Perfume, Glace
___________________________________________________________________________________
QUESTIONS?  Please ask any questions you may have prior to placing your order.

Follow us on Instagram @solsticescents
Facebook:  www.solsticescents.net