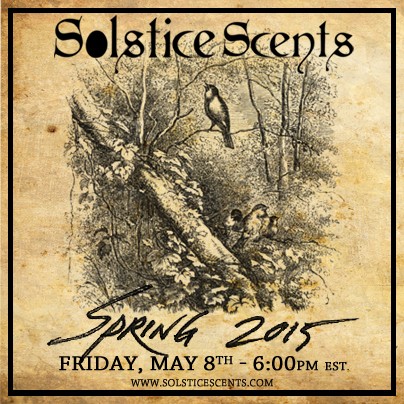 The Solstice Scents Spring Collection release will occur on Friday, May 8th at 6 pm EST at www.solsticescents.com.  It will feature returning spring fragrances as well as a restock of some General Catalog bath and body products. Dellamorte Perfume will also be available as a limited release.  *No samples* of Dellamorte will be available; it will be sold in full size only and will not be restocked.  Please do not request Dellamorte in your sample pack purchases.  As usual, the bath and body products are in limited quantities.  These items will not be restocked once this batch sells out and products are available on a first come, first serve basis.  We apologize but we cannot accommodate requests to reserve products ahead of the sale.
PLEASE READ: IMPORTANT SHOP NEWS/CLOSURE DATES:
We will not be shipping orders on Friday, May 15.  We will close the shop the evening of May 20th and will reopen on June 14th.
If you wish to make a purchase before we close, please try to get your order in by May 19th.
If you are an international customer wishing to place an order for spring sample perfumes, please keep these dates in mind. It is unlikely your order will arrive before the 20th and therefore you will not be able to purchase full size spring perfumes until we reopen on the 14th.  We will be doing a soft reopening with primarily perfume and we may not have all the spring perfumes in stock when we reopen.  We will work to restock General Catalog and Spring perfumes in the week or so after we reopen. Please post here on contact Angela with any questions.
Spring samples will be available in a Spring Collection sample pack and may also be purchased as a part of our sample 5 or 10 packs. When purchasing a 5 or 10 pack, please scroll down to view the available perfumes.
On to the goods!  
RETURNING SPRING FRAGRANCES: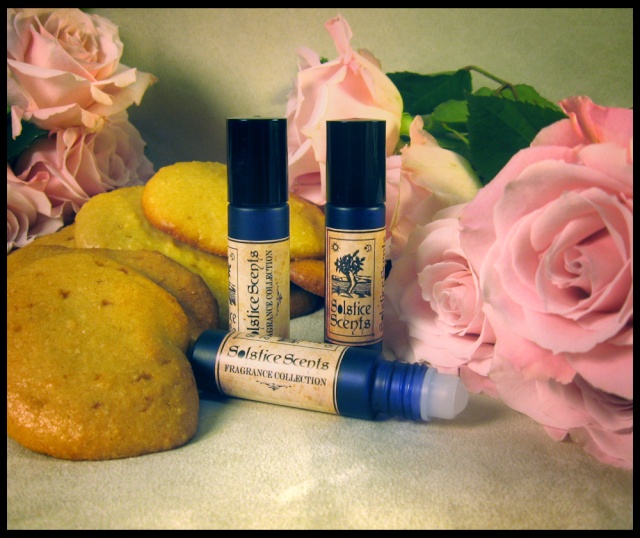 CAMEO


Almond, Rose, Yellow Cake, Tonka Bean, Coconut, Ginger and Green Orange
Cameo is a delicious gourmand fragrance blended with rose.  Almond, rose, yellow cake, tonka bean absolute, coconut flakes, creamed ginger and a light top note of bitter green orange EO combine to create a sweet feminine floral.  
The almond is dominant on cold sniff and initial application, followed by rose.  As Cameo settles on the skin, the almond smoothes out and the tonka bean comes to the foreground. The coconut flake and yellow cake emerge and meld with the tonka and the light zing of creamed ginger.  The rose and almond become very soft and well blended with the rest of the notes.  The orange is a top note that does not linger in the final composition.
Cameo contains a blend of fragrances, moroccan rose absolute, tonka bean absolute, ginger CO2 and bitter green orange essential oil.  
A recipe for Cameo Cookies (pictured above) can be found on the Foxcroft Bulletin Back Issues section of our website. They are delicious and wheat-free!
Perfume, Burnishing Glace, Body Ganache, Whipped Soap
CHRYSALIS


Orange Blossom, Grass, Bitter Green Orange, Vetiver, Patchouli, Amber, Yellow Mandarin, Rose de Mai Absolute, Sandalwood and Indian Attars
NOT TO BE USED BY WOMEN WHO ARE PREGNANT OR NURSING.
Chrysalis is a fragrance to represent the emergence from a bleak winter into the bright season of spring, teeming with new life, warm sun and clear skies.  The first fragrances that permeate the air in our area of North Florida are sweet blossoms from a variety of citrus trees, primarily the orange tree, fresh cut grass and warm earth.
Chrysalis showcases a blend of fresh cut grass, top notes of bitter green orange, yellow mandarin and orange blossom, earthy base notes of vetiver and aged patchouli, rosy and green rose de mai absolute, amber, soft sandalwood and a blend of exotic Indian attars with green and delicate floral notes.  
Chrysalis is intended to capture the spring air.  It is loaded with essential oils, absolutes and attars and is primarily a natural blend with only a few supporting synthetic fragrances.  It is a warm earthy green floral that is not heady.  After the bright citrus, grass and orange blossom top notes depart, the rich attars and earthy base notes remain in this lovely blend of the bottled spring season.
Premium 5mL perfume oil only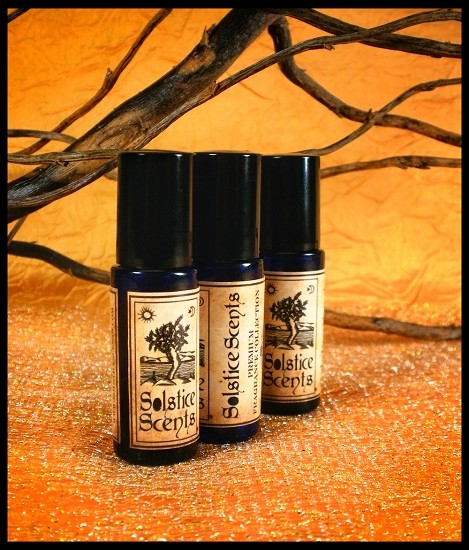 CASCADE OF GOLD PREMIUM FRAGRANCE


Sandalwood, White Sandalwood, Honeysuckle, Champa & White Lotus - 5ml
NOT TO BE USED BY WOMEN WHO ARE PREGNANT OR NURSING.
(Packaged in clear glass roll ons, not the blue ones pictured)
Cascade of Gold is an utterly amazing, 100% natural and exquisite blend of essential oils, absolutes and Indian attars blended in our rice bran carrier oil.  Notes of sandalwood, white sandalwood, honeysuckle, champa and white lotus combine to form a divine and meditative scent that is also very sensual.  Cascade of Gold has a base of exotic incensey woods with a very strong amber note that has subtle balsamic undertones.  The floral notes are delicately blended so as to add just the right exotic touch to the warm wood and amber notes.  It smells like bottled sunset with the last of the days' golden orange rays peeking out mixed with humid deep south air that has been perfumed by a concentration of mid spring blooms.  You can almost literally feel a warmth radiating from your skin with this scent on.  The champa is the finest quality I've found and it contributes a delicate edge of spice to the blend as well.  The florals serenely float at the top of the blend adding a velvety white note for the first 10 minutes.  Their voice becomes softer and evolves to a relatively stable blend without morphing that smells warm, sweet, ambery, golden, robust, full bodied, exotic, floral and extremely sexy.  Cascade of Gold would make a wonderful blend for yoga, meditation, scrying or just before bed as it has a natural harmony and almost trance inducing properties.
Application tip:  If your roller ball runs dry during application, remove black cap, hold your bottle vertically with roller ball pointing to the ground and forcefully shake/thrust the bottle down one time to replenish the oil in the well. Now it is ready to reapply to your skin.
Premium Perfume 5mL in oil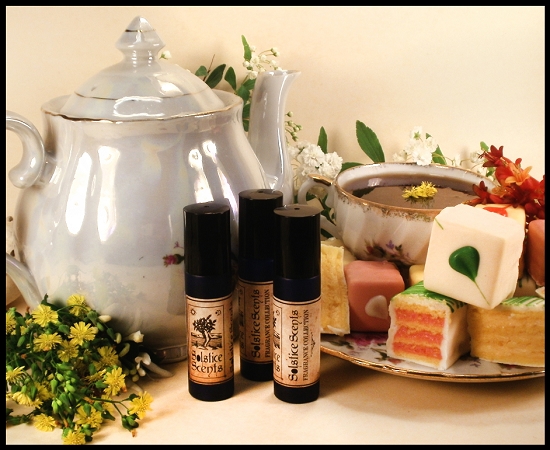 BLOSSOM JAM TEA CAKES

Southern Tea Cakes, Petit Fours, Floral Infused Jams & Preserves and a Delicate Aroma of Tea
Blossom Jam Tea Cakes features the mouthwatering aromas of Petit Fours filled with floral infused jams and preserves, enrobed in sweet fondant, warm southern tea cakes topped with a delicate lavender buttercream and a subtle waft of hot tea. A rich cakey base supports light floral and fruit notes to create a beautiful atmospheric spring gourmand fragrance.
Notes include: yellow and white cake, honeysuckle absolute, palmarosa EO, peach, strawberry, blood orange EO, lavender absolute, ylang ylang absolute, buttercream, fondant. The floral notes listed may give the impression that this is a heady floral but it's not. Rather, the floral notes were used with restraint and were intended to infuse the delicate fruit notes to create an interpretation of floral jams and preserves thinly spread on fluffy cakes. A very unique fragrance.

Perfume only

CHIFFON

Vanilla, White Amber, White Musk & Lemon Myrtle EO
DO NOT APPLY IMMEDIATELY AFTER A HOT SHOWER OR NEAR CUTS OR BROKEN SKIN AS LIKE LEMON JUICE, LEMON MYRTLE MAY STING!
Chiffon is a dual concept fragrance that brings together the airy, sweet and refreshingly tart taste of Lemon Chiffon pie and the elegant, wispy and equally airy beauty of chiffon fabric.  A very special top-shelf, perfectly sweet and non-cloying vanilla provides a base for a delicate touch of white amber and white musk.  Chiffon is completed with the bright and uplifting scent of pure lemon myrtle essential oil.  The lemon myrtle is one of the dominant notes on cold sniff and initial application.  It will recede within 5 to 10 minutes and allow the other notes to emerge.  Unlike most lemon essential oil top notes that disappear fairly quickly, lemon myrtle EO has a strong lemon-like scent but also a very good staying power.  Lemon Myrtle is distilled from the leaves of a native Australian Tree.  As it fades and takes a back seat to the other notes a wonderful, sweet, ethereal and beautiful long-lasting scent is left behind.   The longer Chiffon is on the skin, the sweeter it gets.  The vanilla is the longest lasting note of the blend and takes on a glorious whipped cream and an almost marshmallow note the longer it is on the skin.  A really lovely and sophisticated scent!  
While Chiffon is overall a scent that smells light and airy like clouds, it also is pretty strong and seems to grow stronger the longer it is on the skin so apply a modest amount on your first try and let it sit for about 45 minutes to gauge how much you will need for future applications.
Perfume, Burnishing Glace
CHANTILLY CREAM

Whipped Cream, Peach Nectar, Vanilla & Yellow Mandarin EO
Our Chantilly Cream is white fluffy whipped cream sweetened with vanilla and just a touch of peach nectar.    A light addition of lovely yellow mandarin essential oil tempers the juicy peach note.  The primary notes in this blend are the whipped cream and a blend of vanillas and they are also the longest lasting.  The peach nectar and yellow mandarin are more detectable in the cold sniff of the blend and are very subtle on the skin and add a juicy touch to the more dominant scent of the whipped cream accord.   This fragrance is best judged not on cold sniff or immediately after application but after about 5 to 7 minutes of morphing before its true scent is revealed.  It will become sweeter the longer it wears and the fruit notes will eventually recede completely.
Chantilly Cream has a profile that is very light, sweet and delicate.  It hugs very close to the skin and is intended for a gentle skin sweetening treat when you wish to wear something a little lighter and less heady near those sensitive to fragrance, in the work environment or just because you want to indulge in something a little softer in scent and throw.  It is a versatile scent that would pair and layer wonderfully with fragrances in your collection that contain notes of coconut, cake, fruit, vanilla or even select floral scents (white florals such as jasmine, tuberose and lily especially).  It layers nicely with Chiffon too!  

Perfume, Burnishing Glace
AVAILABLE GLACES (Bath and Body Oil)
Blackburn's Parlor
Black Forest
Black Leather, Red Lace
Cameo
Cellar
Chantilly Cream
Chiffon
Conjure
Corvin's Apple Fest
Lavender Vanilla
Manor
Nightgown
Old Havana
Owl Creek Aleworks
Riverside Hayride
Sycamore Sugarworks
Tenebrous Mist
Violet Mallow
AVAILABLE WHIPPED SOAPS
Blackburn's Parlor
Cameo
Corvin's Apple Fest
Owl Creek Aleworks
AVAILABLE GANACHE (lotion)
Blackburn's Parlor
Cameo
Lavender Vanilla
Manor
Nightgown
Owl Creek Aleworks
Smokewood Apiary
AVAILABLE DEAD SEA SALTS
Lavender Vanilla
Violet Mallow
RESTOCKED PERFUMES
Several perfumes were restocked last night.  Check the Recently Added page of our website.  Along with the release, the following will also be restocked:
Courtyard Premium 5 ml (natural botanical fougere blend)
Dellamorte: Limited Release (see description below. No samples available)
Hidden Lodge Premium 5 ml
Manor
Rose Mallow Cream Premium 5 ml
DELLAMORTE
Oak, White Carnation, Oakmoss, Egyptian Musk & Vanilla
NOT TO BE USED BY WOMEN WHO ARE PREGNANT OR NURSING.

Dellamorte is being sold as a Limited Release.  Samples for this fragrance are not available.  It will not be restocked when this batch sells out.
White carnations placed upon winter's tomb, sheltered in an oak hammock in which the first signs of spring's new growth has begun to emerge.
Dellamorte features dominant notes of oak and white carnation with supporting notes of sandalwood, oakmoss, Egyptian musk, vanilla, hyacinth and a small amount of violet absolute, vetiver and bergamot.  On initial application, Dellamorte starts out with a bright burst of fresh green notes, dew kissed carnations, delicate creamy woods and a sweet element from the Egyptian musk and vanilla combination.  A crisp watery note reminiscent of fresh apple is present at this stage.  It stays relatively strong for about 15 minutes then smooths out into a sweet, woodsy and velvety scent with the carnation still present, though more gentle, with a subtle green note and a tiny hint of spice.