Solstice Scents will be releasing V-Day offerings, restocked facial care and restocked Blackburn's Parlor Ganache and Glace on Sunday, February 9th at 6 p.m. EST at www.solsticescents.comNEW PREMIUM PERFUME OFFERINGS INCLUDE: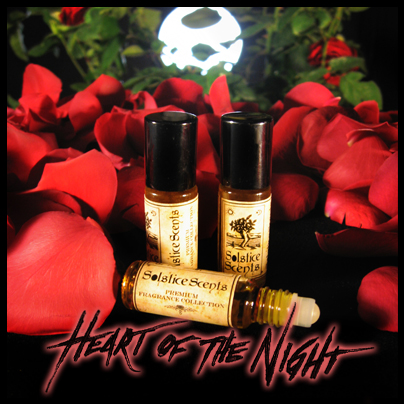 HEART OF THE NIGHT PREMIUM FRAGRANCE


Moroccan Rose absolute, Bulgarian Rose absolute, Sugar, Chocolate, Vanilla, Edge of the Night Base - 5ml
Rose petals dusted with sugar crystals, creamy chocolate ganache filled truffles and a blend of delicate vanillas intertwine above a very soft background base of Edge of the Night.  Heart of the Night features copious amounts of sugared rose petals and whiffs of fine chocolate and vanilla.  The Edge of the Night base adds a sophisticated subtle muskiness that elevates it into a very sensual feminine fragrance and helps tame the strong gourmand notes.  Rose Mallow Cream is Heart of the Night's more innocent and demure counterpart.  Heart of the Night shares a similar candied rose fragrance with Rose Mallow Cream but it's not quite as sweet.  Imagine Rose Mallow Cream with chocolate and delicate deep musk in lieu of strawberry, marshmallow and white musk.  On initial application, the Bulgarian and Moroccan Rose absolutes come through with a puff of sweet sugar.  The chocolate weaves in and out of the fragrance.  At this point, the musky base is far in the background and takes a while to fully emerge.  The dry down features a medley of soft notes: sweet, musk, very faint floral, chocolate and magic.   The whole journey is decadent and delicious.  Heart of the Night is strong upon initial application and is very concentrated.  You may wish to dab it on to start and then reapply to build a stronger concentration if you desire.
Heart of the Night is the fourth offering in 'The Night' line.  When crafting Edge of the Night, it was clear that it was a fragrance that could stand on its own but also one that would make an incredible darkly sensual foundation for other oils.  Used as a base for Heart of the Night, the end result is a sophisticated floral gourmand fragrance which contains a total of 26 fragrance and essential oils.  Though you can detect Edge of the Night carefully woven into the Heart of the Night blend, Heart of the Night is its own unique candied rose fragrance with a sensual muskiness and a smooth chocolate interlude.  The Edge of the Night fragrance worn alone manifests a deeper, musky, powdery dry down with a green lift and is mildly spicy as compared to Heart.  After several hours of wear, the two fragrances share a similar character though Heart of the Night maintains a much lighter and sweeter character due to the gourmand and floral notes used.
The notes in the Edge of the Night base for this fragrance include: amber, oakmoss, aged patchouli, bergamot, black vanilla, red musk, buddha wood, organic clove EO, star anise EO, cinnamon and a nominal amount of lavender absolute and agarwood.



COCOA ABSOLUTE PREMIUM FRAGRANCE


Pure Chocolate - 5ml
100% mouthwatering natural cocoa absolute in Perfumer's alcohol.  This single note chocolate fragrance smells like a divine blast of sugared cocoa powder and sweet hot chocolate.  On initial application, you will experience a blast of cocoa.  This soon settles down to a soft chocolate scent which hovers closer to the skin but has great staying power.  Cocoa Absolute perfume is wonderful on its own but it is really special when layered with some of our other fragrances to bring additional dimension or a new twist.  It layers especially well with Vanilla Pipe Tobacco, Heart of the Night, Black Forest, Cocoa Mallow, Blackburn's Parlor, Cherry Cordial and Cafe Mallowmel.  If you have tried the premium perfumes Midnight Oil or Private Eye, you will already be familiar with our cocoa absolute.  Cocoa absolute may stain lighter colored clothing and skin.  When applying the perfume, rub it in quickly as it is easier to work into skin with less chance of staining.  Apply once to wrists and add another layer when dry to build the concentration of the cocoa absolute.  This fragrance is surprisingly wonderful to wear to bed.
Pure natural cocoa absolute with no synthetic fragrance oils.  Please shake gently before each use as the cocoa absolute will settle to the bottom. A few shakes will quickly and easily disperse the scent evenly.

THE RETURNS INCLUDE:


BLACK LEATHER, RED LACE


A Stirring Blend of Amber, Vanilla & Leather
It's back!  Making a return just in time for Valentine's Day, Black Leather, Red Lace will be a part of our rotating General Catalog again.  It will be offered year round in perfume format and will occasionally be available in other products.
Black Leather, Red Lace is an erotic smelling fragrance with a slightly masculine edge due to the leather. It is a scent that could certainly be enjoyed by both men and women. A blend of gorgeous amber, deep vanillas and deftly blended smooth black leather, this scent is cool, rich, a little sweet and utterly intoxicating.
Perfume, Ganache, Whipped Soap and Burnishing Glace
CHERRY CORDIAL


Milk Chocolate, Dark Chocolate, Maraschino Cherries & Black Cherry. Contains Cocoa Absolute.
A medley of black cherries and maraschino cherries enrobed in milk and dark chocolate. Two different kinds of cocoa absolute are added to this blend to enhance the rich chocolate note.  The blend starts out with a heavier cherry note but quickly settles down into a very nice gourmand blend of both chocolate and cherry. Juicy, sweet and edible smelling!  
Perfume, Ganache, Whipped Soap and Burnishing Glace
CHERRY VANILLA AMBEROSIA


Amber, Black Cherry, Maraschino Cherry, Deep Vanilla, Whipped Cream, Blood Orange EO & Sweet Orange EO
Another returning fragrance for Valentine's Day!  This fragrance is a blend of 2 different ambers, black cherries, maraschino cherries, vanilla and a tiny hint whipped cream, blood orange EO and sweet orange EO. A burst of cherry and amber followed by a deep vanilla greets you on initial application. A subtle orange note emerges shortly thereafter. The dry down is a very soft incensey amber-cherry combo with a subtle sweetness from the vanilla. Contains a blend of fragrance and essential oils.  The citrus note is a top note and therefore does not last into the dry down.  The main notes in this blend are the ambers and cherries, rounded out with the vanilla and soft whipped cream.
Citrus oils are phototoxic so do not apply liberally prior to an extended day in the sun.
Perfume, Ganache, Whipped Soap and Burnishing Glace
VIOLET MALLOW


Marshmallow Cream, Violet Flowers, Vanilla Bean, White Musk.
Available year-round in perfume format, additional products make a comeback for this V-Day release.
Violet Mallow smells like sweet, creamy, slightly powdery and fresh violets. It is a timeless, classic and elegant scent. Sophisticated, yet soft and wearable with a vintage flair. This fragrance starts out with a stronger violet note upon initial application, though the sweet creamy marshmallow is there to soften it from being too dominant. The dry down is very fluffy and comforting and the violet does remain in the background through most of the wear, though in a subdued fashion. The vanilla and white musk are very very subtle and far in the background. It has a similar "white" scent to that of Snowshoe Pass without the full bodied white musk that is in that blend. The white musk is used sparingly in Violet Mallow so what you will smell is primarily the violet paired with decadent marshmallow cream.  A very pretty and romantic fragrance!
Perfume, Ganache, Bath Salts and Burnishing Glace
VIOLET TRUFFLE


Dark Chocolate, Violet, Violet Leaf & Vanilla Absolute
Available year-round in perfume format, Violet Truffle Ganache makes a return appearance for the V-Day release.
Dark chocolate violet ganache truffles topped with a violet-vanilla infused sugar. On cold sniff and initial application, rich chocolate with a hint of wet and Earthy violet absolute draws you in. The soft powdery note of violet fragrance emerges then rises to hover just beneath the chocolate note. This is definitely a morpher and the vanilla-violet sugar sweet notes become more evident the longer this one is on the skin as the soft powdery violet note slowly retreats to the background. Contains cocoa and vanilla absolute, violet leaf absolute and fragrance.

Perfume, Ganache
FACIAL CARE RESTOCKS:
All three masques are returning:  Oatmeal, Coconut Milk & Honey Masque, Exquisite Antioxidant Masque and the Alpha and Beta Hydroxy Fruit & Cream Masque will be available along with Botanical Toners for Dry/Normal/Mature skin and Oily/Troubled Skin.  A note on pricing for masques:  the cost of coconut milk powder has risen quite a bit again, therefore we have had to modify pricing for all 3 masques.  A note on toner pricing: As previously mentioned, both Botanical Toners have changed in that I have sourced higher quality witch hazel, lavender hydrosol and rose hydrosol.  The rose hydrosol and cucumber hydrosol are organically grown.  The independent southeastern farm I sourced the materials from has indicated that the lavender hydrosol, while not certified organically grown, has been grown without the use of pesticides.  The cucumber extract is the same wonderful one as before but the witch hazel is a better quality product as well.  The end result of both toners is that I feel they perform much better than the previous counterparts and they smell more palatable too.  The witch hazel fragrance is still quite dominant in both toners but it is smoother smelling.  I think these toners do an even better job of evening out skin tone/calming redness without over drying.  The labels have received a face life and are professionally printed and waterproof now.  With these changes, the toners have also increased in price and are offered at $12.00 each for a 4 oz. bottle.

Rosemilk Day Cream:
Due to a miscalculation on my part, the Rosemilk Day Cream will sadly be delayed and will not be available with the other facial care items.  I will try to have it ready for next weekend, pending arrival of supplies.
A brief overview of each masque is below.  The product listings contain much more detail, ingredients and directions.
EXQUISITE ANTIOXIDANT MASQUE


Organic Cocoa, Organic Vanilla Bean & Cream Antioxidant Face Masque with Pomegranate, Coconut Milk, Honey & Green Tea
What better timing is there to release this decadent chocolate masque than for V-Day?  The Exquisite Face Masque is just that; A powerhouse of antioxidant and skin nourishing ingredients. This masque is not only cleansing and renewing but decadently delicious smelling as well!



OATMEAL, COCONUT MILK & HONEY MASQUE


Anti-Acne Facial Masque Enriched with Clays, Botanicals, Pomegranate Powder & More 4 oz.
An amazing gentle skin masque that is excellent for all skin types and incredible for those with troubled skin. The coconut milk, honey powder and organic oatmeal smell absolutely divine on application, almost like a cookie for your skin. This masque gently cleanses, softens and evens skin tone.
The oats in this product are not gluten free.  This product is not Vegan.  It contains honey powder and the coconut powder contains a milk protein called casein.
ALPHA & BETA HYDROXY FRUIT & CREAM MASQUE


A Blend of Hydroxy-Rich Fruits and Coconut Milk 4 oz.
NOT RECOMMENDED FOR USE PRIOR TO PROLONGED SUN EXPOSURE AS HYDROXYS INCREASE SUN SENSITIVITY.  SUNSCREEN IS RECOMMENDED WHEN USING THIS PRODUCT.
The Fruit & Cream Masque is intended to be used as a once a week or bi-weekly skin reviver in conjunction with your other skin care routine items.  Hydroxy-rich fruits such as strawberry, moisturizing banana, pomegranate, mango, pumpkin and orange peel are combined with creamy coconut milk.  Hydroxys are believed to help loosen dead skin cells, encourage new cell growth, soften skin and improve tone.  They may assist in softening scars and the natural salicylic acid in fruits like strawberries may assist those with blemish prone skin.  Beta hydroxy is oil soluble which means that it can penetrate into the skin better than the water soluble alpha hydroxy acids.  They can be especially helpful for cleansing clogged pores and removing blackheads as well.  
This product is not Vegan.  The coconut powder contains a milk protein called casein.
IN OTHER NEWS:
We will work diligently to have orders from Sunday night shipped no later than Tuesday.  If you wish for your order to arrive by Valentine's Day, please be sure to select Priority Mail as your shipping option.
After the orders have shipped, we will take inventory and do a light restock of V-Day scents where possible and available.  Rosemilk Day Cream will be at the top of the list for things to make this coming week.  This restock will primarily focus on perfumes so if you're interested in other body care products, I encourage you to purchase those tomorrow night if you're able as production for things like salts, ganache and whipped soap will be limited.  I'm going to move right into working on income taxes after the light restock of the highest demand items and will not be restocking much on the site until those are done.  I also have some continuing education to complete so this is "that time of year" to handle these things, which means that some restocking will be slow.  I will work to restock the items from the V-Day collection that are highest in demand as soon as possible though.
We will be reviewing our catalog and retiring some of the fragrances.  Sandalwood Vanilla is slated for the chopping block and Cafe Mallowmel will take an extended vacation.  We're reviewing which scents aside from these two, if any, will be retired or removed for a while.  
Cenobite will be undergoing a name change in the near future.
The Manor Collection is now a permanent collection on the site and the Foxcroft Collection is under consideration to remain year round (the core collection, not including Winslow's which would return in the winter).
We have some lovely things planned for spring.  The spring collection will not be available for several months out (most likely April) but I have some very nice blends in the works.  There may be some full size home grown gardenia enfleurage perfumes available at this time from the 2013 enfleurage batch too...  
If you are new to Solstice Scents and love the smell of true gardenias, please take a look at our process here:
https://solsticescents.forumotion.com/t531-gardenia-enfleurage-25-ml-premium-perfume-sample-spring-2012