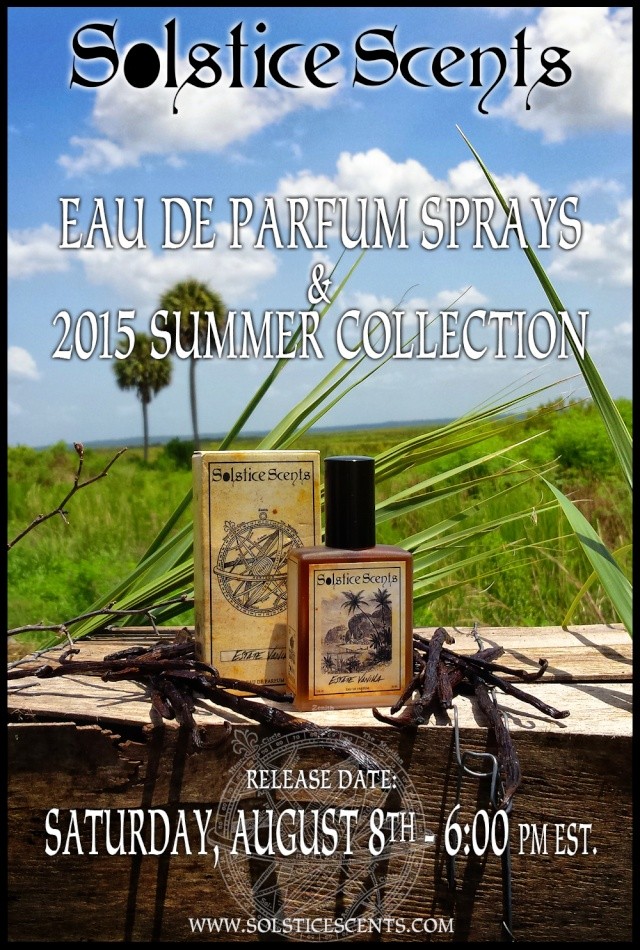 Please review the EDP FAQ so you can be aware of product and shipping info: https://solsticescents.forumotion.com/t681-edp-f-a-q-everything-you-need-to-know-about-our-new-edps
EDP RELEASE + SUMMER COLLECTION INFO AND OTHER UPDATES:
The EDP and Summer Collection release will be Saturday, 8/8 at 6 pm EST.  The 11 EDPs we teased over the past few weeks on our Facebook page and the Facebook community group will be available in 60 ml (2 oz) and 3.3 ml (a little smaller than our 5 ml premium perfumes. Consider this a mini perfume or deluxe sample size).  The EDPs that will be offered are: Manor, Conjure, White Fox, Library, Hidden Lodge, Night Watcher, Rose Mallow Cream, Vanilla Pipe Tobacco (slightly different formula than roll on.  See EDP FAQ above for more details), Black Forest and two brand new fragrances exclusive to the EDP formula and not available for purchase in 1 ml or roll on format: Estate Vanilla and White Feather.  The descriptions for these two new scents are toward the bottom of this post.  
The following returning Summer Collection perfumes will be available: Sirocco Premium 5 ml (reformulated), Sun-Warmed Honey Premium 5 ml, Tropical Moon and Coquina.  Sirocco has been completely reformulated.  It still has a similar mood, many of the same notes and similar scent but there are additional luxe ingredients, it is more refined and there is more saffron.  It will also be General Catalog and we'll be testing it for the next round of EDPs to see how it does in that format. The full new description for Sirocco is toward the bottom of this post.
Several Burnishing Glaces will also be available.  I no longer have an affordable source of the frangipani that is used in Coquina.  I used a different version of the absolute from the more expensive supplier to make this year's Coquina.  Coquina smells pretty much the same since the frangipani was a small part of the formula but it may need to be removed from the formula entirely if I make this again next summer, so next year's version would smell slightly different.  Just slightly.  I'm not sure Coquina and/or Tropical Moon will return next year.  I think this will be the last year for Tropical Moon.  I'd like to spend my time on new blends next year so we'll see.  The Glaces that will be offered on Saturday are Tropical Moon, Coquina, Sirocco, Violet Mallow, Cameo, Nightgown, Black Forest, High Noon, Tenebrous Mist, Conjure, Smoky Mountain Mallow, Black Leather/Red Lace and Smokewood Apiary.  As always, these are first come, first serve.  There will be many more Glaces listed for fall part 1 if you miss the offerings on Saturday.
TRAVELERS PERFUME:
One of our original fragrances that has been offered for many years will be restocked along with the release.  We have decanted a little over half of our remaining supply from a fresh batch I just made.  We will list that and when it sells out, we will decant the rest.  This is the last time Travelers will be available in this exact formula.  It is not being discontinued but I will need to reformulate it so the next version will not smell exactly the same.  It will still have amber, frankincense EO and clove as the most dominant notes, but I can no longer get the particular frankincense I was using in that blend.  I also wish to update the formula to include additional supporting notes and increase its complexity.  The main notes will be the original formula with the addition of a few other goodies floating in the background.
There are no bath and body products planned for this release, aside from Glaces.  We had to forgo those in order to complete everything with the EDP process. There are bath and body products planned for Fall part 1, which will include returning scents from previous years as well as scents from some of the collections like the Manor collection and the Foxcroft-centered collections in bath and body care, which aren't typically offered outside of the big Fall part 1 release.  Fall part 2 will focus specifically on new perfumes that I've been threatening to release for a while.  These will be General Catalog and will be darker scents, perfect for fall.  Since we are releasing the Summer Collection so late, we will not be doing a lot of restocking of it.  If any of the perfumes sell out, we will be able to decant additional ones but I have no plans to make further batches and have these stocked for months and months like we usually do if they sell out.  We're going to go full steam ahead on fall production so we can get the first part of that out in September and have the second part out in late October, before we have to immediately jump into winter production.
ESTATE VANILLA
(exclusive to EDP formula and only available in 60 ml bottles and 3.3 ml mini sample sprayers) is a sophisticated vanilla carefully constructed to emphasize the hint of a woody, chocolatey, slightly earthy note you get when smelling a fresh vanilla bean pod, the tiny hint of booze and a creamy French vanilla type of note. It contains my hand-tinctured organic vanilla beans and a variety of EOs and synthetics to create a rich, sweet, deep, creamy, ethereal vanilla. It's very VANILLA but complex. It is relatively linear and consistent smelling as it wears but not flat. It has a mix of sugar infused with vanilla, French vanilla, cream, raw vanilla pods, a *hint* of boozy vanilla extract, even a subtle marshmallow note. Estate Vanilla opens with the scent of deep fresh vanilla pods and then lightens into the rich French Vanilla, cream, sugar and vanilla extract profile for the rest of the wear time. It was a real labor of love and will be available in the 60 ml EDP and the 3.3 ml EDP samples only at www.solsticescents.com on 8/8 at 6 pm EST. Estate Vanilla is wonderful by itself but also layers beautifully with a variety of woody, musky, fruity, floral and oud based fragrances.
WHITE FEATHER
(exclusive to EDP formula and only available in 60 ml bottles and 3.3 ml sprayers) is an exquisite, lush, sensual, narcotic white floral that begins with a base of Estate Vanilla to which I added a generous amount of Indian jasmine absolute accented with EOs of ylang ylang, sandalwood, spices and more, our housemade precious gardenia enfleurage, saffron CO2, aged patchouli, a variety of attars, amber and a very light addition of oud. It is sweet, creamy, slightly spicy, softly incensey, a little powdery and the white floral notes are delicate but very intoxicating and detectable, especially on initial application. All of the floral notes used in this blend are natural and smell heavenly. White Feather is loaded with precious and costly ingredients and this perfume was intended to be luxurious, something to be savored.  If you like real jasmine grandiflorum absolute from India, saffron, sweet incense, vanilla, a medley of spicy and nuances of oud and rich earthy patchouli, White Feather is for you.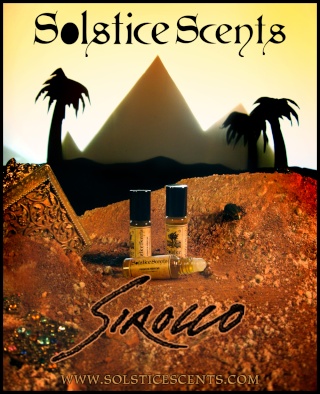 New Sirocco Premium Perfume description:
Sirocco is a blend of sandalwood, precious saffron threads, hot baked Earth, myrrh resin, spices and a touch of oud and jasmine which meld together to create a dry, woody, resinous and spicy scent representing the blisteringly hot desert, spice caravans and never ending sun scorched sand. The woods and spices on cold sniff and initial application quickly turn dry and resinous as the saffron and myrrh boldly emerge. A hot Mediterranean wind stirs desert sands, fusing with the incense wood notes. Sirocco combines sandalwood essential oil and fragrance with a baked Earth Indian attar, myrrh and saffron essential oils and a medley of spices with a faint trace of sweet jasmine absolute.   Very subtle additions of aged patchouli, vetiver, cardamom, rose and labdanum essential oils and absolutes add supporting depth though the main notes to be detected are the aforementioned.  The dry down is warm, sandy, woody and spicy.  Sirocco does lean a bit masculine but it is a very unique fragrance that Women would love to journey with as well.  

Again, I urge you to please review the EDP FAQ so you can be aware of product and shipping info: https://solsticescents.forumotion.com/t681-edp-f-a-q-everything-you-need-to-know-about-our-new-edps