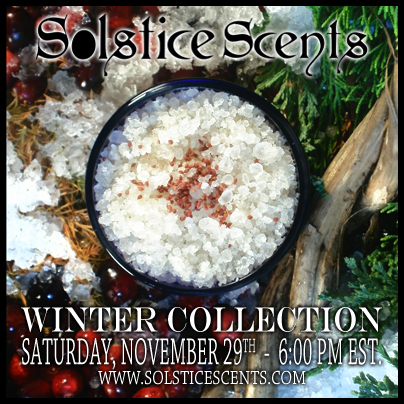 Give Solstice this Solstice!  The Solstice Scents Winter Collection Part 1 will be released tomorrow, Saturday, November 29 at 6 p.m. EST at www.solsticescents.com  This release will feature returning winter scents from previous years.  We will have a lot of perfumes and other items restocked as well.  The full restock list will be at the very bottom of this post.

We will also be restocking Shadows in the Night Perfume and Glace.  Shadows in the Night was originally released with our Winter Collection last year but has become a part of the permanent Night Collection.  It is a very wintery blend of White Amber, Fir, Frankincense, Elemi, Bayberry, Spruce, Amber, Evergreens, Peppermint and Incense on a base of Edge of the Night.

If you have not tried any of our new Foxcroft's Autumn Festival Collection, there are some lovely scents you might wish to sample!  All of the perfumes and a few of the other products will be restocked tomorrow.  You can read the descriptions for all 7 scents on this sample pack listing: http://www.solsticescents.com/FOXCROFTS-AUTUMN-FESTIVAL-SAMPLES-_p_518.html





SALE:

There will be a few scents from the Summer Collection on sale tomorrow as well.  See the bottom of this page for info.




DISCONTINUED:

 Spellbound Woods and Old Cedar Magus will be discontinued. We are listing Old Cedar Magus Perfume and Spellbound Woods Perfume and Glace tomorrow. Both WILL be restocked again before we fully discontinue them but we wanted to go ahead and alert you now. We will give notice of a last restock of these scents via newsletter and on our Facebook page. This last restock will likely not occur until the very end of the year or beginning of January as we are focused on this release and Winter Part 2 for the time being.




**IMPORTANT STOCK ANNOUNCEMENT**

: The non-perfume products are at a set quantity, some of which may or may not be restocked in time for the Winter Part 2 release. We are not going to restock all of the non-perfume products from this collection and only limited restocks of non-perfume products will occur. There will be plenty of perfume and that will definitely be restocked. Therefore, if you are interested in Whipped Soap, Salts, Ganache or Glace, I recommend trying to purchase those items as close to the release time as possible to have a greater chance of securing those items. We will begin packaging orders on Sunday, November 30th and will continue packaging on Monday and Tuesday to get all of the orders out. Our focus will shift to the PART 2 Winter release, which is a collection that will require our full attention for making, packaging, photographing, listing, etc. In an effort to have this collection out before Christmas, it will require sole priority. Please remember we are a two person operation so we have to budget our time accordingly to meet deadlines. We have some lovely new scents planned for that release!


SUGARVALE: An oil I ordered on 11/12 was back ordered and won't arrive until 12/1 so I only had a certain amount of oil to work with.  I was able to make Perfume, Ganache and Whipped Soap. GLACE will be stocked at a later time.  Release date TBA.  It likely won't be before next weekend and could be the following week).


FACEBOOK COMMUNITY: Join our new Solstice Scents Community Group on Facebook, if you'd like.  It is a closed casual group with some awesome people: https://www.facebook.com/groups/732218350204527/  If you have not liked our business page on Facebook, check it out at www.solsticescents.net.  This is where I post basic restocks and updates.  I reserve the newsletters for releases and major news.

SNOWSHOE PASS


White Amber, White Musk, Vanilla Accord, Peppermint Cream, Cold Winds
A chilly white blend of an ethereal snow blanket and cold winter winds, Snowshoe Pass combines pale white amber, delicate and smooth white musk, a sweet touch of vanilla and a faint whisper of creamy cold peppermint.  The result is a unique take on a winter scent inspired by heavy snows and desolate rural regions.  On cold sniff and initial application a creamy peppermint note is detectable as a top note, though it is a careful addition that takes a backseat to the other notes as it wears on the skin, ultimately receding entirely.  There is just enough peppermint to enhance the coolness of this plushly white blend.  The other notes swirl together to evoke not only a snow covered landscape that may only be traversed with snowshoes and a pioneer spirit, but the calm and intense silence after a snow deep in the wild.  
Perfume, Whipped Soap, Ganache, Glace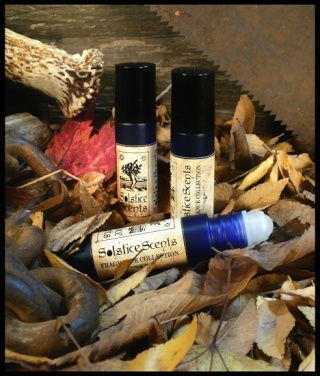 OUTPOST


Sugar Crystals, Spruce, Fir, Soft Woods, Bayberry,  Mistletoe, Amber
A Best Seller!  A beacon of light amidst cold, desolate wilderness.  Pass through a copse of young evergreens into a warm cedar cabin and thaw out under a soft Afghan blanket by a blazing fire while sugared treats from the kitchen fill the air.  Notes include sugar crystals, spruce, fir, a medley of soft woods including sandalwood, agar, cedar, aloeswood, patchouli, guaiacwood, bayberry, mistletoe and a touch of amber.
This complex and unique blend will take you on a morphing adventure.   On cold sniff and initial application, sugar encrusted evergreens emerge as the top note.  The evergreen is primarily detectable early in the life of the blend though remaining ever-present in the Whipped Soap since it is a wash-off product which can retain the top notes.  The blend of woods emerges to greet the sugar crystals after a few minutes with a hint of bayberry and mistletoe in the background and the spruce and fir far behind.  The dry down is a very soft, warm, sweet and comforting blend with a tiny wisp of sweet smoke.  The green notes are very faint and barely detectable at this stage.
Despite the evergreens and woods used, this is a very gentle blend of soft woods as opposed to a dark, heavy, woodsy blend.  The sugar keeps it light-hearted and the other notes bring a festive winter impression to mind.  Outpost  is very fun to journey with when you're outside on a cold day.  Cool weather really brings the notes of Outpost to life and enhances the blend.  If you liked the complexity and warmth of Witch's Cottage, with sweet juxtaposed next to herbal and woods, you should like Outpost!
Perfume, Whipped Soap, Glace



NIGHTSTAR


Nutmeg, Patchouli, Frankincense, Myrrh, Woods and Lemon
NOT TO BE USED BY WOMEN WHO ARE PREGNANT OR NURSING.
Ceremonial resins, patchouli, cold and spicy nutmeg, warm sandalwood and a touch of lemon, orange and clove meld together to create a dark, dry, resinous, earthy and spicy aroma.
Cold sniff and initial application features a marriage of frankincense and nutmeg essential oils hovering above grounding, earthy patchouli essential oil.  The nutmeg is divine, authentic and spicy and adds and exotic mood to the blend.  As the nutmeg and frankincense subside, the dry myrrh essential oil comes forward with a very light lemon note.  All of the notes combine to form a dry down which is primarily patchouli with resinous myrrh, a whisper of citrus and woods and a delicate bit of spices.  
Perfume only.
LEMON GINGER CREAMS


Gingersnap Sandwich Cookies Filled With Vanilla-Lemon Cream
Vanilla cream filling infused with loads of bright lemon and sandwiched in between two perfectly spicy gingersnap cookies.  On cold sniff and initial application the lemon cream filling is sweet and tart tempered by the vanilla blend.  The gingersnap cookies are the perfect blend of ginger and cinnamon and pair wonderfully with the sweet cream filling.  This fragrance is uplifting and comforting.  The lemon will soften after some time on the skin as the vanilla cream filling becomes more prominent in the dry down.  Lemon Ginger Creams is a great substitute for the discontinued Gingerbread & Vanilla Cream fragrance.  The gingersnap notes are very similar to the gingerbread in Gingerbread & Vanilla Cream.  Lemon Ginger Creams contains real ginger essential oil that smells incredible.  After an hour or so of wear, Lemon Ginger Creams turns into a soft vanilla cream filling scent with only a faint trace of lemon and gingersnap.
Perfume, Whipped Soap, Ganache, Glace, Salts
DARK GINGER SPICECAKE
Gingerbread, Woodsy Musk, Patchouli EO and Vetiver EO
Gingerbread Cookies crash into a dark earthy corruption of Patchouli and Vetiver Essential Oil and a dark Woodsy Musk.  The scent is primarily that of warm gingerbread cookies laying on top of the other three components that serve to temper the sweetness a bit and add dark and mysterious depth.  It is not a supremely heavy blend despite the use of patchouli, musk and vetiver.  All three are detectable but not overwhelming. This is perfect for those of you who like your foodie blends a little darker.

Perfume, Whipped Soap, Ganache, Glace



SNOWMINT MALLOW


Peppermint, Vanilla Cake, Flaked Coconut, Sugar Cookies & Marshmallow Creme
Snowmint Mallow is subtle yet sweet and cakey blend featuring cool creamy peppermint, vanilla cake, white flaked coconut, fresh baked cookies and a dollop of marshmallow creme.  On cold sniff and initial application, each of the notes are detectable with the peppermint floating on the top.  The peppermint is a top note and therefore its presence is short lived.  Snowmint Mallow quickly evolves into a gourmand delight of mouthwatering fluffy vanilla cake, sugar cookies, coconut and mallow.  Past initial application, Snowmint Mallow snuggles in close to the skin.  Whiffs of coconut, cookies and cake will be had occasionally but since this fragrance wears closer in your aura, it makes for a perfect subtle sweet scent for the workplace or for when you'd like to smell good but not too heavy.  It also makes for a really cozy and comforting fragrance to wear just before bed. This heavenly fluffy foody fragrance is especially recommended to those who love cake and cookie scents.  
Perfume only.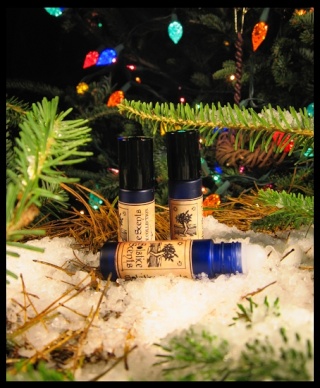 WINSLOW'S


Rows of Christmas Trees, Clove Studded Oranges, Bayberry Tapers, Handcrafted Wreaths & Mistletoe
Winslow's Christmas Tree Farm sits at the base of Mount Willow in the town of Foxcroft.  The annual winter crafts festival at Winslow's offers handmade bayberry candles, rustic wreaths, orange pomanders and much more.  Meandering down the lane leading into Winslow's, you pass rows upon rows of fragrant Christmas trees ready for harvest.
Winslow's is the scent of winter.  Fir, woods, bayberry and mistletoe meld with spicy clove and blood orange essential oil and the result smells effectively like bottled winter.  Winslow's contains fir absolute and essential oil, spruce EO, cedar, a touch of guaiacwood and a blend of several fragrance oils in addition to the bayberry, mistletoe, clove and blood orange.  Fans of our Black Christmas soap will love Winslow's as the fragrance is very similar.  If you enjoy evergreen and/or woods scents or our Shoikan Grove, Covered Bridge and the previously offered Cedar & Siberian Fir fragrance, make sure to try Winslow's.  The combination of bayberry and clove gives the impression of a Victorian Christmas.  Unisex.
Perfume only.
BUTTERED RUM MALLOW


Rum, Marshmallow, Nutmeg, Cardamom, Clove, Butter, Cinnamon, Vanilla, Brown Sugar & All Spice
NOT RECOMMENDED FOR USE BY WOMEN WHO ARE PREGNANT OR NURSING.
Buttered Rum Mallow smells of dry spiced rum swirled with marshmallow and brown sugar.  On cold sniff and initial application, the rum, cardamom and nutmeg are the most prominent notes, followed quickly by the clove.  The heavy winter spices and rum are tempered with the butter, brown sugar and marshmallow and this fragrance will become a bit sweeter the longer it is on the skin.  It evokes the mood of being snuggled in a warm sweater, curled up with a hot mug of your favorite holiday drink in the presence of a roaring fire while everyone is asleep and inches of snow blanket the ground outside.  Buttered Rum Mallow is a foody blend at the core but it is really dark, sophisticated and rich as well.   This is a gourmand fragrance unlike the sweeter cake and mallow counterparts from our mallow line and may be one men will also enjoy.  Buttered Rum Mallow has a dry spiced rum body and is not a heavily sugared sweet buttered rum like butter rum flavored Life Savers or Werther's Original toffee.  It does not smell like alcohol but it does convey an impression of spiced rum.  Buttered Rum Mallow layers wonderfully with Smoky Mountain Mallow.
Buttered Rum Mallow contains a blend of rum, marshmallow, butter, brown sugar, cinnamon, vanilla and amber with essential oils of cardamom, nutmeg, clove and all spice.  
Perfume only.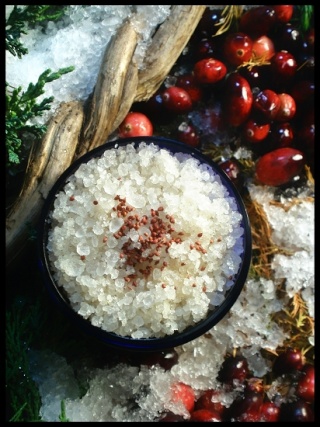 SPICED CRANBERRY & SPRUCE
Tart plump sugared cranberries with a whimsical wisp of spice in the background and festive green Spruce Essential Oil combine to bring a very wintery holiday blend to you this year.  A unique fragrance to enhance your Winter Season.  Smells like a coniferous cranberry juice with a fruit punch kick!
Offered in Whipped Soap and Salts only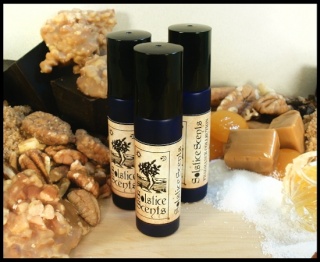 SUGARVALE


Candied Pecans, Butterscotch, Buttered Rum, Brown Sugar, Maple Syrup, Hot Pralines & Milk Chocolate Cocoa
Nestled in a mountain vale lies a small, quaint community with rustic buildings housing friendly, hardworking people.  A special delight during the harsh and demanding winter season is the Sugarvale Candy Kitchen in the middle of town.  Smoke billows profusely from the chimney of the confectioner's cabin.  Aromas of candied pecans, butterscotch, buttered rum, brown sugar, maple syrup, hot pralines and milk chocolate cocoa fills the air across town, beckoning the inhabitants inside to warm cold bodies and empty tummy's alike.
On initial application and cold sniff, candied pecans emerge from the mouthwatering golden notes mentioned above.  The pecans subside leaving the butterscotch, buttered rum, maple and brown sugar sweetening your skin with just a hint of hot pralines.  The milk chocolate hot cocoa is not readily detectable but the chocolate note helps to round out the blend from being too sweet, though this mix is toothsome and very warm and delicious!

Perfume, Whipped Soap, Ganache.  The Glace will be stocked at a later date as one of the oils for this blend was back ordered and will not arrive in time for the Glace to be made.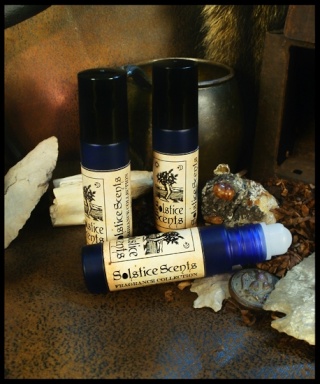 FLINTLOCK


Tobacco, Saddle Leather, Virginia Cedar, Black Pepper, Woods, Bayberry & Evergreens
NOT TO BE USED BY WOMEN WHO ARE PREGNANT OR NURSING.
A frozen expanse of untamed early America stretches as far as the eye can see.  The boughs of cedar and conifers are heavy with snow.  Your steed is laden with provisions, taking a slow measured pace through this unfamiliar region.  Subtle wafts of your last fire emanate from your coat.  Your saddle is warm and sturdy beneath you as your ride with trusty musket close at hand, prepared for the uncalculated dangers only the deep winter wilderness can oblige.
Flintlock is an intensely dark, ominous, woody, smokey and slightly coniferous blend.   It is a combination of Tobacco absolute, saddle leather, Virginia cedarwood, black pepper, sandalwood and a medley of other woods with a touch of evergreens, bayberry and smoke that will plunge you deep into a Pioneer's winter in the American frontier.  Flintlock is darker on cold sniff and initial application than on the dry down.  The evergreen and bayberry notes are very mild and primarily detectable at this stage.  The blend wears like a warm brown leather jacket.  It is woody, smokey and refined on the dry down.
Perfume only.
RESTOCKS:
PERFUMES:
Astral Temple
Blackburn's Parlor
Black Leather, Red Lace
Cafe Mallowmel
Cherry Vanilla Amberosia
Corvin's Apple Fest
Covered Bridge
Devil's Tongue
Dragon's Blood
Foxcroft
Foxcroft Fairgrounds
Kitchen
Gehenna
Gibbon's Boarding School Premium 5 ml
Lavender Vanilla
Library
Loggia
Manor
Maplewood Inn
Master Bedroom
Minister
Nag Champa
Nightgown
Old Cedar Magus
(Note: we are discontinuing this fragrance. There will be another restock of it but we are beginning phasing it out now).
Owl Creek Aleworks
Patchouli Sweet Wood
Private Eye Premium 5 ml
Pumpkin Spice Latte
Quiet Night
Rose Mallow Cream Premium 5 ml
Shadows in the Night
Shoikan Grove
Smokewood Apiary
Spellbound Woods
(Note: we are discontinuing this fragrance. There will be another restock of it but we are beginning phasing it out now).
Sun-warmed Honey Premium 5 ml
Sycamore Chai
Thornwood Thicket
Violet Truffle
Witch's Cottage
WHIPPED SOAP:
Corvin's Apple Fest
Owl Creek Aleworks
GANACHE:
Kitchen
Manor
Owl Creek Aleworks
GLACE:
Corvin's Apple Fest
Dragon's Blood
Kitchen
Nightgown
Owl Creek Aleworks
Shadow's in the Night
Smokewood Apiary
Smoky Mountain Mallow
Spellbound Woods
SALE ITEMS

(These items will be put on sale along with the release):
COQUINA PERFUME - Sandalwood, Orange Blossom, Clementine, Beach Sand, Plumeria, Coconut, Ginger & Seaspray
COQUINA GLACE - 1 LEFT
HIGH NOON GLACE - Worn Holster Leather, Tobacco, Whiskey, Woods, Sand, Gunsmoke, Musk & Soft Ladies' Perfume  (The perfume will be going General Catalog.  The Glace in this scent is not a big seller so we will not be restocking this anytime soon).
TROPICAL MOON PERFUME - Coconut, Tuberose, Tahitian Gardenia, Lime, Pink Lotus Attar
@solsticescents
Facebook: www.solsticescents.net
Facebook Group: https://www.facebook.com/groups/732218350204527/
Website: www.solsticescents.com