The Winter Collection will go live tonight, 12/8 at 7 pm EST at www.solsticescents.com

A list of available products is listed just below. Scroll beyond the list to view the new perfume descriptions and the full winter collection perfume descriptions. Allow the pictures if you'd like to see any of the images.IMPORTANT! There are NO SAMPLES available for Lemon Ginger Creams perfume oil. The amount listed is all we have left in this formula. This is the last year for Buttered Rum Mallow. We have enough for samples while supplies last. This is the last year for Winslow's in its current formula. A very minor component will need to be replaced next year but the scent will stay virtually the same! This is the last year for Sugarvale in this current formula. Samples available while supplies last. Samples are available for all of the new and returning perfumes aside from the caveat above. THEY WILL NOT BE LISTED ON THE SAMPLE PACK LISTING. Leave your choice of the new perfumes or winter perfumes in the comments on the listing box. Click the sample pack listing and read it for instructions and General Catalog options. Please be aware that the new Estate Amber Eau de Parfum (EDP) is only available in that format and not available in sample packs. All of our EDPs are sold separately in the 2.5 ml EDP sample spray format.
Are you new to our store?  Please read this Perfume Sampling Tips article to learn how to test your perfume samples when they arrive and how to choose some samples.
https://solsticescents.forumotion.com/t712-how-to-properly-sample-your-solstice-scents-perfumes
AVAILABLE WINTER ITEMS AT-A-GLANCE:Buttered Rum Mallow
5 ml perfume oil **LAST YEAR!!**
Chocolate Peppermint Bark
Whipped Soap
Dark Ginger Spicecake (*reformulated*
5 ml perfume oil, 60 ml Eau de Parfum spray (EDP), 2.5 ml EDP sample
Flintlock
5 ml perfume oil, 60 ml EDP, 2.5 ml EDP sample, Burnishing Glace
Lemon Ginger Creams
5 ml perfume oil - **LAST YEAR/NO SAMPLES!!**
Monarch
returns in 60 ml EDP and 2.5 ml EDP sample (see our site for full description as a perfume oil)
Night Star
5 ml perfume oil
Outpost
5 ml perfume oil, 60 ml EDP, 2.5 ml EDP sample, Burnishing Glace
Snowmint Mallow
5 ml perfume oil, 60 ml EDP, 2.5 ml EDP sample and Burnishing Glace!
Snowshoe Pass
5 ml perfume oil, 60 ml EDP, 2.5 ml EDP sample, Whipped Soap, Burnishing Glace
Spiced Cranberry & Spruce
Whipped Soap
Sugarvale
5 ml perfume oil **LAST YEAR FOR THIS FORMULA. Samples available while supplies last**
Winslow's
5 ml perfume oil
BRAND NEW PERFUMES:Attic
5 ml Perfume (alcohol based), 60 ml EDP, 2.5 ml EDP
Casting Shadows
5 ml perfume (alcohol based), 60 ml EDP, 2.5 ml EDP
Devil's Tongue
5 ml perfume oil, 60 ml EDP, 2.5 ml EDP
Estate Amber
Eau de Parfum 2.5 ml EDP and 60 EDP ml only
Foxcroft Intense
5 ml perfume oil, 60 ml EDP, 2.5 ml EDP
Lace Draped Spectre
5 ml perfume oil, 2.5 ml EDP, 60 ml EDP

LACE DRAPED SPECTRE
Vanilla Musk, Spicy Pink Carnation, Pink Pepper, Rose, White Musk
Contains spice oils. Not recommended for people with very sensitive skin and not recommended to be applied after a hot shower as the perfume may sting.
Reformulated 2017. A hauntingly feminine blend of vanilla musk, spicy carnation and a hint of pink pepper essential oil, rose and white musk. The scent of an elegantly perfumed ivory lace shroud adorning the fleeting image of a mysterious visitor. Spicy vanilla accentuated with ethereal florals. Lace Draped Spectre is sweet, spicy and airy. The rose is very restrained and primarily detected in the opening. The focus on the perfume is the clove-scented pink carnations and a vanilla medley. Contains traces of an Indian jasmine ruh.
Available as perfume oil and Eau de Parfum.
ATTIC
Vanilla, Red Cedar Heartwood EO, Cypress Wood EO, Sandalwood EO, Dried Rose Petals
NOT TO BE USED BY WOMEN WHO ARE PREGNANT OR NURSING.
Reformulated 2017. An aged cedar chest filled with fine fabrics, exquisite lace-overlay dresses, heirloom linens and crocheted tops, forgotten in the attic of the manor house. The scent of this cedar chest and the soft mustiness of stored linens with the beautiful, yet faded, perfume of the owner still detectable upon the fabric is captured in the Attic Perfume. A fine vanilla blend is paired with the most gorgeous red cedar heartwood EO, aged sandalwood EO, cypress wood EO and the scent of dried rose petals pressed between brittle book pages. Attic starts out strong, with a burst of the cedar EO and vanilla but mellows into a sweet, woody, slightly dusty fragrance that is exquisitely atmospheric. It shares several notes with the Manor perfume and fans of Manor may enjoy Attic, especially if they like really gorgeous and true cedar essential oil.  Attic can technically be considered a flanker to Manor and was originally a part of the Manor Collection set which featured rooms within the manor house (Library, Cellar and so on). This cedar smells just like an aged piece of dried cedarwood and pairs wonderfully with the other notes on the dry down. This is an organic cane alcohol based perfume.
Alcohol based. Available as a 5 ml, 2.5 ml sample spray, 60 ml, and as a 1 ml in the sample packs.
FOXCROFT INTENSE
Decaying Leaves, Dry Leaves, Dirt, Wood Smoke, Fir Balsam, Cedar, Cypress Wood, Oakmoss, Patchouli, Vetiver, Rain, Bayberry and more
Foxcroft Intense is a flanker to our popular Fall Collection perfume Foxcroft. This perfume starts with a generous base of Foxcroft (wet decaying leaves, dirt, dry woods, wood smoke) that is paired with a host of additional balsams, woods, spruce tips, petrichor, dirt, moss, additional sweet wood smoke and a ramped up sweet and dry crunchy leaves accord with a fresh sprig of lavender. Juniper wood (not the berries so fear not if you don't like juniper berry), cypress, fir balsam, cedar, pine, vetiver, patchouli, rain, oakmoss, bayberry, soil and pinon are just a few of the notes mingling with the crisp rustling leaves accord and the recognizable Foxcroft fragrance. This fougere scent is smooth, creamy, slightly sweet, damp, green, foresty and fresh at once. It's less dank, dirty and Earthy than Foxcroft bit still has a touch of that bite. Imagine the scent of Foxcroft but transport yourself deeper into the forest, near a rushing stream with a fern and moss covered bank and the faintest mist of rain. This is the concept of Foxcroft Intense.
Available in perfume oil and Eau de Parfum
CASTING SHADOWS
Golden Amber, Nag Champa Incense Accord, Dried Sugar Maple Leaves, Wood Smoke
Our Light & Shadows: Amber Series continues with the debut of Casting Shadows. The first release in this series was Sea of Gray, which highlighted white amber and ambergris paired with rain, saltwater and vanilla to represent diffuse light. Each perfume in this series focuses on a gradation of light paired with an interpretation of amber to represent the given shade.
Casting Shadows showcases a generous dose of golden amber along with a nag champa incense accord, a touch of dried sugar maple leaves and distant wood smoke to represent shadows. Casting Shadows is a cloaked mystery paired with somber stillness in the hours after midnight. The swirl of amber, leaves and incense balance on the edge of a fall night, just on the cusp of winter. Dominant notes of amber and nag champa. The nag champa accord is saturated with sustainably harvested sandalwood essential oil. The fragile crunchy sugar maple leaves crumble in your hands. They are softly present at initial application and will fade below the amber and incense as the perfume wears. The wood smoke is very soft and weaves seamlessly with the incense smoke to become almost indistinguishable. This unisex fragrance is recommended for lovers of amber and incense perfumes. The amber is rich and full bodied, with a pleasant sweetness, a little resin and no powdery notes. The most restrained spice, floral, oud and vanilla nuances are added to the generous amount of sandalwood in the nag champa accord.
Casting Shadows is an organic cane sugar alcohol based perfume that will be available in 5 ml roll ons, 60 ml Eau de Parfum sprays, 2.5 ml EDP spray samples and the 1 ml vials in the sample packs.
DEVIL'S TONGUE
Chypre, Leather, Fine Tobacco, Woods, Frankincense and more
Not recommended for pregnant or nursing women.
Devil's Tongue returns in a reformulated version. This is similar to the original but not exact. A
chypre base (oakmoss absolute, labdanum absolute and bergamot essential oil) supports loads of warm, earthy aged patchouli, brown leather, fine tobacco, a touch of oud and sandalwood and faint traces of frankincense, black tea and vanilla. It would traditionally be classified as masculine leaning perfume that is very patchouli, brown leather, oakmoss and tobacco heavy. Perfect for anyone who enjoys dark and heavier scents featuring the listed notes.
Upon initial application, bergamot top notes tickle your nose as the oakmoss, earthy patchouli and sweet balsamic amber lurks just beneath. After just a few seconds Devil's Tongue gives way to rich brown leather followed immediately by cured tobacco. This is a strong, powerful, unabashed perfume. Supporting notes of sandalwood, vanilla, oud and more contribute additional depth. The leather and tobacco eventually subside and meld with the chypre and the patchouli begins to step forward. Great staying power, very strong and diffusive. The bergamot used is bergeptene-free.
Available in perfume oil and Eau de Parfum
ESTATE AMBER EAU DE PARFUM
Estate Vanilla, Golden Amber, Amber Resin, Cardamom Absolute, Organic Coriander
Estate Amber Eau de Parfum will be available in 60 ml full size and 2.5 ml samples only. Estate Amber features our house vanilla, Estate Vanilla, in the amber accord. This perfume is all about amber: golden, sweet, deep and slightly resinous with subtle accent notes of cardamom absolute and organic coriander. Opens with a sparkling zing but proceeds to a gorgeous and pervasive amber. Wears fairly linear but each time you smell it, you'll detect something different. It may be sweet or resinous, warm and sunbaked or slightly smoky. It's a fantastic tenacious amber that performs awesome on clothing. Would be a great main attraction to spray on clothing while wearing another one of our amber or incense perfume on skin. For instance, Basilica, Incensum, Conjure, Conjure Dark, Astral Temple or Scrying Smoke would make great companion scents to wear on pulse pints while enveloped in a cloud of Estate Amber on clothing.
Available in 2.5 ml EDP and 60 ml EDP ONLY. Not available in sample packs or as the free sample at checkout.




WINTER COLLECTION:
BUTTERED RUM MALLOW
Rum, Marshmallow, Nutmeg, Cardamom, Clove, Butter, Cinnamon, Vanilla, Brown Sugar & All Spice
NOT RECOMMENDED FOR USE BY WOMEN WHO ARE PREGNANT OR NURSING.
(*Slightly less spicy than last year's version but still a spice-forward perfume)
Buttered Rum Mallow smells of spiced rum swirled with marshmallow and brown sugar. This is a very spicy perfume. On cold sniff and initial application, the spiced rum, cardamom and nutmeg are the most prominent notes, followed quickly by the clove. The heavy winter spices and rum are tempered with the butter, brown sugar and marshmallow and this fragrance will become a bit sweeter the longer it is on the skin. It evokes the mood of being snuggled in a warm sweater, curled up with a hot mug of your favorite holiday drink in the presence of a roaring fire while everyone is asleep and inches of snow blanket the ground outside. Buttered Rum Mallow is a gourmand blend at the core but it is really dark, sophisticated and rich as well.  This is a gourmand fragrance unlike the sweeter cake and mallow counterparts and may be one men will also enjoy.
Buttered Rum Mallow contains a blend of rum, marshmallow, butter, brown sugar, cinnamon, vanilla and amber with essential oils of cardamom, nutmeg, clove and all spice.

5 ml perfume oil. LAST YEAR THIS WILL BE OFFERED.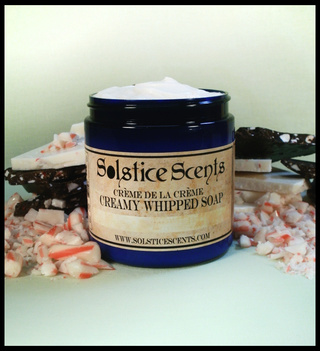 CHOCOLATE PEPPERMINT BARK
Creamy milk chocolate bark studded with crushed cool peppermint candies, drizzled with a touch of dark and white chocolates.  Blooms wonderfully in the shower.  
Whipped Soap only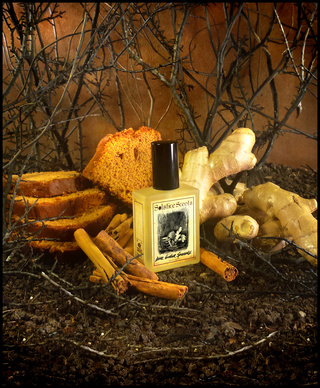 DARK GINGER SPICECAKE - *Reformulated 2016*
Gingerbread, Vetiver, Patchouli, Cedar, Amber, Benzoin
Gingerbread Cookies crash into a dark earthy corruption of patchouli and vetiver, accented by cedar wood. A smooth amber accord softens the edges and ties the gingerbread and dirty earth notes together. A few drops of candied vanillic benzoin, molasses and warm ginger emerge with the earthy notes and amber on the dry down. This perfume opens with a bold spicy gingerbread with a cinnamon bark overtone. There is a great deal of vetiver and smooth aged patchouli lurking just beneath but you'll also detect a light woodsy cedar. These notes serve to temper the sweetness and add dark and mysterious depth. The spicy elements of the gingerbread do lessen as this perfume wears and the base notes begin to take over about 45 minutes to an hour in. At this point, the molasses in the gingerbread will start to come forward rather than the spicier aspects and the longer this wears, the more dominant the vetiver and patchouli become. Overtime, the gingerbread transforms closer to a molasses-heavy iced ginger snap cookie without cinnamon. This is perfect for those who like foodie blends a bit darker.

5 ml perfume oil, 60 ml EDP, 2.5 ml EDP sample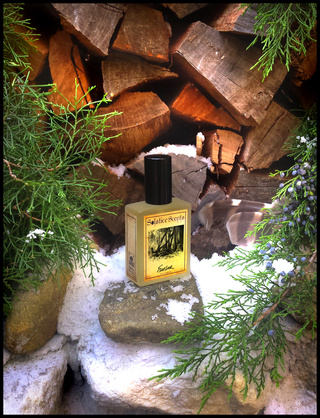 FLINTLOCK
Saddle Leather, Virginia Cedar, Tobacco, Black Pepper, Woods, Bayberry & Evergreens
NOT TO BE USED BY WOMEN WHO ARE PREGNANT OR NURSING.
A frozen expanse of untamed early America stretches as far as the eye can see. The boughs of cedar and conifers are heavy with snow. Your steed is laden with provisions, taking a slow measured pace through this unfamiliar region. Subtle wafts of your last fire emanate from your coat. Your saddle is warm and sturdy beneath you as your ride with trusty musket close at hand, prepared for the uncalculated dangers only the deep winter wilderness can oblige.
Flintlock is an intensely dark, woody, smokey and slightly coniferous blend. It is a combination of worn brown saddle leather, Virginia cedarwood, tobacco absolute, black pepper, sandalwood and a medley of other woods with a touch of evergreens, bayberry and smoke that will plunge you deep into a Pioneer's winter in the American frontier. Flintlock is darker on cold sniff and initial application than on the dry down. The evergreen and bayberry notes are very mild and primarily detectable at this stage in the opening. The blend wears like a warm brown leather jacket infused with cedar and smoke. It is woody, smoky and refined on the dry down.

5 ml perfume oil, 60 ml EDP, 2.5 ml EDP sample, Burnishing Glace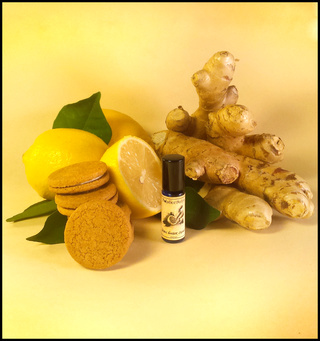 LEMON GINGER CREAMS
Gingersnap Sandwich Cookies Filled With Vanilla-Lemon Cream
LAST YEAR FOR THIS FORMULA. I can no longer source one of the components.

Vanilla cream filling infused with loads of bright lemon and sandwiched in between two perfectly spicy gingersnap cookies. On cold sniff and initial application the lemon cream filling is sweet and tart tempered by the vanilla blend. The gingersnap cookies are the perfect blend of ginger and cinnamon and pair wonderfully with the citrusy sweet-cream filling. This fragrance is uplifting and comforting. The lemon will soften after some time on the skin as the vanilla cream filling becomes more prominent in the dry down. Lemon Ginger Creams contains real ginger essential oil that smells incredible. After an hour or so of wear, Lemon Ginger Creams turns into a soft vanilla cream filling scent with only a faint trace of lemon and gingersnap.
5 ml perfume oil. LAST YEAR/NO SAMPLES
NIGHT STAR
Patchouli, Nutmeg, Frankincense, Myrrh, Woods and Lemon
NOT TO BE USED BY WOMEN WHO ARE PREGNANT OR NURSING.
Ceremonial resins, patchouli, cold and spicy nutmeg, warm sandalwood and a touch of lemon, orange and clove meld together to create a dark, dry, resinous, earthy and spicy aroma.
Cold sniff and initial application features a marriage of frankincense and nutmeg essential oils hovering above grounding, earthy patchouli essential oil. The nutmeg is divine, authentic and spicy and adds a chilly and festive mood to the blend. As the nutmeg and frankincense subside, the dry myrrh essential oil comes forward with a very light lemon note. All of the notes combine to form a dry down which is primarily patchouli with resinous myrrh, a whisper of citrus and woods and a delicate bit of spices.
5 ml perfume oil
OUTPOST
Sugar Crystals, Spruce, Fir, Patchouli, Soft Woods, Bayberry, Mistletoe, Amber

A beacon of light amidst cold, desolate wilderness. Pass through a copse of young evergreens into a warm cedar cabin and thaw out under a soft Afghan blanket by a blazing fire while sugared treats from the kitchen fill the air. Notes include sugar crystals, spruce, fir, a medley of soft woods, sandalwood, oud, cedar, patchouli, guaiacwood, bayberry, mistletoe and a touch of amber.
This complex and unique blend will take you on a morphing adventure. On cold sniff and initial application, you'll be greeted with evergreen and bayberry top notes and loads of sugar-encrusted musky/earthy woods. The dry down is a warm, sweet and comforting blend with a tiny wisp of sweet hearth smoke. The green notes are very faint at this stage. A base of deep sugared-patchouli and musky cedar is prominent. It is festive and woodsy though not as literal as some of our other woodsy fragrances. It is very sweet, woody and musky all at once with coniferous undertones. Unisex.
Despite the evergreens and woods used, this is a very gentle blend of soft woods as opposed to a dark, heavy, woodsy blend. The sugar keeps it light-hearted and the other notes bring a festive winter impression to mind. Outpost is very fun to journey with when you're outside on a cold day. Cool weather really brings the notes of Outpost to life and enhances the blend.
5 ml perfume oil, 60 ml EDP, 2.5 ml EDP sample, Burnishing Glace
SNOWMINT MALLOW
Peppermint, Vanilla Cake, Flaked Coconut, Sugar Cookies & Marshmallow Creme
Snowmint Mallow is subtle yet sweet and cakey blend featuring cool creamy peppermint, vanilla cake, white flaked coconut, fresh baked cookies and a dollop of marshmallow creme.On cold sniff and initial application, each of the notes are detectable with the peppermint floating on the top. The peppermint is a top note and therefore its presence is short lived. Snowmint Mallow quickly evolves into a gourmand delight of mouthwatering fluffy vanilla cake, sugar cookies, coconut and mallow. Past initial application, Snowmint Mallow snuggles in close to the skin. Whiffs of coconut, cookies and cake will be had occasionally but since this fragrance wears closer in your aura, it makes for a perfect subtle sweet scent for the workplace or for when you'd like to smell good but not too heavy. It also makes for a really cozy and comforting fragrance to wear just before bed. This heavenly fluffy foody fragrance is especially recommended to those who love cake and cookie scents.
5 ml perfume oil, 60 ml EDP, 2.5 ml EDP sample, Burnishing Glace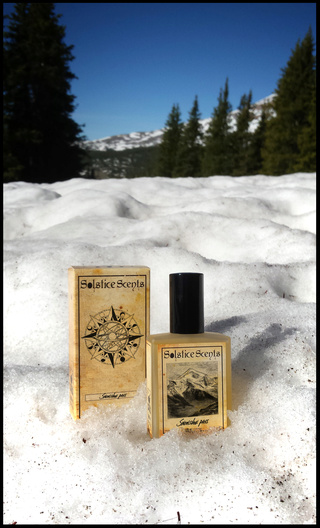 SNOWSHOE PASS
White Amber, White Musk, Vanilla Accord, Peppermint Cream, Cold Winds
A chilly white blend of an ethereal snow blanket and cold winter winds, Snowshoe Pass combines pale white amber, delicate and smooth white musk, a sweet touch of vanilla and a faint whisper of creamy cold peppermint. The result is a unique take on a winter scent inspired by heavy snows and desolate rural regions. On cold sniff and initial application a creamy peppermint note is detectable as a top note, though it is a careful addition that takes a backseat to the other notes as it wears on the skin, ultimately receding entirely. There is just enough peppermint to enhance the coolness of this plushly white blend. The other notes swirl together to evoke not only a snow covered landscape that may only be traversed with snowshoes and a pioneer spirit, but the calm and intense silence after a snow deep in the wild.
5 ml perfume oil, 60 ml EDP, 2.5 ml EDP sample, Whipped Soap, Burnishing Glace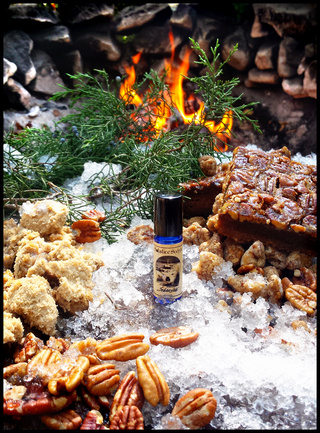 SUGARVALE
Candied Pecans, Butterscotch, Buttered Rum, Brown Sugar, Maple Syrup, Hot Pralines & Milk Chocolate Cocoa
Nestled in a mountain vale lies a small, quaint community with rustic buildings housing friendly, hardworking people. A special delight during the harsh and demanding winter season is the Sugarvale Candy Kitchen in the middle of town. Smoke billows profusely from the chimney of the confectioner's cabin. Aromas of candied pecans, butterscotch, buttered rum, brown sugar, maple syrup, hot pralines and milk chocolate cocoa fills the air across town, beckoning the inhabitants inside to warm cold bodies and empty tummy's alike.
On initial application and cold sniff, candied pecans emerge from the mouthwatering golden notes mentioned above. The pecans subside leaving the butterscotch, buttered rum, maple and brown sugar sweetening your skin with just a hint of hot pralines. The milk chocolate hot cocoa is not readily detectable but the chocolate note helps to round out the blend from being too sweet, though this mix is toothsome and very warm and delicious!
5 ml perfume oil. LAST YEAR FOR THIS FORMULA
SPICED CRANBERRY & SPRUCE
Tart plump sugared cranberries with a whimsical wisp of spice in the background and festive green Spruce Essential Oil combine to bring a very wintery holiday blend to you this year.  A unique fragrance to enhance your Winter Season.  Smells like a coniferous cranberry juice!
Whipped Soap only.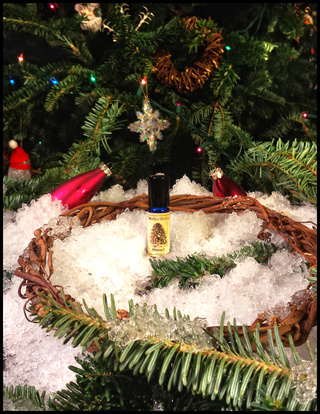 WINSLOW'S
Rows of Christmas Trees, Clove Studded Oranges, Bayberry Tapers, Handcrafted Wreaths & Mistletoe
Winslow's Christmas Tree Farm sits at the base of Mount Willow in the town of Foxcroft. The annual winter crafts festival at Winslow's offers handmade bayberry candles, rustic wreaths, orange pomanders and much more. Meandering down the lane leading into Winslow's, you pass rows upon rows of fragrant Christmas trees ready for harvest.
Winslow's is the scent of winter. Fir, woods, bayberry and mistletoe meld with spicy clove and blood orange essential oil and the result smells effectively like bottled winter. Winslow's contains fir absolute and essential oil, spruce EO, cedar, a touch of guaiacwood and a blend of several fragrance oils in addition to the bayberry, mistletoe, clove and blood orange. If you enjoy evergreen and/or woods scents make sure to try Winslow's. The combination of bayberry and clove gives the impression of a Victorian Christmas. Unisex.
5 ml perfume oil