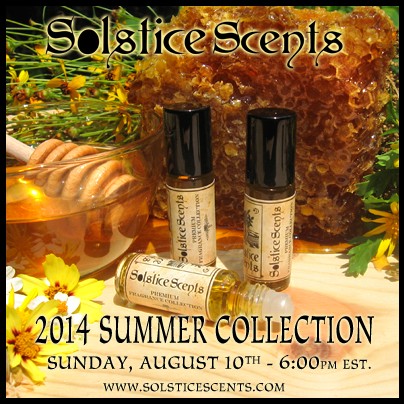 The Solstice Scents Summer Collection will be available for purchase on Sunday, August 10th at 6 p.m. EST at http://www.solsticescents.com
Along with the summer offerings, there will be a
FINAL RESTOCK of Cenobite Perfume, Glace and Ganache.
 We will also be restocking Nightgown Glace and Ganache.  Travelers, Solarium, Library, Rose Mallow Cream, Jack & Devil, Fires in the Night and Maplewood Inn perfumes have all been restocked as well.  Lastly, Lavender Vanilla Bath Soaks will be stocked along with the release tomorrow.
If you haven't yet, please read this General Update that I posted on 7/31.  It discusses the future of non-perfume products and a word on samples (especially helpful if you're a new customer):
https://solsticescents.forumotion.com/t623-general-updates-and-summer-release-info
We're releasing the summer line later than anticipated this year and will be moving on to fall part 1 production as soon as possible.  Therefore, we will likely not restock non-perfume products (salts, whipped soap, ganache) from the summer release once they sell out.  We will continue to stock the perfume oils for a few months.  

NEW FRAGRANCES:
SUN-WARMED HONEY
Honey, Apricot, Strawberry, Chamomile, Kunzea, Ginger, Orange Blossom
NOT TO BE USED BY WOMEN WHO ARE PREGNANT OR NURSING OR PEOPLE WITH HAYFEVER (contains Chamomile EO)
Thick, sticky, golden honeycomb soaked in apricot nectar and strawberry juice. Sweet apple-herbal scented chamomile flowers sprinkled loosely with subtle notes of warm ginger and bright orange blossom flowers.  Sun-warmed honey is remarkably sweet and gentle with ripe and juicy apricot nectar featured as a prominent note.  It has a very subtle herbal nuance similar to dried Sweet Annie flowers or chamomile tea.  It is at once playful, elegant and uplifting.
This perfume contains a blend of top quality fragrance oils, natural apricot and strawberry essences, Roman chamomile EO, ginger EO and Kunzea EO.
Premium 5ml Perfume only
OLD HAVANA
Tobacco, Woods, Spices, Sea Mist, Lime
Old Havana is an exquisite, sophisticated and elegantly refined tobacco scent with all of the nuances of the highest quality handmade premium cigars, carefully aged and stored at optimum temperature in a Spanish cedar lined humidor.  This fragrance illustrates the wrapper, tobacco within and wooden cigar storage box.  Old Havana also features warm spices, a delicate squeeze of fresh lime top note and a splash of salty sea spray and moist beach sand.  The lime is very subtle and detectable upon cold sniff and initial application.  Beyond the opening, the smooth tobacco, soft woods, spice and sea spray swirl in an intensely beautiful, mysterious and realistic fragrance. Old Havana is one of our favorite blends to date.

Premium 5ml Perfume, Burnishing Glace

HEAT OF THE NIGHT
Vanilla, Mango, Coconut, Orange, Sandalwood, Amber, Orange Blossom, Edge of the Night Base
Heat of the Night opens with tropical notes to represent the bridge crossed from day to night in paradise.  The day was full of sun and surf, mango-coconut milkshakes and icy vanilla-orange julius.  As the sun passes below the horizon, darker more sensual notes of sandalwood and several ambers merge with a base of Edge of the Night to overtake the playful memories created while the sun was at full blaze.  Heat of the Night progresses into a sultry mysterious fragrance as the memories of the day fade.  The delicious fruity top notes recede within about 20 minutes of application, making way for a blend of ambers and warm sandalwood cloaked in a sweet vanilla tinged with creamy coconut.  The deep shadows cast by the Edge of the Night base enrich and intrigue the composition.  Heat of the Night may open with a juicy tropical melange, but it leads to a humid ambered-vanilla heavy fragrance best experienced at full dark.  A true morpher, this journey is highly recommended applied at dusk.
Heat of the Night is the sixth and final offering in 'The Night' line.  When crafting Edge of the Night, it was clear that it was a fragrance that could stand on its own but also one that would make an incredible darkly sensual foundation for other oils.  Used lightly as a base for Heat of the Night, the end result is a humid rich incense fragrance with tropical nuances, which contains a total of 36 fragrance and essential oils.  Though you can detect Edge of the Night carefully woven into the Heat of the Night blend, primarily after it has been on the skin for a while, Heat of the Night is its own unique, amber rich fragrance with a sensual musky base, soft woods, cloaked in sweet vanilla and coconut.  The Edge of the Night fragrance worn alone manifests a deeper, musky, powdery dry down with a green lift and is mildly spicy as compared to Heat.  After several hours of wear, the two fragrances share a similar character though Heat of the Night maintains a more incensey and sweeter character due to the amber and gourmand notes used.
The notes in the Edge of the Night base for this fragrance include: amber, oakmoss, aged patchouli, bergamot, black vanilla, red musk, buddha wood, organic clove EO, star anise EO, cinnamon and a nominal amount of lavender absolute and agarwood.

Perfume only.

RETURNING FRAGRANCES:
HIGH NOON
Worn Holster Leather, Tobacco, Whiskey, Woods, Sand, Gun-Smoke, Musk & Soft Ladies' Perfume

NOT TO BE USED BY WOMEN WHO ARE PREGNANT OR NURSING
Be it for revenge or love, there is only one way to settle the score.  High Noon features all of the atmosphere of a showdown in the Old West.  Upon cold sniff and initial application, you will walk through the saloon doors and be greeted with the scent of smooth oak-aged whiskey, tobacco leaf, worn leather and a desert-warmed wood-paneled saloon.  As High Noon settles on the skin, it is rich and warm with the whiskey note adding sophistication and enhancing the tobacco, leather and woods in a very alluring way.  Shortly thereafter, you will begin to notice the smooth whiskey retreat as a sheen of light skin musk emerges.  The scent of a spicy-chypre perfumed bodice sensuously and delicately wafts in with dry hay notes blossoming just beyond.  A sun-baked Earth and touch of gun-smoke start to gently weave in through the other notes.  The resulting dry down features warm dry woods, worn brown leather, tobacco, a soft blend of skin and red musks, hot sand and a touch of spice and golden amber.  An incredibly layered blend with deep character and an intoxicating scent.  Cold sniff and initial application leans much more masculine but the scent evolves quickly through each stage described above, the whiskey note present on cold sniff is tamed early on and the dry down will be enjoyed by women who like a warm woody-leather-tobacco dominant blend with lots of atmosphere.  The addition of the exquisitely perfumed ladies' bodices keeps this scent from falling into a dank overtly masculine fragrance category.  Unisex.
High Noon features a blend of leather, tobacco, amber, red musk, skin musk, agar wood, sandalwood and chypre enhanced with the following essential oils and absolutes: tobacco, hay, buddha wood, labdanum, rooiboos, kapur kachari, aged patchouli and mitti attar.

Offered as Perfume and Burnishing Glace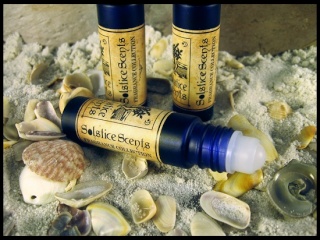 COQUINA
Sandalwood, Orange Blossom, Clementine EO, Beach Sand, Plumeria Absolute, Coconut, Ginger EO and A Splash of Sea-sprayOffered as Perfume, Burnishing Glace and Whipped Soap.  The Whipped Soap and Glace will probably not be restocked as I am no longer able to obtain the plumeria absolute in this blend.  If Coquina returns next year, it will likely be reformulated unless I am able to obtain more of the plumeria absolute at that time.  
NOT TO BE USED BY WOMEN WHO ARE PREGNANT OR NURSING.  THIS FRAGRANCE CONTAINS A CITRUS OIL.  CITRUS OILS ARE PHOTOTOXIC AND THIS FRAGRANCE SHOULD NOT BE USED PRIOR TO PROLONGED SUN EXPOSURE.
Coquina is a bright and beautiful sandalwood fragrance embellished with tons of orange blossoms and juicy clementine EO, lavishly spread on to hot beach sand that has been softly misted by sea-spray.  The fragrance is enhanced with a little plumeria (frangipani) absolute, coconut and a delicate touch of ginger essential oil.  Coquina marries sand and surf with an incense like sandalwood blend, juicy citrus and exotic florals.  On cold sniff the orange blossoms, clementine and sandalwood dominate.  On the skin the sea mist and sand are detectable after the first few minutes of wear.  The coconut and ginger are very subtle but add important nuances to Coquina's profile.  Plumeria absolute smells nothing like its synthetic counterparts.  In this blend, it is used lightly to add body to the orange blossom without overpowering.  On the dry down (which comes quickly) the light sandalwood notes dominate with alternating currents of sand and sea spray.  The floral notes are primarily top notes that recede into a very tame and faint presence.  Coquina is a feminine soft tropical woods blend that is very wearable and perfect for summer!
Coquina contains a blend of fragrance oils and the following essential oils and absolutes: frangipani, clementine, ginger and mitti attar.
Offered as Perfume, Burnishing Glace and Whipped Soap  

HIGH DESERT
Desert Sage, Ceremonial White Sage, Sandalwood, Mitti, Cacti, Indian Tobacco, Prickly Pear Cactus, Hay, Smoke, Labdanum, etc. - 5ml

NOT TO BE USED BY WOMEN WHO ARE PREGNANT OR NURSING.  
High Desert is a dry, woody, herbal reverent blend designed to evoke the atmosphere of the hot unforgiving, yet majestic, desert habitat of the American southwest.   It features dominant notes of herbal white sage and desert sagebrush with supporting background notes of soft woods, sweet Indian tobacco, hay, Saguaro cactus, juicy prickly pear cactus, baked sand and just a touch of smoke, labdanum and red musk.  Despite the complex palette used to create High Desert these notes were selected to enhance and compliment the beautiful sage blend.  On cold sniff you will experience a dried sage leaf leaf with a sweet fruity prickly pear top note and dry hay and tobacco finish.  On initial application the crisp green Saguaro cactus emerges amidst an endless open blue sky.  High Desert softens soon after application with emphasis on a blend of light woods and dry herbal sage with the occasional whiff of sweet tobacco and hay.  The dry down hugs very close to the skin and liberal application is recommended to increase its longevity.  It does not morph significantly but after several hours the labdanum will be detectable.  High Desert is a meditative, beautiful and very relaxing fragrance that is especially wonderful before bed.  For those who have requested our Seance soap in perfume format, you may enjoy this fragrance.  The sage is more refined and much softer and High Desert contains none of the spicy notes that Seance has but the sage note is beautifully represented here.  Unisex.
High Desert features a blend of fragrance oils along with the following essential oils, absolutes and CO2s: White Sagebrush, muhuhu, nagarmotha, copal bark, sweet clover, labdanum, tobacco, sugandha and mitti attar.

Offered as a Premium 5 ml Perfume only
HAND OF DARKNESS PREMIUM FRAGRANCE
Oceanic Accord, Rain Accord, Woods Blend, Black Pitch, Buddha Wood, Lime, Coriander, Tarragon, Amber - 5ml
NOT TO BE USED BY WOMEN WHO ARE PREGNANT OR NURSING.  THIS SCENT CONTAINS SEAWEED ABSOLUTE.
The Hand of Darkness is a term coined by seafarers to describe the loss of the guiding light of the moon as it vanishes behind a thick misty veil.  The resulting darkness makes the seas treacherous and difficult to navigate.  This phenomena strikes fear into the heart of even the most grizzled mariner.
Hand of Darkness is a dark aquatic and woods blend.  It opens with a tumultuous and disconcerting blend of oceanic accord (a blend of fragrance oils and seaweed absolute to evoke a realistic scent of the ocean), chilly rainwater, black pitch and the saturated planks of a wooden ship.  On initial application expect to be pelted with a strong blast of cold rain and oceanic brine.  The black pitch in between each of the ship's planks adds a dank quality at the base while the lime EO provides a jolting top note.  After a few minutes, the danger begins to recede as the rain slows and a sliver of moon reveals a promise of visibility.  At this stage, the light woods blend comprised of teak, copal and blue cypress begins to emerge along with a splash of sea spray.  Shortly thereafter, the moon fully emerges and the calm seas signal the retreat to the dry warm Captain's quarters.  Here the true dry down of this evocative scent is revealed.  A tendril of spicy buddha wood EO begins to unfurl from the warm wooden base.  The buddha wood will grow stronger over time but the dry wood notes remain unchanged.  The dry down is achieved very quickly but you have to journey through the story of this scent to get to the finale.   You must skin test Hand of Darkness in order to assess its true character.  This scent hugs close to the skin and liberal application is recommended.   Even though this scent starts out strong and masculine, the dry down is very wearable and may be enjoyed by Women who like darker wood blends.
Hand of Darkness is comprised along with several fragrance oils along with the following essential oils, absolute, CO2s and attars:  mitti, blue cypress, copal bark, fossilized amber, swiss stone pine, lime, galbanum, coriander, seaweed, kapur kachari, tarragon and a small amount of lavender absolute.
An oil lamp illuminates charts upon your desk,
as cargo shifts belowdecks from the ceaseless roiling waves.
A bell is sounded from high above the hemp-webbed mast,
and the cry of "Capitan! Captian!" spreads across the deck.
You slip into your coat and mount the stairs to stand behind the wheel.
Spray overtakes the nervous crew as they struggle to shorten sail.
Your gaze takes to the horizon where you behold the source of panic.
A darkness is rising, obscuring the milky way and her constellations.
Gone is your bright beacon, the moon.
The crew amass before the helm, whispers of the Hand of Darkness spread.
A briny gale descends.
Mists clutch to every surgace and waves smack the oakumed planks
The ship is silent save for the tension of rope and windlass,
and the beating flap of wind-lashed canvas.
A great wave crests the bow, yet you hold firm.
You cannot see your hands as they work the great wood wheel,
nor the twirling needle of your compass, so complete is the blackness.
Then the winds drop, and the mists lift with the spirit of the men.
Excitement is a contagion as the frothing waves fall back to gently roll.
First Scorpio blinks open, then a cheer for the reemergence of the trusted Southern Cross.
A smattering of pinpricks on the horizon herald the return of familiar night.
Just as an open hand will clench down to curl its fingers,
the Hand of Darkness subsides back into the palm of the sea,
and you resume the wheel to Northward before returning to your quarters by the light of your heavenly guide,
the great white moon.
                                                                                                      - G.D.St. John
Offered as a Premium 5 ml Perfume only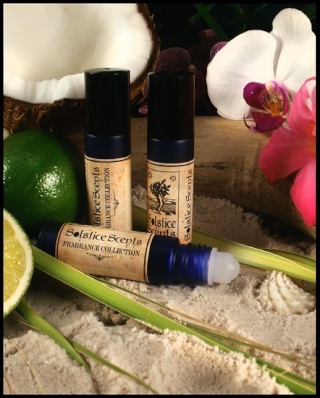 TROPICAL MOON
Coconut, Tuberose, Tahitian Gardenia, Lime Essential Oil & Pink Lotus Attar
LIME ESSENTIAL OIL MAY CAUSE PHOTOSENSITIVITY AND IS NOT RECOMMENDED FOR APPLICATION PRIOR TO EXTENDED SUN EXPOSURE.  DO NOT APPLY GLACE IMMEDIATELY AFTER A HOT SHOWER OR NEAR CUTS OR BROKEN SKIN AS LIKE LEMON JUICE, LIME MAY STING AND USE CAUTION IF USING THIS SCENT IN THE BATH TUB!  
Nighttime island breeze carries sweet coconut flesh, delicate tuberose blossoms, Tahitian Gardenia flowers, pressed lime juice and pink lotus blossoms. Tropical Moon smells like an exotic beach paradise. It is sweet with creamy white floral notes, a top note of lime and a subtle delicate pink candy note from the pink lotus. Contains real tropical monoi (Tahitian Gardenia blossoms infused in fragrant coconut oil), mouthwatering lime essential oil, pink lotus attar and a blend of fragrance oils. Initial application has equal parts of coconut and tuberose with the lime hovering just above. The monoi and lotus are more subtle supporting notes that add a little complexity. The lime burns off relatively quickly in the leave on formats but does have a gentle presence in the scrub and whipped soap. The dry down is a fairly constant blend of coconut and tuberose without a great deal of morphing that translates as a soft and creamy tropical fragrance.
Tropical Moon is the humid, torrid and sultry cousin of our popular Nightgown perfume. It is a destination vacation in a bottle! You will be transported sea side every time you wear it.
Offered in Perfume, Burnishing Glace and Whipped Soap

TENEBROUS MIST
Soft Musks, White Amber, Sea Spray, Sandalwood, Bay Rum, Tea Leaves & Wood Smoke
This is the ominous foreshadowing of tumultuous weather to come.  Wild seas, terror-tinged skin musk, soft spices, faint wood smoke and a mocking pleasurable sweetness.  Tenebrous Mist is a complex blend featuring 16 components, each acting like crew members forming a strong cohesive unit.  It is sweet, salty, delicately spiced with a soft warm smokiness and gentle blend of mild wearable musks.
These 3 mild musks blend with white amber, sea spray, sandalwood, Bay Rum EO, tea leaves and the smoke of a fire smoldering unchecked to create an incredibly unique fragrance.  Tenebrous Mist is a unisex scent that wears like a second skin.

Perfume, Glace and Body Ganache
SIROCCO PREMIUM FRAGRANCE
Moroccan Spices, Sandalwood, Hot Baked Earth, Myrrh Resin, Precious Saffron Threads & Oud - 5ml

NOT TO BE USED BY WOMEN WHO ARE PREGNANT OR NURSING.  
Moroccan spices, sandalwood, hot baked Earth, myrrh resin, precious saffron threads and a touch of oud meld together to create a dry, woody, resinous, spicy and extremely exotic scent representing the blisteringly hot desert, spice caravans and never ending sun scorched sand. The woods and spices on cold sniff and initial application quickly turn dry and resinous as the myrrh and saffron boldly emerge. A hot Mediterranean wind stirs desert sands, fusing with the incense wood notes. Sirocco combines sandalwood essential oil and fragrance with a real baked Earth Indian attar, myrrh and saffron essential oils and a medley of spices. Sirocco does lean a bit masculine but it is a very unique fragrance that Women would love to journey with as well. The full experience is recommended with the perfume and Burnishing Glaces where the dry resin, saffron, sand and woods are able to warm on your skin and evolve. The Sugared Amber Scrub is a little bolder with the spice and woods notes but is equally enjoyable.
Offered as a Premium 5ml Perfume oil, Burnishing Glace and Whipped Soap    
FLORIDA FRUIT STAND
Returning summer favorite: A huge pile of cool ripe watermelons next to a giant crate of bananas mixes with sweet orange and blood orange essential oils, tangerine essential oil, strawberry and lemon. On cold sniff, it is a very cool watermelon, citrus and banana scent with a hint of sweetness from the subtle strawberry. Fresh and fruity and blooms wonderfully in the shower!
Offered in Whipped Soap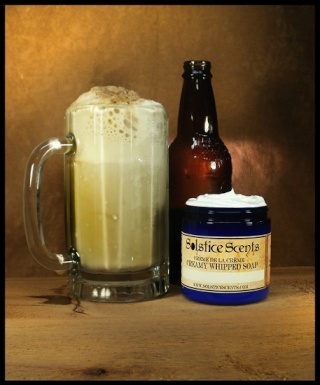 ROOT BEER FLOAT
Returning summer favorite: The perfect summer poolside and cool-down drink.  Frosty root beer combined with a hint of sweet and creamy vanilla bean ice cream in the background.  Smells just like the real thing!
Offered in Whipped Soap only
GULF BREEZE
8oz. Dead Sea Salt Oatmeal Coconut Milk Bath
CONTAINS SPIRULINA POWDER AND IS NOT RECOMMENDED FOR THOSE WHO HAVE AN ALLERGY TO IODINE.
This soak smells like sand, salt, wind and ocean. It is crisp, clean and refreshing and is a wonderful unisex fragrance. Imagine standing on a dock as a storm is about to roll in...the air is thick with energy and as the sky turns grey you are splashed with salty spray from the gulf.  This is the scent of Gulf Breeze.  It is a very fresh and oceany fragrance with a slight hint of rain and a dominant note of seaspray.
This soak also contains a bit of Spirulina powder (not recommended for those with an iodine allergy) and is topped with dried Hibiscus Flowers.
Offered in Bath Soaks only
Please join us at solsticescents.com for the release!
Twitter:  @solsticescents
Facebook: https://www.facebook.com/pages/Solstice-Scents/197081780213
Forum:  Solsticescentsforum.com
Tumblr: http://solsticescents.tumblr.com/
Pinterest: http://pinterest.com/solsticescents/