The summer collection release will be available tomorrow, Saturday, July 30th, at 6 pm EST at www.solsticescents.com. Our new EDP, Estate Rosewood, will be available as well as select restocks of EDPs and perfumes. There will be a variety of Glaces and Whipped Soaps as well. The full list of everything that will be available is at the bottom of this post. Please see the important notes just below before scrolling to look at the offerings:
1.
ATTENTION INTERNATIONAL CUSTOMERS:
For those of you who have been waiting to purchase our full size 60 ml EDPs, these will be available very soon (likely within a week) at The Rhinestone Housewife. I will post when they go live! She will be carrying a variety of EDPs and oils (most of our catalog) and will ship worldwide!
2.
COQUINA:
will be available in the full 5 ml size ONLY with NO SAMPLES available. The quantity listed is all we have of Coquina in the current formula and it is likely we will sell out. Coquina may be reformulated in the future but it contains an ingredient we can no longer source so what we have listed is it.
3.
WHITE FEATHER EDP:
I can no longer get the exact saffrons that I was using in this perfume. There were 3 different ones that I used but I have found a source for other saffrons. When I made the last batch of White Feather, I also made a test batch using my new saffrons so I could compare. I'm pleased to say that the end result is very very similar. We are completely out of gardenia enfleurage for right now as I used the last of it in this last batch. If you love White Feather and you want the EXACT FORMULA that you've had, this is the last batch I will be able to make in this formula. We also won't have anymore for a while because we have not yet processed the gardenia batch from this year into its final state. The next time we offer White Feather, it will be with the very slightly tweaked formula. The overall character is the same and Greg and I both felt it was pretty much identical and couldn't really tell a difference so I don't want anyone to panic. But the saffrons I'm using are just a wee bit different. For example, one of them was a saffron CO2 extraction and it has been replaced with a saffron absolute. I felt the saffron CO2 was longer lasting and brighter smelling. There are slight nuances that are different and it is me being very discerning and picky as I felt the CO2 was superior. However, they both are saffron and they both smell like saffron. That is the only element of White Feather that is slightly changed so the strong jasmine and everything else are the same. There will be a few samples and there are only a very few full bottles available.
4.
DESERT THUNDERSTORM EDP:
The LAST BATCH EVER of this particular formula will be listed tomorrow as well. It contains the same ingredient in High Desert, Sirocco, High Noon, Coquina and Hand of Darkness that I have yet to find a good replacement for. I am going to try to make an accord that is a dupe for this note so I can offer reformulations of all of the above but it hasn't come together yet. I am determined to make it happen and Desert Thunderstorm will be back in the future but it will be a while and it won't be exactly the same. Therefore, if you love this perfume there is a very limited batch of the 60 mls that will be available and a very few amount of samples for those who either want a small fix or who really had wanted to try it.
5. Our EDP perfume sample sprays are now 2.5 ml and a better quality vial for a slightly reduced price from the 3.3 ml spray bottles we were selling (see listing for photo).
6. Our new perfume 5ml and 60 ml EDP boxes are in stock. All 5 ml perfumes have their own label now, for those who have not seen the posts we've been teasing on Instagram and Facebook. Solarium is the exception because:
7.
SOLARIUM
is discontinued. It has the original label unlike the rest of our catalog, which has transitioned to individual labels per fragrance. There are only a few bottles of Solarium left and then it is gone forever in this formula.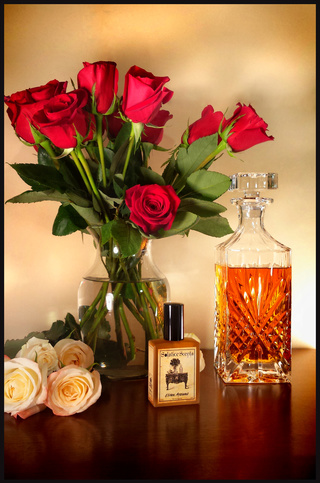 [NEW!] ESTATE ROSEWOOD EDP
Estate Vanilla, Tea Rose, Oak Casks, Tobacco, Bourbon, Woods, Rosewood, Hinoki Wood
Estate Rosewood begins on a strong base of our house vanilla called Estate Vanilla to which notes of tea rose, oak casks, tobacco, woods, bourbon, rosewood and hinoki wood have been added. This perfume opens with a light tea rose accord top note and sweet vanilla, warm oak bourbon barrels and a touch of aromatic tobacco with a faint trace of spice. The bourbon is rich, golden and woody with slight caramel and raisin undertones. It is not boozy, rather think of a rendered down bourbon syrup or a well-aired glass of bourbon carefully blended with the other notes. There is a bit of fine sustainably-sourced sandalwood at the heart. The rosewood is light, with hints of lemon and tea rose. It has a delicate polished carved antique rosewood furniture element. Estate Rosewood has the rich exquisite stately aroma along the lines of Estate Carnation and White Feather but it is much lighter than those dense heavily-scented, spicy and heady compositions. The Estate Vanilla base emerges to the foreground as this perfume wears and after several hours the vanilla and spent oak casks are the strongest remaining notes with a faint trace of tobacco and woods. Estate Rosewood has a sweet, creamy, warm, golden, slightly woody dry down with a wisp of non-powdery amber, though no amber is present in this composition.
60 ml $85.00, 2.5 ml sample sprayer $8.00

RETURNING SUMMER PRODUCTS:
SUN-WARMED HONEY
Honey, Apricot, Strawberry, Chamomile, Ginger, Orange Blossom
NOT TO BE USED BY WOMEN WHO ARE PREGNANT OR NURSING OR PEOPLE WITH HAYFEVER (contains Chamomile EO)
Thick, sticky, golden honeycomb soaked in apricot nectar and strawberry juice. Sweet apple-herbal scented chamomile flowers sprinkled loosely with subtle notes of warm ginger and bright orange blossom flowers.  Sun-warmed honey is remarkably sweet and gentle with ripe and juicy apricot nectar featured as a prominent note.  It has a very subtle herbal nuance similar to dried Sweet Annie flowers or chamomile tea.  It is at once playful, elegant and uplifting.
This perfume contains a blend of top quality synthetic oils, natural apricot and strawberry essences, Roman chamomile EO and ginger EO.
Perfume only.


HEAT OF THE NIGHT
Vanilla, Mango, Coconut, Orange, Sandalwood, Amber, Orange Blossom, Edge of the Night Base
Heat of the Night opens with tropical notes to represent the bridge crossed from day to night in paradise.  The day was full of sun and surf, mango-coconut milkshakes and icy vanilla-orange julius.  As the sun passes below the horizon, darker more sensual notes of sandalwood and several ambers merge with a base of Edge of the Night to overtake the playful memories created while the sun was at full blaze.  Heat of the Night progresses into a sultry mysterious fragrance as the memories of the day fade.  The delicious fruity top notes recede within about 20 minutes of application, making way for a blend of ambers and warm sandalwood cloaked in a sweet vanilla tinged with creamy coconut.  The deep shadows cast by the Edge of the Night base enrich and intrigue the composition.  Heat of the Night may open with a juicy tropical melange, but it leads to a humid ambered-vanilla heavy fragrance best experienced at full dark.  A true morpher, this journey is highly recommended applied at dusk.
Heat of the Night is the sixth and final offering in 'The Night' line.  When crafting Edge of the Night, it was clear that it was a fragrance that could stand on its own but also one that would make an incredible darkly sensual foundation for other oils.  Used lightly as a base for Heat of the Night, the end result is a humid rich incense fragrance with tropical nuances, which contains a total of 36 fragrance and essential oils.  Though you can detect Edge of the Night carefully woven into the Heat of the Night blend, primarily after it has been on the skin for a while, Heat of the Night is its own unique, amber rich fragrance with a sensual musky base, soft woods, cloaked in sweet vanilla and coconut.  The Edge of the Night fragrance worn alone manifests a deeper, musky, powdery dry down with a green lift and is mildly spicy as compared to Heat.  After several hours of wear, the two fragrances share a similar character though Heat of the Night maintains a more incensey and sweeter character due to the amber and gourmand notes used.
The notes in the Edge of the Night base for this fragrance include: amber, oakmoss, aged patchouli, bergamot, black vanilla, red musk, buddha wood, organic clove EO, star anise EO, cinnamon and a nominal amount of lavender absolute and agarwood.

Perfume and Burnishing Glace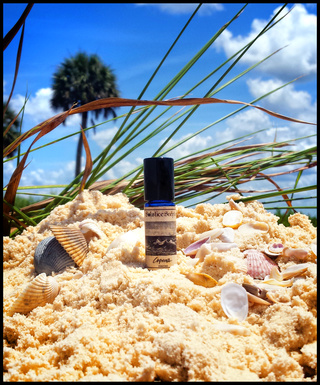 COQUINA
Sandalwood, Orange Blossom, Clementine EO, Beach Sand, Plumeria Absolute, Coconut, Ginger EO and A Splash of Sea-sprayOffered as Perfume only. NO SAMPLES available. Limited quantity in this formula. Coquina may be reformulated in the future but we can no longer obtain one of the oils in this blend so the last of this formula will be listed tomorrow.
NOT TO BE USED BY WOMEN WHO ARE PREGNANT OR NURSING.  THIS FRAGRANCE CONTAINS A CITRUS OIL.  CITRUS OILS ARE PHOTOTOXIC AND THIS FRAGRANCE SHOULD NOT BE USED PRIOR TO PROLONGED SUN EXPOSURE.
Coquina is a bright and beautiful sandalwood fragrance embellished with tons of orange blossoms and juicy clementine EO, lavishly spread on to hot beach sand that has been softly misted by sea-spray.  The fragrance is enhanced with a little plumeria (frangipani) absolute, coconut and a delicate touch of ginger essential oil.  Coquina marries sand and surf with an incense like sandalwood blend, juicy citrus and exotic florals.  On cold sniff the orange blossoms, clementine and sandalwood dominate.  On the skin the sea mist and sand are detectable after the first few minutes of wear.  The coconut and ginger are very subtle but add important nuances to Coquina's profile.  Plumeria absolute smells nothing like its synthetic counterparts.  In this blend, it is used lightly to add body to the orange blossom without overpowering.  On the dry down (which comes quickly) the light sandalwood notes dominate with alternating currents of sand and sea spray.  The floral notes are primarily top notes that recede into a very tame and faint presence.  Coquina is a feminine soft tropical woods blend that is very wearable and perfect for summer!
Coquina contains a blend of fragrance oils and the following essential oils and absolutes: frangipani, clementine, ginger and mitti attar.
Perfume only. NO SAMPLES AVAILABLE. Limited Quantity.

TROPICAL MOON
Coconut, Tuberose, Tahitian Gardenia, Lime Essential Oil & Pink Lotus Attar
LIME ESSENTIAL OIL MAY CAUSE PHOTOSENSITIVITY AND IS NOT RECOMMENDED FOR APPLICATION PRIOR TO EXTENDED SUN EXPOSURE.  DO NOT APPLY GLACE IMMEDIATELY AFTER A HOT SHOWER OR NEAR CUTS OR BROKEN SKIN AS LIKE LEMON JUICE, LIME MAY STING AND USE CAUTION IF USING THIS SCENT IN THE BATH TUB!  
Nighttime island breeze carries sweet coconut flesh, delicate tuberose blossoms, Tahitian Gardenia flowers, pressed lime juice and pink lotus blossoms. Tropical Moon smells like an exotic beach paradise. It is sweet with creamy white floral notes, a top note of lime and a subtle delicate pink candy note from the pink lotus. Contains real tropical monoi (Tahitian Gardenia blossoms infused in fragrant coconut oil), mouthwatering lime essential oil, pink lotus attar and a blend of fragrance oils. Initial application has equal parts of coconut and tuberose with the lime hovering just above. The monoi and lotus are more subtle supporting notes that add a little complexity. The lime burns off relatively quickly in the leave on formats but does have a gentle presence in the scrub and whipped soap. The dry down is a fairly constant blend of coconut and tuberose without a great deal of morphing that translates as a soft and creamy tropical fragrance.
Tropical Moon is the humid, torrid and sultry cousin of our popular Nightgown perfume. It is a destination vacation in a bottle! You will be transported sea side every time you wear it.
Offered in Perfume, Burnishing Glace and Whipped Soap

STOCK AT-A-GLACE:5 ml roll on perfumes:
Blossom Jam Tea Cakes
Chantilly Cream
Coquina
Heat of the Night
Sun-Warmed Honey
Thornwood Thicket
Tropical Moon
Whispers in the Night
EDP:
Desert Thunderstorm (Limited quantity. See note at top of post. 60 ml and 2.5 ml sample sprays)
Estate Rosewood (60 ml and 2.5 ml sample sprays)
Thornwood Thicket (60 ml; 2.5 ml sample sprays are already in stock)
Vanilla Pipe Tobacco (60 ml and 2.5 ml sample sprays)
White Feather (Limited quantity. See note at top of post. 60 ml and 2.5 ml sample sprays.)
WHIPPED SOAPS:
Cameo
Manor
Tropical Moon
GLACES:
Chantilly Cream
Chiffon
Ghost (unscented)
Heat of the Night
Lavender Vanilla
Nightgown
Tenebrous Mist
Tropical Moon
More Glaces will be stocked in a few weeks. Fragrances will vary. No guarantees on restocks of all of the above.
Please join us at solsticescents.com for the release!
Instagram and Twitter: @solsticescents
Facebook: www.solsticescents.net. Search 'Solstice Scents' to join our private community group.
Forum:  Solsticescentsforum.com
Tumblr: http://solsticescents.tumblr.com/
Pinterest: http://pinterest.com/solsticescents/