The Spring Collection release will go live tomorrow at 6 p.m. EST!  We have several new fragrances, returning fragrances and many restocked perfumes, glaces, whipped soaps and body ganaches that will be available!  Read on to see what will be available for the aforementioned.
NEW SCENTS: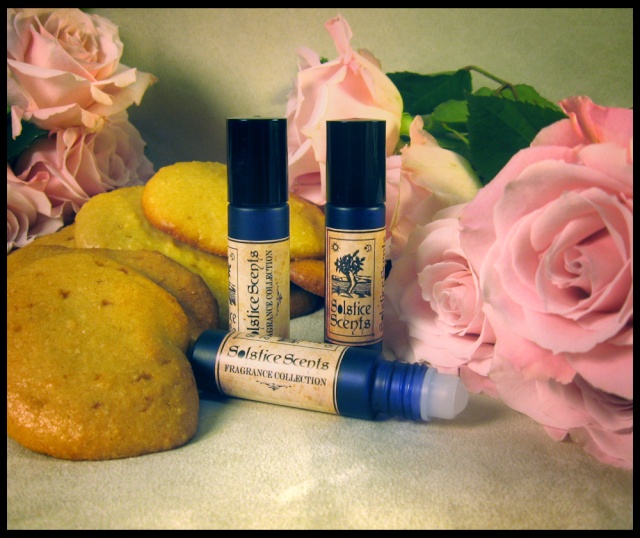 CAMEO


Almond, Rose, Yellow Cake, Tonka Bean, Coconut, Ginger and Green Orange
Cameo is a delicious gourmand fragrance blended with rose.  Almond, rose, yellow cake, tonka bean absolute, coconut flakes, creamed ginger and a light top note of bitter green orange EO combine to create a sweet feminine floral.  
The almond is dominant on cold sniff and initial application, followed by rose.  As Cameo settles on the skin, the almond smoothes out and the tonka bean comes to the foreground. The coconut flake and yellow cake emerge and meld with the tonka and the light zing of creamed ginger.  The rose and almond become very soft and well blended with the rest of the notes.  The orange is a top note that does not linger in the final composition.
Cameo contains a blend of fragrances, moroccan rose absolute, tonka bean absolute, ginger CO2 and bitter green orange essential oil.  
A recipe for Cameo Cookies is on the latest Foxcroft Bulletin, to be shipped with the spring orders.  They are delicious and wheat-free!
Perfume, Burnishing Glace, Body Ganache, Whipped Soap
CHRYSALIS


Orange Blossom, Grass, Bitter Green Orange, Vetiver, Patchouli, Amber, Yellow Mandarin, Rose de Mai Absolute, Sandalwood and Indian Attars
NOT TO BE USED BY WOMEN WHO ARE PREGNANT OR NURSING.
Chrysalis is a fragrance to represent the emergence from a bleak winter into the bright season of spring, teeming with new life, warm sun and clear skies.  The first fragrances that permeate the air in our area of North Florida are sweet blossoms from a variety of citrus trees, primarily the orange tree, fresh cut grass and warm earth.
Chrysalis showcases a blend of fresh cut grass, top notes of bitter green orange, yellow mandarin and orange blossom, earthy base notes of vetiver and aged patchouli, rosy and green rose de mai absolute, amber, soft sandalwood and a blend of exotic Indian attars with green and delicate floral notes.  
Chrysalis is intended to capture the spring air.  It is loaded with essential oils, absolutes and attars and is primarily a natural blend with only a few supporting synthetic fragrances.  It is a warm earthy green floral that is not heady.  After the bright citrus, grass and orange blossom top notes depart, the rich attars and earthy base notes remain in this lovely blend of the bottled spring season.
Premium 5mL perfume oil only
WHISPERS IN THE NIGHT


Jasmine, Tuberose, Vanilla Orchid, Coconut, White Amber, Sandalwood, Amber & Ylang Ylang on a base of Edge of the Night
The night breeze laced with the essence of jasmine, tuberose and ylang ylang, caressed by whispers of vanilla orchid, white amber, coconut and sandalwood blended with a light base of Edge of the Night and amber.  The result is a very creamy, velvety white floral with a subtle sensual depth provided by the amber and Edge of the Night.  The white amber adds a fresh clean note, the vanilla orchid and coconut sweeten and the sandalwood rounds out the edges.
On cold sniff and initial application, the white florals bloom and are the star notes.  They are propelled by the creamy undercurrent of vanilla orchid, coconut and sandalwood.  The floral notes calm down quickly as the white amber comes forward to add a clean touch.  The dry down is a very soft and subtle sweet white floral with clean white amber and a sensual base of golden amber and Edge of the Night that keeps it from being too heady.
The springtime in north Florida opens with the notes of orange blossom and fresh cut grass showcased in Chrysalis.  As soon as the orange blossoms die off, the confederate jasmine erupts, perfuming the air with the sweetest and most delicate intoxicating floral notes.  Whispers in the Night is inspired by this stage of the spring, when the jasmine has exploded in our yard and its scent can be detected no matter where we stand.

Perfume, Burnishing Glace, Body Ganache and Whipped Soap
RETURNING SCENTS: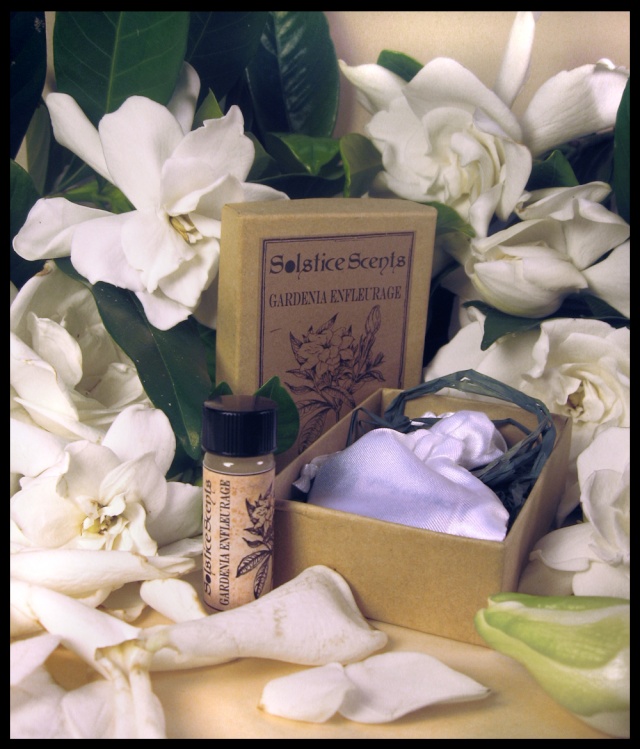 GARDENIA ENFLEURAGE


100% Pure Gardenia Absolute In Perfumer's Alcohol
We have samples and premium 3.7mL full size bottles available this year.  This batch is very similar to last year's batch in scent strength/concentration and fragrance, if you sampled the 2012 offering.  Read on for details.
Solstice Scents is proud to offer gardenia essence from our homegrown pesticide-free gardenia flowers.  Only a limited quantity of .25 ml premium perfume samples will be available.  See diagram below for fill level.  Three different gardenia varieties (Gardenia jasminoides, Gardenia brighamii and Gardenia radicans) were used to create this 100% natural essence. Utilizing the principles of the centuries-old practice of enfleurage, we developed a unique technique to capture the fragrance of creamy white gardenia flowers in full bloom.
Enfleurage requires thousands upon thousands of gardenia petals to be infused in fat (vegetable source). Each tray takes multiple infusions and the petals must be replaced frequently. It is a very laborious process and this first step mandates a minimum of 6 weeks of dedication during the gardenia blooming season, which occurs mid-April to the beginning of June. The flowers are hand-harvested each morning for maximum potency.
Due to the amount of time, effort and dedication required in this process, enfleurage is rarely practiced today. Processing thousands of petals only yields a very small amount of precious absolute, making it impractical for the commercial market. It is a true labor of love. Solstice Scents is one of only a few companies in the world to offer this rare fragrance.
This highly concentrated perfume is milky white in color and presented in perfumer's alcohol. You'll experience a strong burst of gardenia on initial application. The aroma of the gardenia flower is unable to be extracted through the process of steam distillation meaning that there is no such thing as gardenia essential oil. In the rare instances gardenia is offered in the marketplace, it is a solvent extracted absolute or concrete that does not capture the true aroma of the flower. The solvent extraction process degrades the delicate fragrance and yields a product that does resemble a gardenia aroma with much heavier green notes but is nowhere near as realistic as the gardenia aroma produced via enfleurage. Our process captures the character of the flower as closely as possible, exuding the sweetness of the velvety white petals with a very delicate and subtle green note.
This perfume is for natural essence enthusiasts who have wished for a true-smelling gardenia fragrance. It does not have the longevity and sillage of its synthetic counterparts and after 15 to 30 minutes its profile tends to hug closer to the skin. Most people should experience 2+ hours of wear when following the steps outlined in this thread that outlines all of the information regarding this special perfume, along with a few photos:
https://solsticescents.forumotion.com/t531-gardenia-enfleurage-25-ml-premium-perfume-sample-spring-2012
3.7mL bottles with wand applicator offered for $75 in special box set (pictured). The 2013 vintage is discreetly written on the label.  Bottle is tucked into a white pouch to represent the velvety gardenia petals and nestled into green raffia to represent the leaves. Packaged in a box with instructions, labeled and tied with a green raffia ribbon.  This rare and precious essence is ready for gift-giving to that special someone (and you're very special indeed!)
.25mL premium samples are offered for $9.00 and will yield several uses.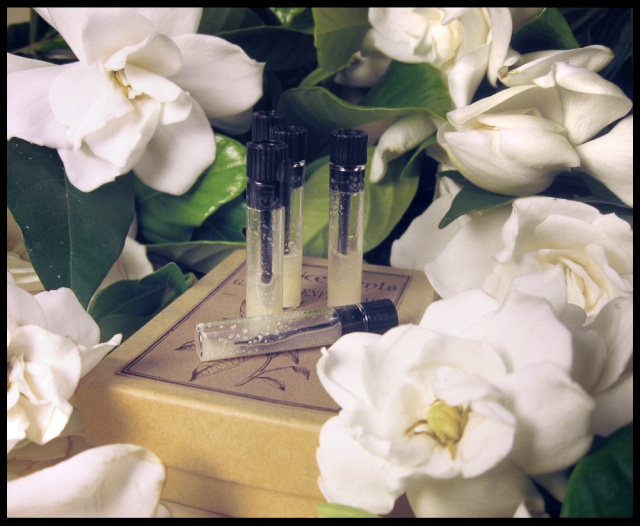 COURTYARD PREMIUM FRAGRANCE - *Slight Change to Formula*


Lavender, Oakmoss, Sandalwood, Sweet Clover, Coriander, Lime, Labdanum & More - 5ml
NOT TO BE USED BY WOMEN WHO ARE PREGNANT OR NURSING.
*We can no longer source the gardenia absolute we were using in this blend so it has been removed and the price has been reduced.  The fragrance is still very similar to previous years' batches*
Courtyard is an all natural elegant sweet fougere blend consisting of the most exquisite Bulgarian Lavender Absolute which smells just like lavender buds and has no astringent or medicinal profile at all.  It is blended with oakmoss absolute, organic coriander, fresh lime, white sandalwood, sandalwood, woody nagarmotha, sweet balsamic labdanum, peru balsam, yellow mandarin and sweet clover absolute in a rice bran oil base.  The lavender absolute has the most incredible natural coumarin notes (reminiscent of sweet fresh hay, tonka beans and vanilla) that is enhanced by the addition of sweet clover absolute which also has a strong coumarin note.  The lime, coriander and mandarin are carefully and delicately added so that they serve to give a bit of brightness and lift to the blend, primarily noticeable on application.   All of the wood notes add an earthy quality to the fragrance.  The result of this note combination is a fragrance that is as cool and foresty as the Cascade of Gold fragrance is warm, humid and sensual.  Courtyard is meant to evoke the image of a large stone fountain with water cascading down multiple tiers, in the middle of a splendid garden boasting an abundance of flowering lavender and gardenia bushes, liriope and a variety of ferns edging brick walkways and shaded by Grandaddy oaks heavy with the burden of Spanish moss.
The strongest note in the blend is the lavender absolute but your nose will pick up the soft harmony of other notes holding it up as the crowning jewel of the composition.  It is very sweet, cool and delicately earthy with very soft hints of green, herbs, woods, lime and distant florals.  Courtyard has incredible staying power and is strongly recommended if you even remotely enjoy lavender.  It is an incredible treat before bed as well!  The lavender used in this blend is not to be confused with the louder and more dominant lavender used in Quiet Night and Lavender Vanilla.  This lavender is a demure, classy and elegant aristocrat draped in white flowing fabrics and twirling in the coolest shadows under an oak hammock, just barely missing the cool fountain spray carried on the light spring breeze.   100% pure essential oils, absolutes and attars.
Premium Perfume 5mL in oil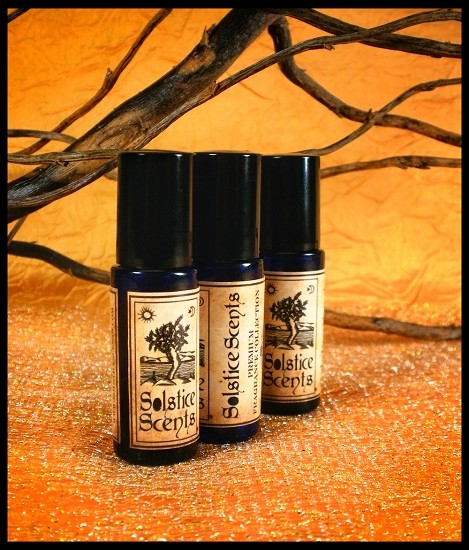 CASCADE OF GOLD PREMIUM FRAGRANCE


Sandalwood, White Sandalwood, Honeysuckle, Champa & White Lotus - 5ml
NOT TO BE USED BY WOMEN WHO ARE PREGNANT OR NURSING.
(Packaged in clear glass roll ons, not the blue ones pictured)
Cascade of Gold is an utterly amazing, 100% natural and exquisite blend of essential oils, absolutes and Indian attars blended in our rice bran carrier oil.  Notes of sandalwood, white sandalwood, honeysuckle, champa and white lotus combine to form a divine and meditative scent that is also very sensual.  Cascade of Gold has a base of exotic incensey woods with a very strong amber note that has subtle balsamic undertones.  The floral notes are delicately blended so as to add just the right exotic touch to the warm wood and amber notes.  It smells like bottled sunset with the last of the days' golden orange rays peeking out mixed with humid deep south air that has been perfumed by a concentration of mid spring blooms.  You can almost literally feel a warmth radiating from your skin with this scent on.  The champa is the finest quality I've found and it contributes a delicate edge of spice to the blend as well.  The florals serenely float at the top of the blend adding a velvety white note for the first 10 minutes.  Their voice becomes softer and evolves to a relatively stable blend without morphing that smells warm, sweet, ambery, golden, robust, full bodied, exotic, floral and extremely sexy.  Cascade of Gold would make a wonderful blend for yoga, meditation, scrying or just before bed as it has a natural harmony and almost trance inducing properties.
Application tip:  If your roller ball runs dry during application, remove black cap, hold your bottle vertically with roller ball pointing to the ground and forcefully shake/thrust the bottle down one time to replenish the oil in the well. Now it is ready to reapply to your skin.
Premium Perfume 5mL in oil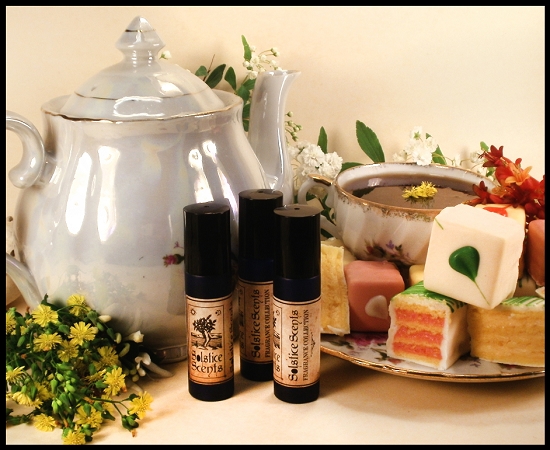 BLOSSOM JAM TEA CAKES

Southern Tea Cakes, Petit Fours, Floral Infused Jams & Preserves and a Delicate Aroma of Tea
Blossom Jam Tea Cakes features the mouthwatering aromas of Petit Fours filled with floral infused jams and preserves, enrobed in sweet fondant, warm southern tea cakes topped with a delicate lavender buttercream and a subtle waft of hot tea. A rich cakey base supports light floral and fruit notes to create a beautiful atmospheric spring gourmand fragrance.
Notes include: yellow and white cake, honeysuckle absolute, palmarosa EO, peach, strawberry, blood orange EO, lavender absolute, ylang ylang absolute, buttercream, fondant. The floral notes listed may give the impression that this is a heady floral but it's not. Rather, the floral notes were used with restraint and were intended to infuse the delicate fruit notes to create an interpretation of floral jams and preserves thinly spread on fluffy cakes. A very unique fragrance.

Perfume only

CHIFFON

Vanilla, White Amber, White Musk & Lemon Myrtle EO
LEMON MYRTLE MAY CAUSE PHOTOSENSITIVITY AND IS NOT RECOMMENDED FOR APPLICATION PRIOR TO EXTENDED SUN EXPOSURE.
DO NOT APPLY IMMEDIATELY AFTER A HOT SHOWER OR NEAR CUTS OR BROKEN SKIN AS LIKE LEMON JUICE, LEMON MYRTLE MAY STING!
Chiffon is a dual concept fragrance that brings together the airy, sweet and refreshingly tart taste of Lemon Chiffon pie and the elegant, wispy and equally airy beauty of chiffon fabric.  A very special top-shelf, perfectly sweet and non-cloying vanilla (one of the vanillas in Nightgown) provides a base for a delicate touch of white amber and white musk.  Chiffon is completed with the bright and uplifting scent of pure lemon myrtle essential oil.  The lemon myrtle is one of the dominant notes on cold sniff and initial application.  It will recede within 5 to 10 minutes and allow the other notes to emerge.  Unlike most lemon essential oil top notes that disappear fairly quickly, lemon myrtle EO has a strong lemon-like scent but also a very good staying power.  Lemon Myrtle is distilled from the leaves of a native Australian Tree.  As it fades and takes a back seat to the other notes a wonderful, sweet, ethereal and beautiful long-lasting scent is left behind.   The longer Chiffon is on the skin, the sweeter it gets.  The vanilla is the longest lasting note of the blend and takes on a glorious whipped cream and an almost marshmallow note the longer it is on the skin.  A really lovely and sophisticated scent!  Fans of some of our other scents like Nightgown, Snowshoe Pass and Manor should really enjoy Chiffon.
While Chiffon is overall a scent that smells light and airy like clouds, it also is pretty strong and seems to grow stronger the longer it is on the skin so apply a modest amount on your first try and let it sit for about 45 minutes to gauge how much you will need for future applications.
Perfume, Burnishing Glace
CHANTILLY CREAM

Whipped Cream, Peach Nectar, Vanilla & Yellow Mandarin EO
Our Chantilly Cream is white fluffy whipped cream sweetened with vanilla and just a touch of peach nectar.    A light addition of lovely yellow mandarin essential oil tempers the juicy peach note.  The primary notes in this blend are the whipped cream and a blend of vanillas and they are also the longest lasting.  The peach nectar and yellow mandarin are more detectable in the cold sniff of the blend and are very subtle on the skin and add a juicy touch to the more dominant scent of the whipped cream accord.   This fragrance is best judged not on cold sniff or immediately after application but after about 5 to 7 minutes of morphing before its true scent is revealed.  It will become sweeter the longer it wears and the fruit notes will eventually recede completely.
Chantilly Cream has a profile that is very light, sweet and delicate.  It hugs very close to the skin and is intended for a gentle skin sweetening treat when you wish to wear something a little lighter and less heady near those sensitive to fragrance, in the work environment or just because you want to indulge in something a little softer in scent and throw.  It is a versatile scent that would pair and layer wonderfully with fragrances in your collection that contain notes of coconut, cake, fruit, vanilla or even select floral scents (white florals such as jasmine, tuberose and lily especially).  It layers nicely with Chiffon too!  

Perfume, Burnishing Glace
RESTOCKS:
Cenobite: Glace, Ganache
Cocoa Mallow: Ganache, Whipped Soap
Conjure: Glace, Ganache (Perfume has been restocked)
Dragon's Blood: Ganache
Ghost: Ganache and Glace
Kitchen: Perfume, Glace, Ganache, Whipped Soap
Lavender Vanilla:  Perfume, Ganache, Whipped Soap, Glace
Nightgown: Glace
Patchouli Sweet Wood: Perfume
Pink Sugar: Glace
Spellbound Woods: Glace
Sugarvale: Glace
Sycamore Sugarworks: Glace, Whipped Soap (Perfume has been restocked already)
Vanilla Pipe Tobacco Premium Perfume 5mL